Saturday, March 01, 2014
RUSSIA UNANAMOUSLY APPROVES TROOPS IN CRIMEA REGION
JEWISH KING JESUS IS COMING AT THE RAPTURE FOR US IN THE CLOUDS-DON'T MISS IT FOR THE WORLD.THE BIBLE TAKEN LITERALLY- WHEN THE PLAIN SENSE MAKES GOOD SENSE-SEEK NO OTHER SENSE-LEST YOU END UP IN NONSENSE.
RUSSIA UNANAMOUSLY APPROVES TROOPS IN CRIMEA REGION AND LOOK FOR THIS ALIGNMENT TO MAKE A DIPLOMATIC COMPLAINT AGAINST RUSSIA.THIS UKRAINE SITUATION COULD BE A FORRUNNER TO THE RUSSIA-ARAB-MUSLIMS MARCH TO ISRAEL SOMETIME IN THE NEAR FUTURE.
HERE ARE THE COUNTRIES TO WATCH THAT WILL BE OPPOSING THIS RUSSIA INVASION OF THE UKRAINE BY THE BIBLE.
EZEKIEL 38:10-13
10 Thus saith the Lord GOD; It shall also come to pass, that at the same time shall things come into thy mind, and thou shalt think an evil thought:
11 And thou shalt say,(RUSSIA,ARAB,MUSLIMS) I will go up to the land of unwalled villages; I will go to them that are at rest, that dwell safely, all of them dwelling without walls, and having neither bars nor gates,(ISRAEL)
12 To take a spoil, and to take a prey; to turn thine hand upon the desolate places that are now inhabited, and upon the people that are gathered out of the nations, which have gotten cattle and goods, that dwell in the midst of the land.
13 Sheba, and Dedan,(SAUDIA ARABIA) and the merchants of Tarshish,(ENGLAND-EUROPEAN UNION) with all the young lions thereof,(USA,CANADA,AUSTRALIA,NEW ZEALAND, ENGLISH SPEAKING shall say unto thee, Art thou come to take a spoil? hast thou gathered thy company to take a prey? to carry away silver and gold, to take away cattle and goods, to take a great spoil?
(SEE THAT LITTLE WORD AT THE END OF SPOIL-THIS UKRAINE SITUATION IS BECAUSE OF RUSSIAS OIL CONTROL IN THE UKRAINE JUST AS IT WILL BE BECAUSE OF OIL THAT RUSSIAN AND HOARDS MARCH TO ISRAEL)(SO WE SEE OIL WILL BE A MAJOR EVENT IN THIS UKRAINE AND FUTURE ISRAEL ATTACKS)
COUNTRIES ON RUSSIAS SIDE WILL BE-CHINA-EAST COUNTRIES AND THESE
EZEKIEL 38:5-8
5 Persia,(IRAN,IRAQ) Ethiopia, and Libya with them; all of them with shield and helmet:
6 Gomer,(GERMANY) and all his bands; the house of Togarmah (TURKEY) of the north quarters, and all his bands: and many people with thee.(AFRICAN MUSLIMS,SUDAN,TUNESIA ETC)
7 Be thou prepared, and prepare for thyself, thou, and all thy company that are assembled unto thee, and be thou a guard unto them.
8 After many days thou shalt be visited: in the latter years thou shalt come into the land that is brought back from the sword, and is gathered out of many people, against the mountains of Israel, which have been always waste: but it is brought forth out of the nations, and they shall dwell safely all of them.
THE RUSSIAN PARLIAMANT HAS JUST AN HOUR OR SO AGO AGREED TO HAVE TROOPS IN THE UKRAINIAN CITY OF CRIMEA. AND ALL OF THE UKRAINE.PUTIN CLAIMES ITS JUST TEMPORARY TO STABALIZE CRIMEA AND THE UKRAINE AS A WHOLE.BUT WE KNOW DIFFERENT. PUTIN IS OBSSESSED WITH KEEPING UKRAINE IN THE RUSSIAN CZAR EMPIRE.AND PUTIN WILL DO EVERYTHING POSSIBLE TO KEEP HIS DREAM ALIVE.ITS 10:25AM SAT MARCH 1,14.
ITS 1:05PM MAR 1,14 AND BIG HEADS OF THE US DEFENCE HAS COME OUT OF THE WHITEHOUSE AFTER TALKING WITH THE EMPTY SUIT - PRETEND THREATEN ON PUTIN OBAMA.I GUESS THE EMPTY SUIT OBAMA AND HIS DEFENCE BUDDIES NOW HAVE TO ACTION ON PUTIN.SINCE OBAMAS FAKE THREAT DID NOT WORK ON PUTIN.AND AT 2PM THE UNITED USELESS NATIONS WILL BE DEBATING ON THIS PUTIN - UKRAINE SITUATION.EMPTY SUIT OBAMA CAN'T DO NOTHIN TO PUTIN AT THE U.N SINCE RUSSIA CAN VETO ANYTHING.OBBBBBBAMA AND THE U.S IS OFFICIALLY A DOG WITH ITS TAIL BETWEEN ITS LEGS.ONLY THE EUROPEAN UNION HAS THE POWER TO TAKE ON PUTIN NOW.KISS YOUR EMPTY SUIT - MUSLIM SYMPOYHIZER OBAMA GOOD BYE AMERICA.THE ONLY THING OBAMA CAN AND INDEED HAS DONE IS TO THREATEN NOT TO COME TO THE G-8 IN SOCHI IN JUNE.
OH AND I FORGOT TO SAY.RUSSIA REPORTS HAVE IT THAT RUSSIA HAS 150,000 TROOPS ON THE UKRAINE BORDER.WHICH IS THE SAME AMOUNT OF TROOPS AMERICA HAD IN IRAQ AT ITS HIGHEST PEAK.SO WHAT DOES THIS TELL US.IF PUTIN WANTS-HE CAN JUST BLITZKEG UKRAINE AND OVERTAKE IT QUICK.
Fance24news-Mar 1,14
-10:34AMEST
Russian President Vladimir Putin on Saturday asked the upper house of parliament to approve the use of the Russian military in Ukraine as armed men took control of key sites in the flashpoint Crimean peninsula.
Russian President Vladimir Putin on Saturday asked the upper house of parliament to approve the use of the Russian military in Ukraine as armed men took control of key sites in the flashpoint Crimean peninsula.
4:36
Christopher Miller@ChristopherJM
Russian senators applaud themselves for passing legislation to send Russian troops to Ukraine. pic.twitter.com/nvvYE5cVLk
4:34
Ukrainian former heavyweight boxing champion-turned politician Vitaly Klitschko has called for a "national mobilization" in the face of "Russian aggression".
4:32
Russian upper house to ask Putin to recall Russian ambassador to the US: speaker
4:27
Andrew Roth@ARothNYT
Putin now has official consent to use Russian troops in Ukraine (not just in Crimea!)
4:22
Shaun Walker@shaunwalker7
Well that's that. Historic moment. What this will actually mean on the ground, and quite how far Kremlin plans to go, remains unclear.
4:21
BREAKING: Russia's upper house has approved President Vladimir Putin's request to deploy troops in Ukraine.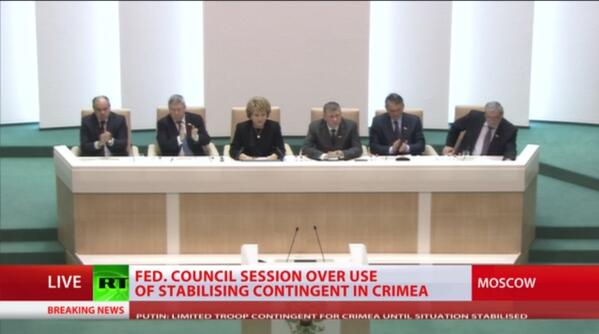 France24
Ukraine's Defence Minister, Ihor Tenyukh, gave the first estimate of numbers following silence from Russia over
reports they were deploying troops in the area
but did not give any further details.The Russian parliament granted Vladimir Putin's request for permission to use the country's military in Ukraine on Saturday afternoon."In connection with the extraordinary situation in Ukraine, the threat to the lives of citizens of the Russian Federation, our compatriots, and the personnel of the armed forces of the Russian Federation on Ukrainian territory [in Crimea] ... I submit a proposal on using the armed forces of the Russian Federation on the territory of Ukraine until the normalisation of the socio-political situation in the country," the statement said.Earlier in the day, Russia's lower house of parliament asked Mr Putin to "take measures to stabilise the situation in Crimea and use all available means to protect the people of Crimea
from tyranny and violence".Crimean politician Sergei Aksyonov had earlier claimed he was in control of the area and declared that the armed forces, police, national security service and border guards will answer only to his orders.
Mr Aksyonov, who is head of the main pro-Russian party on the peninsula, appealed to Russia "for assistance in guaranteeing peace and calmness on the territory of the autonomous republic of Crimea".
He was voted in by the Crimean parliament on Thursday after pro-Russia gunmen seized the building and as tensions soared over the region's resistance to the new authorities in Kiev following the removal of Viktor Yanukovych.Border guard ships have reportedly left bases to prevent the capture of military bases and ships in the Crimea region.The move comes after pro-Russian authorities in Crimea and Russia's Black Sea fleet agreed to gThe Ukrainian army are on "high alert" in Crimea after Russia allegedly moved 6,000 troops into the border region, taking control of airports and roads.uard buildings in the region together, according to Russia's RIA news agency.The international airport at Simferopol, the main city, confirmed its airspace was closed on Saturday after armed men took control on Friday."Due to limitations in the use of the airspace, the airport has temporarily suspended receiving flights," the airport said in a written statement.
A soldier rests atop a Russian armored personnel carriers with a road sign reading "Sevastopol - 32 kilometers"
Ukrainian military sources say that Russian servicemen also control military airfields in Belbek, near Sevastopol, and in Kirovskoye in eastern Crimea.The Prime Minister of Ukraine vowed that his country will not be drawn into war by Russian "provocations".
Speaking on Saturday morning, Arseny Yatseniuk appealed to Mr Putin's government to halt military movements in the border region."It is unacceptable when armoured Russian military vehicles are out in the centre of Ukrainian towns," he said before a government meeting in Kiev.Russia, which has a naval base in Crimea, insisted any movements by its military in Crimea are in line with agreements with Ukraine over its naval fleet.The Russian foreign ministry accused Kiev politicians of trying to destabilise the situation on the peninsula."In Russia, we are extremely concerned about the recent developments in Crimea," a statement said."We believe it is extremely irresponsible to further pressure the already tense situation."Two airports in Crimea have been taken over by soldiers and armoured personnel carriers were seen on the roads as links through the area were shut off to the public.The Crimean peninsula's main port, Sevastopol, where Russia's Black Sea fleet is based, has also been blocked off.
Barack Obama warned Mr Putin
that there "will be costs" for any military intervention in Ukraine but did not go into details. "We are now deeply concerned by reports of military movements taken by the Russian Federation inside of Ukraine," he added."Any violation of Ukrainian sovereignty and territorial integrity would be deeply destabilising, which is not in the interests of Ukraine, Russia or Europe."It would present a profound interference in matters that must be decided by the Ukrainian people."The local administration in Crimea moved a referendum on whether the Autonomous State of Crimea should have even greater independence forward to 30 March.It only became part of Ukraine in 1954 when Soviet leader Nikita Khrushchev transferred jurisdiction from Russia, a move that was a mere formality when both Ukraine and Russia were part of the Soviet Union.The Soviet breakup in 1991 meant Crimea landed in an independent Ukraine.
Additional reporting by Reuters