Sunday, August 02, 2015
KING OF SPAINS KING FELIPE STRIPS SISTER PRINCESS CRISTINA OF HER TITLE AS DUTCHESS OF PALMA OVER CORRUPTION SCANDLE.
JEWISH KING JESUS IS COMING AT THE RAPTURE FOR US IN THE CLOUDS-DON'T MISS IT FOR THE WORLD.THE BIBLE TAKEN LITERALLY- WHEN THE PLAIN SENSE MAKES GOOD SENSE-SEEK NO OTHER SENSE-LEST YOU END UP IN NONSENSE.GET SAVED NOW- CALL ON JESUS TODAY.THE ONLY SAVIOR OF THE WHOLE EARTH - NO OTHER. 1 COR 15:23-JESUS THE FIRST FRUITS-CHRISTIANS RAPTURED TO JESUS-FIRST FRUITS OF THE SPIRIT-23 But every man in his own order: Christ the firstfruits; afterward they that are Christ's at his coming.ROMANS 8:23 And not only they, but ourselves also, which have the firstfruits of the Spirit, even we ourselves groan within ourselves, waiting for the adoption, to wit, the redemption of our body.(THE PRE-TRIB RAPTURE)
EU SPAIN #11 (POSSIBLY MIGHT PRODUCE THE WORLD LEADER)
DANIEL 7:23-25
23 Thus he said, The fourth beast (EU,REVIVED ROME) shall be the fourth kingdom upon earth,(7TH WORLD EMPIRE) which shall be diverse from all kingdoms, and shall devour the whole earth, and shall tread it down, and break it in pieces.(TRADING BLOCKS-10 WORLD REGIONS/TRADE BLOCS)
24 And the ten horns out of this kingdom are ten kings(10 NATIONS-10 WORLD DIVISION WORLD GOVERNMENT) that shall arise: and another shall rise after them; and he shall be diverse from the first, and he shall subdue three kings.(THE EU (EUROPEAN UNION) TAKES OVER IRAQ WHICH HAS SPLIT INTO 3-SUNNI-KURD-SHIA PARTS-AND THE REVIVED ROMAN EMPIRE IS BROUGHT BACK TOGETHER-THE TWO LEGS OF DANIEL WESTERN LEG AND THE ISLAMIC LEG COMBINED AS 1)
SPANISH KINGS WEB
http://www.ctspanish.com/legends/king/royal.htm
http://www.casareal.es/EN/Paginas/home.aspx
http://www.casareal.es/EN/corona/Paginas/la-corona-hoy_articulos-constitucionales.aspx
http://www.casareal.es/EN/corona/Paginas/la-corona-hoy_papel-jefe.aspx
Prince Felipe is the 3rd child of King Juan Carlos and Queen Sophía. He was born on January 30, 1968. His full name is Felipe Juan Pablo Alfonso de Todos los Santos de Borbón y Grecia. He is royal title is Prince of Asturias. He is also Prince of Girona and Prince of Viana. On January 30, 1986, he became 18 years old and took an oath of allegiance to the Constitution and the King. Under Spanish law he is the next in line to become King of Spain. Like his father he spent time at the military academies of the Army, Navy and Air Force. Also like his father he became a military pilot. In 1993 the Prince received a bachelor's degree from the University of Madrid. In 1995 he received a Master's degree from Georgetown University. The Prince is very tall, 6'5". He was a member of the Spanish Olympic Sailing team in 1992. His other interests include skiing and motocross. The Prince has many relatives. You might be one of his relatives. On May 22, 2004, the Prince married, Letizia Ortiz who used to be a former newscaster. She was born on September 15, 1972 en Oviedo. She is not of royal blood, but upon marrying the Prince became the Princess of Asturias. This was the first true Royal wedding in Spain in 100 years.
Su Alteza Real el Príncipe de Asturias
(His Royal Highness the Prince of Asturias)-BEFORE FELIPE BECAME KING.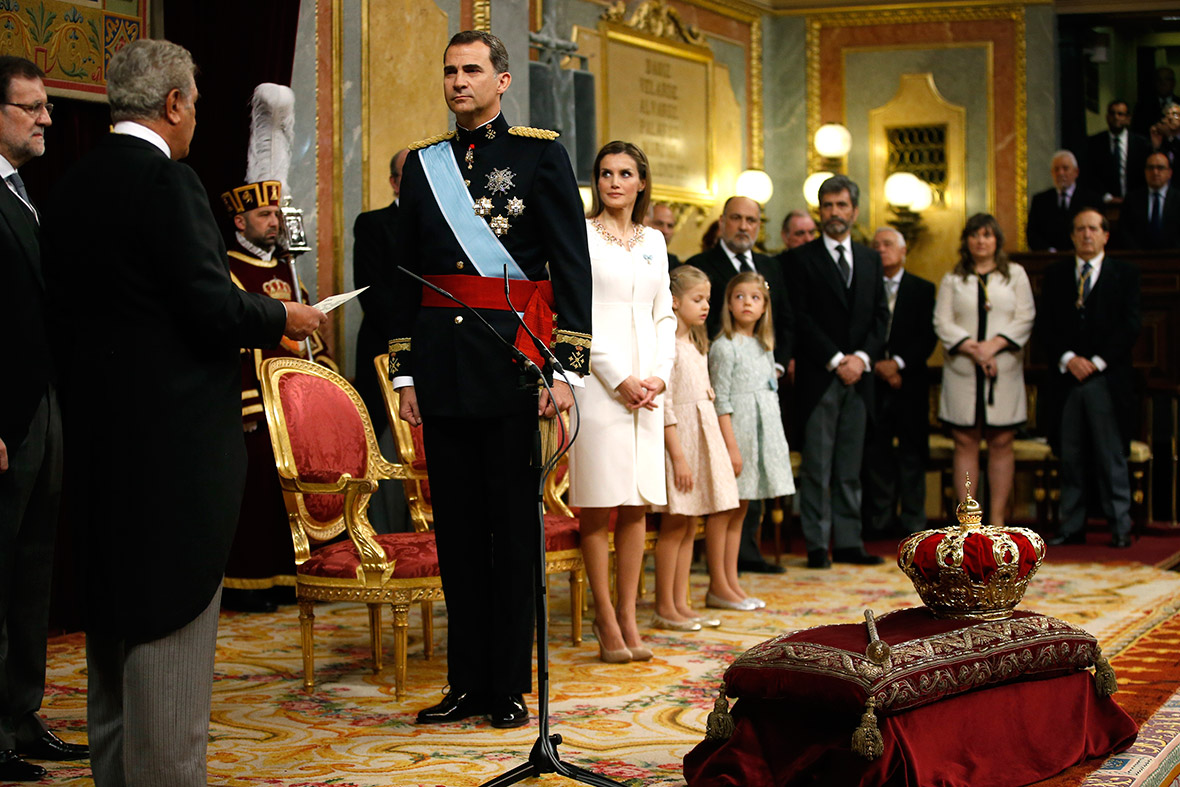 KING FELIPE 6TH BECAME KING OF SPAIN LAST YEAR JUNE 19,2014-AFTER JUAN CARLOS GAVE UP THE THRONE-FELIPE NOW BECOMES KING OF JERUSALEM IN HIS TITLE.-pic-ibtimes.co.uk
From left: Princess Letizia, Prince Felipe, Queen Sofia and King Juan Carlos-pic-elegraph.co.uk-FATHER FORMER KING JUAN CARLOS AND SON CURRENT KING FELIPE AND THEIR WIVES STANDING TOGETHER.
Princess Cristina is the second oldest child of King Juan Carlos and Queen Sofía. She was born on June 13, 1965. She is currently 5th in line to the Spanish throne. Her full name is Cristina, Federica de Borbón y Grecia. In 1989 she graduated from the University of Madrid with a degree in Politics. In 1990 she graduated from the University of New York with a Master's degree in International Relations. While in New York City she worked with the United Nations. In 1988 she was a member of the Spanish Olympic Sailing team. On October 4, 1997, she married in Barcelona, where she and her family current live. Upon being married she was granted the title Duchess de Palma de Mallorca. Her son Juan was born in 1999 and her son Pablo was born in 2000. Her third son, Miguel was born in 2002. She is honorary chairman of the Spanish Committee of UNESCO (a part of the United Nations). She is also the chairman of the Princess Cristina foundation for the Physically and Mentally Handicapped. She personally has worked with handicapped individuals to teach them how to sail.
Su Alteza Real la Infanta Doña Cristina
(Her Royal Highness the Princess Cristina)
Manu Fernandez — AP
Spain's King Felipe Has Stripped His Sister of Her Duchess Title Following Tax-Evasion Allegations-June 12, 2015-Spain's Princess Cristina walks toward her office in Barcelona on April 5, 2013-She is accused of colluding with her husband in a tax-evasion scheme
King Felipe VI of Spain issued an order this week to revoke the title of Duchess of Palma de Mallorca bestowed on his sister Princess Cristina after she was embroiled in an embarrassing tax-evasion scandal last year."The official journal of the state [on Friday] will publish a royal decree by which his majesty the King will revoke the use of the title of Duchess of Palma de Mallorca by Her Royal Highness the Infanta Cristina," read a statement released by the palace, according to Agence France-Presse.The Princess is accused of colluding with her husband Iñaki Urdangarin, a former Olympic handball player, in a tax-evasion scheme that involved more than $6.6 million in public funds.She is set to be the first member of the royal family to stand trial since the monarchy was restored in Spain in 1975.However, Cristina's attorneys insist that the Princess was innocent and merely duped by her husband, who managed the couple's financial affairs.[AFP]
Spanish king strips graft-accused sister of duchess title-AFP-June 11, 2015 6:50 PM-yahoonews
Madrid (AFP) - Spain's King Felipe VI has issued a decree stripping his sister Princess Cristina of her title as Duchess of Palma, the palace announced Thursday, as the royal sibling faces tax evasion charges in a scandal that has embarrassed the monarchy."The Official Journal of the state will tomorrow (Friday) publish a royal decree by which His Majesty the King will revoke the use of the title of Duchess of Palma de Mallorca by Her Royal Highness the Infanta Cristina," the palace said in a statement.Cristina, 49, stands accused of taking part in tax evasion by her husband, the former Olympic handball player Inaki Urdangarin.A judge ruled in December that she must stand trial on two counts of accessory to tax fraud, making her the first member of the Spanish royal family to be sent to the dock. No date has been set for her trial.Both Cristina and Urdangarin have suffered a dramatic fall from grace since they married in 1997 in a lavish ceremony in Barcelona and were bestowed the titles of Duke and Duchess of Palma by Felipe's father, king Juan Carlos, who unexpectedly abdicated last year.The couple's multi-million-euro mansion has been impounded by the courts and Cristina was notably absent from ceremonies marking Felipe's ascension to the throne in June 2014.Urdangarin, 47, is accused along with a former business partner of creaming off six million euros ($6.6 million) in public funds from contracts awarded to Noos, a charitable foundation which he chaired.Cristina's lawyers say she is innocent of any wrongdoing and that she trusted her husband to handle their financial affairs.The corruption controversy has outraged Spaniards and helped sour the last years of the reign of Juan Carlos, who gave up the throne after nearly four decades hoping his son could freshen up the image of the monarchy.