Tuesday, June 28, 2016
DAY 1 THAT PEACE LOVING ISLAMIC-TERRORISTS ARE AT IT AGAIN. 3 SUICIDE BOMBS KILL 32 AND INJURE AT LEAST 147 AT TURKEY AIRPORT.
JEWISH KING JESUS IS COMING AT THE RAPTURE FOR US IN THE CLOUDS-DON'T MISS IT FOR THE WORLD.THE BIBLE TAKEN LITERALLY- WHEN THE PLAIN SENSE MAKES GOOD SENSE-SEEK NO OTHER SENSE-LEST YOU END UP IN NONSENSE.GET SAVED NOW- CALL ON JESUS TODAY.THE ONLY SAVIOR OF THE WHOLE EARTH - NO OTHER. 1 COR 15:23-JESUS THE FIRST FRUITS-CHRISTIANS RAPTURED TO JESUS-FIRST FRUITS OF THE SPIRIT-23 But every man in his own order: Christ the firstfruits; afterward they that are Christ's at his coming.ROMANS 8:23 And not only they, but ourselves also, which have the firstfruits of the Spirit, even we ourselves groan within ourselves, waiting for the adoption, to wit, the redemption of our body.(THE PRE-TRIB RAPTURE)
WORLD POWERS IN THE LAST DAYS (END OF AGE OF GRACE NOT THE WORLD)
EUROPEAN UNION-KING OF WEST-DAN 9:26-27,DAN 7:23-24,DAN 11:40,REV 13:1-10
EGYPT-KING OF THE SOUTH-DAN 11:40
RUSSIA-KING OF THE NORTH-EZEK 38:1-2,EZEK 39:1-3
CHINA-KING OF THE EAST-DAN 11:44,REV 9:16,18
VATICAN-RELIGIOUS LEADER-REV 13:11-18,REV 17:4-5,9,18
WORLD TERRORISM
GENESIS 6:11-13
11 The earth also was corrupt before God, and the earth was filled with violence.(WORLD TERRORISM,MURDERS)(HAMAS IN HEBREW IS VIOLENCE)
12 And God looked upon the earth, and, behold, it was corrupt; for all flesh had corrupted his way upon the earth.
13 And God said unto Noah, The end of all flesh is come before me; for the earth is filled with violence (TERRORISM)(HAMAS) through them; and, behold, I will destroy them with the earth.
GENESIS 16:11-12
11 And the angel of the LORD said unto her,(HAGAR) Behold, thou art with child, and shalt bear a son, and shalt call his name Ishmael;(FATHER OF THE ARAB/MUSLIMS) because the LORD hath heard thy affliction.
12 And he (ISHMAEL-FATHER OF THE ARAB-MUSLIMS) will be a wild (DONKEY-JACKASS) man;(ISLAM IS A FAKE AND DANGEROUS SEX FOR MURDER CULT) his hand will be against every man,(ISLAM HATES EVERYONE) and every man's hand against him;(PROTECTING THEMSELVES FROM BEING BEHEADED) and he (ISHMAEL ARAB/MUSLIM) shall dwell in the presence of all his brethren.(LITERAL-THE ARABS LIVE WITH THEIR BRETHERN JEWS)
ISAIAH 14:12-14
12 How art thou fallen from heaven, O Lucifer,(SATAN) son of the morning!(HEBREW-CRECENT MOON-ISLAM) how art thou cut down to the ground, which didst weaken the nations!
13 For thou hast said in thine heart, I will ascend into heaven, I will exalt my throne above the stars of God: I will sit also upon the mount of the congregation, in the sides of the north:
14 I (SATAN HAS EYE TROUBLES) will ascend above the heights of the clouds; I will be like the most High.(AND 1/3RD OF THE ANGELS OF HEAVEN FELL WITH SATAN AND BECAME DEMONS)
JOHN 16:2
2 They shall put you out of the synagogues: yea, the time cometh, that whosoever killeth you will think that he doeth God service.(ISLAM MURDERS IN THE NAME OF MOON GOD ALLAH OF ISLAM)
UPDATE-JUNE 29,2016-08:40AM
THE TOTAL DEAD AND INJURED IN THE ATATURK AIR PORT BOMBINGS ARE 41 KILLED AND 239 INJURED.
UPDATE-JUNE 28,2016-07:07AM
1 SUICIDE BOMBER BLEW HIMSELF UP OUTSIDE THE TURKISH AIRPORT. 2 OTHER SUICIDE BOMBERS BLEW THEMSELVES UP INSIDE THE TURKISH AIRPORT. 32 PEOPLE WERE KILLED AND 147 INJURED. THE REPORTS SAY THIS LOOKS LIKE A ISIS ATTACK. AS IT WAS WELL PLANNED. AND COORDINATED. THIS ISLAMIC-MUSLIM TERRORIST ATTACK WAS PROBABLY DONE AT THIS TURKEY WORLD AIRPORT BECAUSE YESTERDAY TURKEY AND ISRAELI PATCHED THEIR DIFFERENCES. AND NOW TODAY A TERRORIST ATTACK ON THE WORLD AIR PORT. HMM-NO ACCIDENT. AND ONE OF THE BOMBERS WAS CAUGHT ON CAMERA. THE ISLAMIC MUSLIM-QURANIC TERRORIST WAS SHOT BY POLICE. HE THEN FELL TO THE FLOOR. AND THE ISLAMIC-MUSLIM TERRORIST THEN PULLED THE PLUG ON HIS BOMB VEST. AND BLEW THE PART OF THE AIR PORT UP WERE HE WAS IN. AMERICANS ARE WARNED NOT TO COME OR GO FROM THAT AIRPORT. THEIR SAYING THIS IS THE BEST PROTECTED AIR PORT IN TURKEY. BUT STILL ISIS AND THEIR CALIPHATE DEATH CULT MURDER TERRORIST GOT IN AND SLAUGHTERED 32 AND INJURED 147. THE 3 TERRORIST WENT SHOOTING IN AND OUTSIDE THE ISTANBUL AIR PORT. AND BY THE SOUNDS OF IT. 2 ISLAMIC TERRORIST THEN BLEW THEMSELVES UP OUTSIDE THE AIR PORT. WHILE THE THIRD SHOOTER-TERRORIST WENT INSIDE AND WAS SHOT-THEN HE BLEW HIMSELF UP. ONE PERSON CALLED THIS AN APOCALYPTIC EVENT. HE SAID IT LOOKED LIKE A ZOMBIE ATTACK. THIS ATTACK OCURRED IN THE LAST 10 DAYS OF RAMADAN. AND YOU ARE BLESSED BY KILLING INNOCENT PEOPLE. AT LEAST 10 TIMES MORE THEN WHEN ITS NOT RAMADAN. SO THIS IS THE BEST TIME FOR ISLAMIC-MUSLIM-QURANIC-DEATH CULTISTS REWARDS TO KILL PEOPLE. I WONDER IF THEY BELIEVE THEY GET 10 TIMES VIRGINS IN PARADISE TO HAVE SEX FOREVER WITH. WHICH WOULD BE 720 INSTEAD OF 72. THIS IS JUST ANOTHER DAY IN THE LIFE OF THAT PEACEFUL DEATH CULT ISLAM AND THEIR MOON GOD ALLAH. AND THEIR PEDOPHILE FALSE PROPHET MUHAMMAD. ITS NOW 9:09PM.AND 36 ARE NOW KILLED IN THIS TERRORIST ATTACK.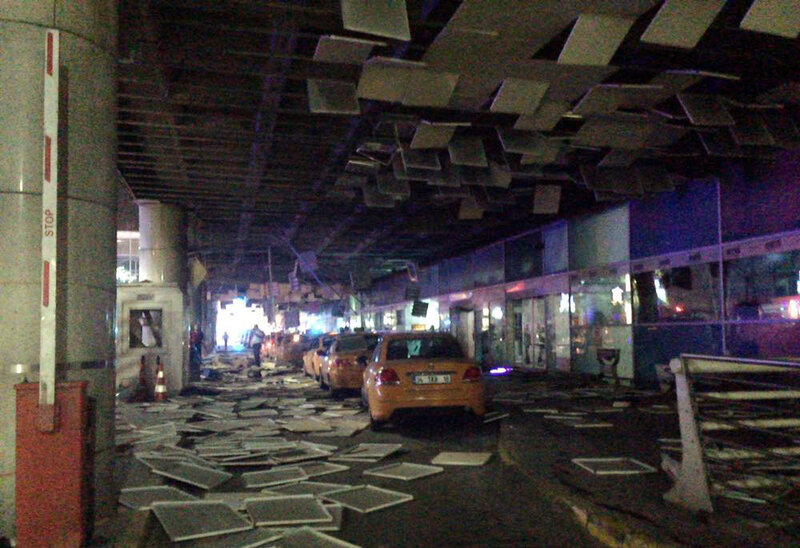 At least 32 people have died at Istanbul's Ataturk International Airport, where an explosion followed an outburst of gunfire Tuesday night, according to Turkish media. Police and emergency personnel have flocked to the airport. More than 80 people were reportedly injured.Crucial details about the attack are still emerging: We'll update this post with news from Istanbul as it emerges.Istanbul Governor Vasip Sahin says investigators are looking at the possibility that three separate explosions struck the airport. Justice Minister Bekir Bozdag says at least one explosion hit near the airport's entrance."The minister said a terrorist opened fire with an AK-47 assault rifle at the international terminal before detonating a suicide bomb," reports the state-run Anadolu Agency.In an unusual occurrence, views of the actual attack are being shared on Twitter and other social media, in several videos that rely on smartphone footage of the airport's security camera monitors.One such video, seemingly taken from the camera above the check-in desk, shows people running from the area of the explosion. While the video doesn't include graphic images of personal injury, we'll warn you that it does depict a traumatic event at around the 17-second mark, as the blast generates a powerful fireball.Atatürk Havalimanı'nda çekilen görüntülerde canlı bomba saldırısı öncesi insanların ters yöne koştuğu görülüyor. pic.twitter.com/PqPMWvPNre— 140journos (@140journos) June 28, 2016-Another video posted to Twitter suggests security personnel shot an armed attacker as he ran around a corner in the airport. That video shows people fleeing from a man who then falls to the ground. The man struggles on the ground for some 20 seconds before the scene is overtaken by a large explosion.In one harrowing video, the moment the blast struck seems to have been captured. The images show a large fiery blast — one that could have spread devastation much farther if it hadn't been at least partially contained by a hallway. At the end of the sequence, people who seem to have been only around 50 feet from the blast are seen running away. The video was posted to Twitter by many accounts; several of those postings have since been removed.TV news channels in Turkey also put out an online video stream that showed more than a dozen ambulances responding to the airport. In one sequence, a police officer was seen walking out of the building, his shirt stained with blood.A live online broadcast from the Dogan News Agency also showed ambulances, private vehicles, and a taxi cab rushing up to the doors of a hospital, unloading bloodied patients who were then quickly taken inside.One video that was briefly posted to Twitter before being removed showed a scene of panic inside the airport, as a man who apparently works at the facility urged travelers to flee down a hallway.Consulate staff at the U.S. embassy in Turkey are now working to determine whether any Americans are among the victims of the attack. Just one day ago, the U.S. State Department issued a travel warning to U.S. citizens, citing "increased threats from terrorist groups throughout Turkey."The embassy has posted a page to help travelers.Calling the Ataturk Airport "a symbol of international connections and the ties that bind us together," White House Press Secretary Josh Earnest issued a statement condemning the attack."Our deepest condolences go out to the families and loved ones of those killed, and we wish a speedy recovery to those injured," Earnest said.The violence comes after a string of attacks have hit Turkey — including two deadly strikes in March that targeted Ankara and Istanbul, as well as another attack near military buildings in Istanbul in February.This is a breaking news story. As often happens in situations like these, some information reported early may turn out to be inaccurate. We'll move quickly to correct the record and we'll only point to the best information we have at the time. Refresh this page for the latest.