Sunday, July 12, 2015
WHO IS THIS DEAD 4 YEAR OLD.IF YOU KNOW PHONE POLICE.
JEWISH KING JESUS IS COMING AT THE RAPTURE FOR US IN THE CLOUDS-DON'T MISS IT FOR THE WORLD.THE BIBLE TAKEN LITERALLY- WHEN THE PLAIN SENSE MAKES GOOD SENSE-SEEK NO OTHER SENSE-LEST YOU END UP IN NONSENSE.GET SAVED NOW- CALL ON JESUS TODAY.THE ONLY SAVIOR OF THE WHOLE EARTH - NO OTHER. 1 COR 15:23-JESUS THE FIRST FRUITS-CHRISTIANS RAPTURED TO JESUS-FIRST FRUITS OF THE SPIRIT-23 But every man in his own order: Christ the firstfruits; afterward they that are Christ's at his coming.ROMANS 8:23 And not only they, but ourselves also, which have the firstfruits of the Spirit, even we ourselves groan within ourselves, waiting for the adoption, to wit, the redemption of our body.(THE PRE-TRIB RAPTURE)
BABY DOE FOUND DEAD.DO YOU KNOW HER.IF SO PHONE POLICE.-PIC-DAILYMAIL.CO.UK
UPDATED JULY 10,2015-08:16PM
Millions Share Story of Mystery Girl Found Dead on Beach-BOSTON — Jul 8, 2015, 11:34 AM ET-By DENISE LAVOIE AP Legal Affairs Writer-Police Search to Identify Young Girl Found Dead in Trash Bag-Associated Press-abcnews
In her computer-generated image, she is the picture of innocence: a 4-year-old girl with long brown hair, chubby cheeks and expressive brown eyes. The image has reached a staggering 47 million people on Facebook as investigators try to identity the child whose remains were found on a Boston Harbor beach nearly two weeks ago.The mystery of Baby Doe began on June 25, when a woman walking her dog on the western shore of Deer Island called 911 and reported finding a trash bag containing the girl's body. The child was wearing white leggings with black polka dots. Inside the bag with her remains was a zebra-print blanket.Police immediately appealed to the public for help in identifying the girl. Using photos of her remains, the National Center for Missing and Exploited Children created a composite image of what the girl may have looked like when she was alive.After that image and photos of the leggings and blanket were posted on the Massachusetts State Police Facebook page, investigators were astonished by the attention the posting received. As of Wednesday morning, the post had been liked by more than 50,000 people and shared more than 615,000 times.But authorities still haven't identified the girl."It has by far shattered our previous record for Facebook views," said Jake Wark, a spokesman for Suffolk County District Attorney Daniel Conley, whose office is overseeing the investigation.Adding to the mystery is that investigators still haven't been able to figure out how she died. There were no obvious signs of trauma to her body, and an autopsy performed by the state medical examiner's office did not determine the manner or cause of her death.Conley said Tuesday that authorities are awaiting the results of toxicology tests to determine if the girl was poisoned or ingested drugs.She weighed 30 pounds and was about 3 1/2 feet tall. Her body was reasonably intact but had a modest amount of decomposition. Authorities won't say how long they believe she had been dead by the time her remains were discovered.They also don't know if the girl lived in Massachusetts or came from another state. They will not say whether the trash bag containing her body washed up on shore or was left on the beach by someone.Investigators have received "dozens and dozens" of tips from the public, and those leads have prompted police to check on the well-being of 20 girls in the same age range. All of those girls were found safe and sound.Conley said the outpouring of support by people who have shared the girl's image on social media is gratifying and gives him confidence that her identity eventually will be determined.During a news conference Tuesday, Conley spoke directly to the girl's parents or caretakers: "Please step forward, clear your conscience and help us identify this young child."Conley would not elaborate on whether the child's parents or caretakers are a focus of the investigation and said authorities don't know if the girl's death was an accident or a crime.Her death and the mystery surrounding her identity have touched a chord in many people. State police say their Facebook posting on the girl has received more than 10 times the views of their previous highest post. People from Maine to California, Canada and Puerto Rico have shared the posting, with many of them expressing sorrow or anger over the girl's death."How can someone just throw a child away?" wrote one woman from Arizona."This is just horrible, no one is missing this little angel!" wrote another woman from Clovis, California.Barbara Smith, 67, of Missoula, Montana, said she has shared the girl's image three times and plans to share it again and again until investigators figure out who she was and how she died."I'm about to become a great-grandmother, so it just touches you," she said in a telephone interview. "It's sad that there was a little girl out there of her age that was found by herself and nobody has claimed her."State police spokesman David Procopio said investigators are grateful to the public for "caring about this little innocent.""But we continue our request for leads," he said."We need people to continue to look at her and think about her and let us know if anything in their memory clicks."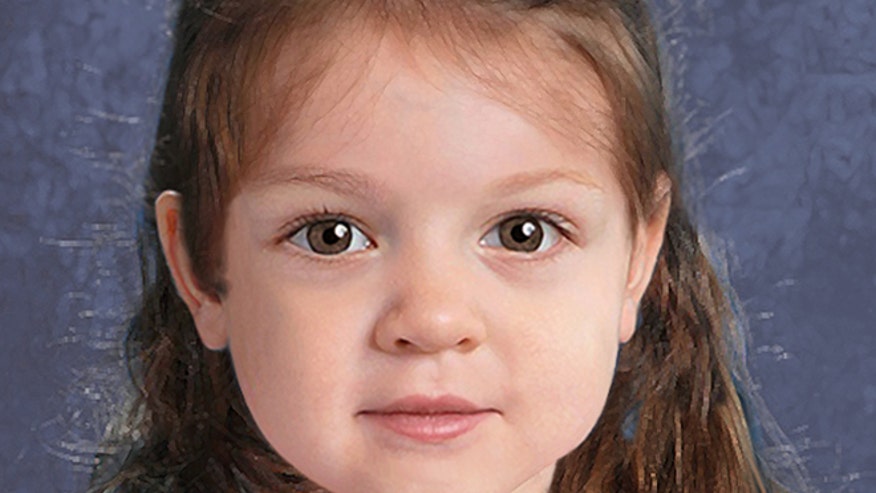 CAN YOU IDENTIFY LITTLE 4 YEAR OLD BABY DOE.FOUND DEAD.IF YOU CAN PHONE POLICE.-PIC-FOXNEWS.COM