Thursday, August 14, 2014
IS JESUS TELLING US THE RAPTURE CAN OCCURR ANY SECOND NOW IN THIS BEAUTIFUL CLOUD SIGN.WHAT LOOKS LIKE JESUS AND AN ANGEL BLOWING THE RAPTURE TO HEAVEN TRUMPET.
JEWISH KING JESUS IS COMING AT THE RAPTURE FOR US IN THE CLOUDS-DON'T MISS IT FOR THE WORLD.THE BIBLE TAKEN LITERALLY- WHEN THE PLAIN SENSE MAKES GOOD SENSE-SEEK NO OTHER SENSE-LEST YOU END UP IN NONSENSE.GET SAVED NOW- CALL ON JESUS TODAY.THE ONLY SAVIOR OF THE WHOLE EARTH - NO OTHER
PROOF OF THE RAPTURE BEFORE 7 YR TRIBULATION.FOR SKEPTICS OF TRUTH.
ITS THE REVELATION OF JESUS TO EARTH,NOT REVELATIONS OF JESUS TO START WITH.
REVELATION CH 2+3 CHURCH AGE.
REVELATION CH 4 THE RAPTURE.
FOR SKEPTICS OF THE RAPTURE.WHY IS THE CHURCH NOT MENTIONED FROM REV CH 4 TILL CH 20 IS MY QUESTION.
REVELATION CH'S 6-19 (7 YR TRIBULATION).
RAPTURE SCRIPTURES
LUKE 21:28,36
28 And when these things begin to come to pass,(ALL THE SIGNS OF PROPHECY HAPPENING-BEGGINING TO ALL BE FULFILLED) then look up, and lift up your heads; for your redemption draweth nigh.(THE RAPTURE)
36 Watch ye therefore, and pray always, that ye may be accounted worthy to escape all these things that shall come to pass,(LITERALLY ON THE EARTH) and to stand before the Son of man.(RAPTURE-INVESTIGATION OF OUR CHRISTIAN LIVES AT THE RAPTURE-AND THE CROWNS GIVEN TO JESUS BY US FOR OUR CHRISTIAN WORKS HE DONE THROUGH US)
JOHN 14:2-3
2 In my Father's house are many mansions:(JESUS MADE MANSIONS FOR US CHRISTIANS TO LIVE IN WITH HIM FOREVER ON EARTH) if it were not so, I would have told you. I go to prepare a place for you.
3 And if I go and prepare a place for you, I will come again,(AT THE RAPTURE IN THE CLOUDS) and receive you unto myself;(CHRISTIANS) that where I am,(HEAVEN) there ye may be also.(HEAVEN,THEN AT THE END OF THE 7 YR TRIB.LITERALLY BACK TO EARTH WITH JESUS FOREVER)
1 THESSALONIANS 1:10
10 And to wait for his Son (KING JESUS) from heaven, whom he raised from the dead, even Jesus, which delivered us from the wrath to come.(WE DON'T GO THREW THE 7 YR TRIB-WE GET RAPTURED BEFORE IT OCCURRS).
2 THESSALONIANS 2:3-12
3 Let no man deceive you by any means: for that day shall not come, except there come a falling away first, and that man ( A LITERAL MAN,NOT JUST A SPIRITUALIZED SYSTEM OF ANTICHRIST) of sin be revealed, the son (A SON IS A MAN,NOT A SYSTEM) of perdition;(DUPLICATING JUDAS' ACTS)
4 Who opposeth and exalteth himself (A MAN PROMOTES HIMSELF NOT A SYSTEM) above all that is called God, or that is worshipped; so that he as God sitteth in the temple of God, shewing himself that he is God.
5 Remember ye not, that, when I was yet with you, I told you these things?
6 And now ye know what withholdeth (THE HOLY SPIRIT IN CHRISTIANS) that he might be revealed in his time.(AFTER THE RAPTURE)
7 For the mystery of iniquity doth already work: only he who now letteth will let, until he be taken out of the way.(CHRISTIANS AT THE RAPTURE)
8 And then (AFTER THE RAPTURE) shall that Wicked be revealed,(WORLD DICTATOR) whom the Lord shall consume with the spirit of his mouth, and shall destroy with the brightness of his coming:
9 Even him, whose coming is after the working of Satan with all power and signs and lying wonders,
10 And with all deceivableness of unrighteousness in them that perish; because they received not the love of the truth, that they might be saved.
11 And for this cause God shall send them strong delusion,(THE FALSE RESURRECTION OF THE WORLD DICTATOR) that they should believe a lie:(THAT HES GOD)
12 That they all might be damned who believed not the truth,(GODS WORD) but had pleasure in unrighteousness.(SINFUL LUSTS AND DESIRES)
REVELATION 3:10-11
10 Because thou hast kept the word of my patience, I also will keep thee from (NOT THROUGH THE TRIBULATION PERIOD AND 3 BILLION DEAD FROM WW3) the hour of temptation, which shall come upon all the world,(7 YR TRIBULATION) to try them that dwell upon the earth.
11 Behold, I come quickly: hold that fast which thou hast, that no man take thy crown.
ROMANS 8:22-23 For we know that the whole creation groaneth and travaileth in pain together until now.
23 And not only they, but ourselves also, which have the firstfruits of the Spirit, even we ourselves groan within ourselves, waiting for the adoption, to wit, the redemption of our body.(THR RAPTURE)
WE KNOW FOR SURE THE RAPTURE COMES BEFORE THE JUDGEMENTS BECAUSE WE MEET JESUS IN REV 4:1 AND THE JUDGEMENTS START IN REV 6:1.AND REV 3:10 JUST BEFORE 4:1 SAYS WE WILL NOT GO THROUGHT THE 7 YRS OF HELL ON THE WHOLE EARTH.HOW DO WE KNOW FOR SURE-LETS LOOK AT REV 11 AND SEE HOW THE 2 WITNESSES GET RAPTURED TO HEAVEN.AND THE PRECISE WORDING GOD USES.
REV 11:7-8,11-12
7 And when they(MOSES-ELIJAH) shall have finished their testimony,(AT THE 3 1/2 YR MARK OF THE TRIB) the beast(WORLD DICTATOR) that ascendeth out of the bottomless pit shall make war against them, and shall overcome them, and kill them.
8 And their dead bodies shall lie in the street of the great city, which spiritually is called Sodom and Egypt,(JERUSALEM) where also our Lord was crucified.
11 And after three days and an half the spirit of life from God entered into them, and they stood upon their feet; and great fear fell upon them which saw them.
12 And they(ELIJSH-MOSES) heard a great voice from heaven saying unto them, Come up hither.(REV 4:1 WE KNOW IS THE RAPTURE FOR SURE) And they ascended up to heaven in a cloud; and their enemies beheld them.(RAPTURED)
WHAT DOES GOD SAY TO ELIJAH AND MOSES(COME UP HITHER)AND REV 4:1 GOD SAYS TO THE CHRISTIANS(COME UP HITHER).NO DOUBT ABOUT IT.THE RAPTURE OCCURS(REV 4:1) BEFORE THE 21 JUDGEMENTS OF REVELATION CH 6-19
REVELATION 4:1-2
1 After this I looked, and, behold, a door was opened in heaven: and the first voice which I heard was as it were of a trumpet talking with me; which said, Come up hither, and I will shew thee things which must be hereafter.
2 And immediately I was in the spirit: and, behold, a throne was set in heaven, and one sat on the throne.
1 THESSALONIANS 4:13-18
13 But I would not have you to be ignorant, brethren, concerning them which are asleep, that ye sorrow not, even as others which have no hope.
14 For if we believe that Jesus died and rose again, even so them also which sleep in Jesus will God bring with him.
15 For this we say unto you by the word of the Lord, that we which are alive and remain unto the coming of the Lord shall not prevent them which are asleep.
16 For the Lord himself shall descend from heaven with a shout, with the voice of the archangel, and with the trump of God: and the dead in Christ shall rise first:
17 Then we which are alive and remain shall be caught up together with them in the clouds, to meet the Lord in the air: and so shall we ever be with the Lord.
18 Wherefore comfort one another with these words.(NOT SCARE PEOPLE WITH THESE WORDS,THE RAPTURE IS A COMFORT,WE WON'T GO THREW WW3 AND 3 BILLION DEAD)
JOHN 11:25-26
25 Jesus said unto her, I am the resurrection, and the life: he that believeth in me, though he were dead,(BODY IN THE GRAVE/SPIRIT/SOUL GO TO JESUS) yet shall he live:(BODY,SOUL,SPIRIT REUNITED AT THE RAPTURE)
26 And whosoever liveth and believeth in me shall never die.(THE CHRISTIANS ALIVE AT THE TIME OF THE RAPTURE NEVER DIE,OUR BODIES AUTOMATICALLY GET CHANGED TO NEVER DYING BODIES) Believest thou this?(THE CHRISTIANS ALIVE ON EARTH AT THE TIME OF THE RAPTURE NEVER HAVE A PHYSICAL DEATH LIKE THE VERSE SAYS)
1 CORINTHIANS 15:51-55
51 Behold, I shew you a mystery; We shall not all sleep, but we shall all be changed,
52 In a moment, in the twinkling of an eye, at the last trump: for the trumpet shall sound, and the dead shall be raised incorruptible, and we shall be changed.
53 For this corruptible must put on incorruption, and this mortal must put on immortality.
54 So when this corruptible shall have put on incorruption, and this mortal shall have put on immortality, then shall be brought to pass the saying that is written, Death is swallowed up in victory.
55 O death, where is thy sting? O grave, where is thy victory?
LUKE 21:11
11 And great earthquakes shall be in divers places, and famines, and pestilences;(BIOLOGICAL/CHEMICAL/NUCLEAR) and fearful sights and great signs shall there be from heaven.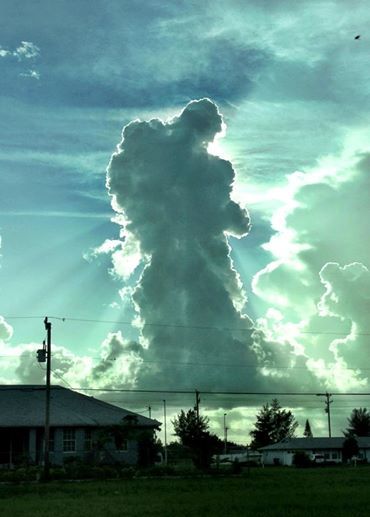 LOVELY CLOUD FORMATION SIGN THAT MIGHT BE TELLING US THE RAPTURE IS ABOUT TO HAPPEN.WITH A SIGN OF JESUS THE JEWISH MESSIAH AND KING AND AN ANGEL WITH A TRUMPET CALLING THE CHRISTIANS TO THE CLOUDS WITH JESUS TO AVOID WW3 AND 3 BILLION DEAD ON EARTH FOR THE 7 YEAR TRIBULATION PERIOD.THEN AT THE END OF THE 7 YEAR TRIBULATION.WE CHRISTIANS COME BACK TO EARTH WITH JESUS RIDING ON WHITE HORSES.AND JESUS RULES FOREVER FROM DAVIDS THRONE IN JERUSALEM WITH ISRAEL AND JERUSALEM THE WORLD CAPITAL.NOT JUST ISRAELS CAPITAL.-PIC HUFFINGTON POST
By Fiona Finn Become a fan-God' and Angel in Photograph of Clouds Over Cape Coral, Florida
Posted: 08/12/2014 1:48 pm EDT Updated: 08/12/2014 6:59 pm EDT-HUFFINGTON POST
Definitely, this is an awesome picture but is it really a message from heaven? Is this striking image of majestic man wearing robes God? You be the judge.The cloud above was spotted in Cape Coral, Florida by my boss on his way home from work. And what was immediately obvious was the fact that this cloud was shaped in the image of the Lord. Also look to the far right and you'll see another cloud that looks like an angel with a trumpet in hand. Maybe it's the angel Gabriel blowing a trumpet blast to indicate the Lord's return to Earth, or maybe not...I realize that some may see this as a sign, an act of God if you will. There will be others, those who will doubt. And that's okay. But one thing's for sure, and that's how remarkably clear this image in the sky really is. Believe it or not, God is said to work in mysterious ways.Regardless of your belief system, it's your God-given right to judge this photo for yourself, isn't it? So, I ask you is the image above just a group of cumulus clouds? Or are those noticeable clouds with clearly defined edges the Almighty himself? Still, no matter the answer, lots of us will continue to look to the sky, searching for life's deeper meaning. Or are we searching in vain, deluding ourselves while involving our senses that random images are actually miracles or signs from above? Why do we look to the skies above in relation to God? Sure, as children we stare at the sky and see shapes appear in the swirling clouds but as adults some of us look upwards reaching for a higher power. Are we waiting for signs? Or proof of God? I for one was blown away by this photo and yes, I believe it's a real snapshot of God in the clouds. Although personally, I'll admit it is hard to digest this image as I am living a hell-on-earth type of life, wishing daily that I didn't feel so hollow, so broken.I was raised a Catholic, so sure I believe in God -- but lately, I have to wonder how much he really believes in me, or my family. God only knows why I was one of the first to see this photo. And since I believe that he made me human, I believe he won't condemn me when I behave like one. That said I've spent my fair share of time blaming him for my actions and inactions. Yes sir, I've projected my fears, insecurities, and failures onto Him. Blaming God has been easier than blaming myself.Okay, I'm sure you're thinking that's not the typical reaction of someone who just seen God manifest himself in the clouds. But God forbid in these turbulent times anyone of us gets real? You know raw, I have -- by opening up my life, my struggles, and my insecurities with my story. Although, I still struggle with what I'm doing here on this planet and why there's so much unfairness and evil in this world. Still, I do see this picture as proof that God is speaking to all of us. So who among us is willing to listen? Please share your opinions below. I'd love to hear them.Fiona Finn, author of Raw: One Woman's Journey through Love, Loss, and Cancer. Feel free to follow me, or follow me not on Twitter @fionaburkefinn.