Thursday, July 31, 2014
FIRE IN THE SKY:APOCALYPSE" THUNDER STORMS ROLLS INTO YELLOWKNIFE
JEWISH KING JESUS IS COMING AT THE RAPTURE FOR US IN THE CLOUDS-DON'T MISS IT FOR THE WORLD.THE BIBLE TAKEN LITERALLY- WHEN THE PLAIN SENSE MAKES GOOD SENSE-SEEK NO OTHER SENSE-LEST YOU END UP IN NONSENSE.GET SAVED NOW- CALL ON JESUS TODAY.THE ONLY SAVIOR OF THE WHOLE EARTH - NO OTHER
STORMS HURRICANES-TORNADOES
LUKE 21:25-26
25 And there shall be signs in the sun, and in the moon, and in the stars; and upon the earth distress of nations, with perplexity;(MASS CONFUSION) the sea and the waves roaring;(FIERCE WINDS)
26 Men's hearts failing them for fear,(TORNADOES,HURRICANES,STORMS) and for looking after those things which are coming on the earth:(DESTRUCTION) for the powers of heaven shall be shaken.(FROM QUAKES,NUKES ETC)
FIRES AND EXPLOSIONS
REVELATION 8:7
7 The first angel sounded, and there followed hail and fire mingled with blood, and they were cast upon the earth: and the third part of trees was burnt up, and all green grass was burnt up.
Fire in the sky: 'Apocalypse' thunderstorm rolls into Yellowknife-Storm clouds mixed with wildfire smoke, producing optical illusions like 'red' lightning-CBC News Posted: Jul 30, 2014 6:36 PM CT Last Updated: Jul 31, 2014 7:09 AM CT
Lightning appeared red behind a thick cloud of smoke that blanketed Yellowknife as a storm rolled in on Wednesday. A thunderstorm that hit Yellowknife, N.W.T., on Wednesday night mixed with thick clouds of smoke from nearby wildfires, rendering the sky shades of orange and yellow, and making some lightning strikes appear almost red in colour.Is it smoke or rain, or both? moke from N.W.T. forest fires followed by thunderclouds brought nightfall early to Yellowknife Wednesday. People took to social media to post photos of the skies described as everything from "eerie" to "apocalyptic."
More photos
https://storify.com/CBCNorth/yellowknife-gets-its-rain
cbc.ca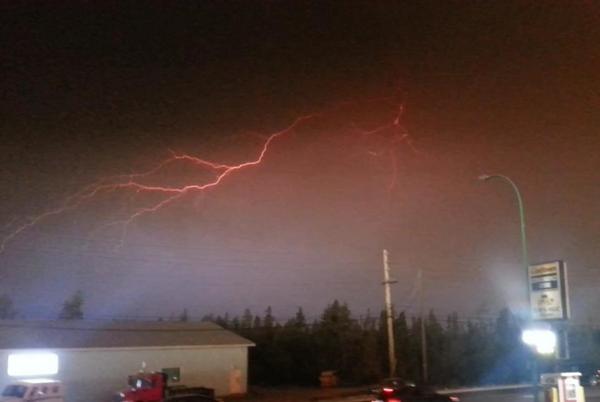 kyla o'connell