Thursday, July 31, 2014
FIRE IN THE SKY:APOCALYPSE" THUNDER STORMS ROLLS INTO YELLOWKNIFE
JEWISH KING JESUS IS COMING AT THE RAPTURE FOR US IN THE CLOUDS-DON'T MISS IT FOR THE WORLD.THE BIBLE TAKEN LITERALLY- WHEN THE PLAIN SENSE MAKES GOOD SENSE-SEEK NO OTHER SENSE-LEST YOU END UP IN NONSENSE.GET SAVED NOW- CALL ON JESUS TODAY.THE ONLY SAVIOR OF THE WHOLE EARTH - NO OTHER
STORMS HURRICANES-TORNADOES
LUKE 21:25-26
25 And there shall be signs in the sun, and in the moon, and in the stars; and upon the earth distress of nations, with perplexity;(MASS CONFUSION) the sea and the waves roaring;(FIERCE WINDS)
26 Men's hearts failing them for fear,(TORNADOES,HURRICANES,STORMS) and for looking after those things which are coming on the earth:(DESTRUCTION) for the powers of heaven shall be shaken.(FROM QUAKES,NUKES ETC)
FIRES AND EXPLOSIONS
REVELATION 8:7
7 The first angel sounded, and there followed hail and fire mingled with blood, and they were cast upon the earth: and the third part of trees was burnt up, and all green grass was burnt up.
Fire in the sky: 'Apocalypse' thunderstorm rolls into Yellowknife-Storm clouds mixed with wildfire smoke, producing optical illusions like 'red' lightning-CBC News Posted: Jul 30, 2014 6:36 PM CT Last Updated: Jul 31, 2014 7:09 AM CT
Lightning appeared red behind a thick cloud of smoke that blanketed Yellowknife as a storm rolled in on Wednesday. A thunderstorm that hit Yellowknife, N.W.T., on Wednesday night mixed with thick clouds of smoke from nearby wildfires, rendering the sky shades of orange and yellow, and making some lightning strikes appear almost red in colour.Is it smoke or rain, or both? moke from N.W.T. forest fires followed by thunderclouds brought nightfall early to Yellowknife Wednesday. People took to social media to post photos of the skies described as everything from "eerie" to "apocalyptic."
More photos
https://storify.com/CBCNorth/yellowknife-gets-its-rain
cbc.ca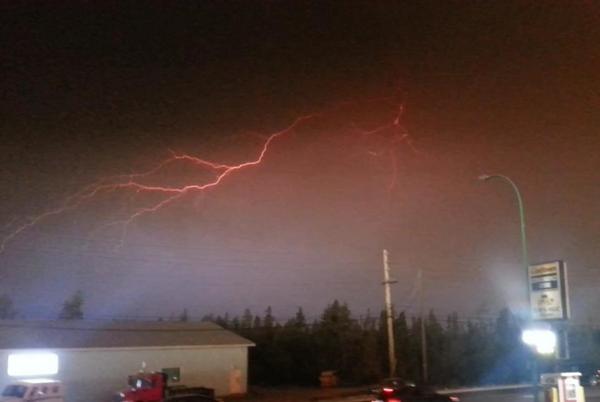 kyla o'connell
DAY 24-ISRAEL CREATE HAMONGOG IN THE JORDAN VALLEY FOR THE ARABS TO BE BURRIED-MAKE EZEKIEL 39 LITERALLY COME TO PASS
JEWISH KING JESUS IS COMING AT THE RAPTURE FOR US IN THE CLOUDS-DON'T MISS IT FOR THE WORLD.THE BIBLE TAKEN LITERALLY- WHEN THE PLAIN SENSE MAKES GOOD SENSE-SEEK NO OTHER SENSE-LEST YOU END UP IN NONSENSE.GET SAVED NOW- CALL ON JESUS TODAY.THE ONLY SAVIOR OF THE WHOLE EARTH - NO OTHER
Palestinian victims describe being used as shields by Hamas
Members of a Gaza family whose farm was turned into a "fortress" by Hamas fighters have reported that they were helpless to stop Hamas from using them as human shields. They described how for years Hamas has used their property and homes as shields for military installations from which to launch rockets into Israel, dig tunnels and store arms. According to the victims, those who tried to object were shot in the legs by Hamas.
The following is the full text of the comments by Hamas representative Fathi Hammad months before the war, articulating the Hamas ideology to use civilians as human shields for Hamas fighters:
"For the Palestinian people death has become an industry, at which women excel and so do all people on this land: the elderly excel, the Jihad fighters excel, and the children excel. Accordingly [Palestinians] created a human shield of women, children, the elderly and the Jihad fighters against the Zionist bombing machine, as if they were saying to the Zionist enemy: 'We desire death as you desire life.'"
ZEPHANIAH 2:1-7
1 Gather yourselves together, yea, gather together, O nation not desired;
2 Before the decree bring forth, before the day pass as the chaff, before the fierce anger of the LORD come upon you, before the day of the LORD'S anger come upon you.
3 Seek ye the LORD, all ye meek of the earth, which have wrought his judgment; seek righteousness, seek meekness: it may be ye shall be hid in the day of the LORD'S anger.
4 For Gaza shall be forsaken, and Ashkelon a desolation: they shall drive out Ashdod at the noon day, and Ekron shall be rooted up.(ITS NO ACCIDENT THAT IN THIS GAZA WAR ITS ASHKELON-ASHDOD AND THE MURDERER HAMAS IN GAZA WERE MOST OF THE BOMBING ARE)(THIS IS PROPHECY COMING TO PASS BIGTIME)
5 Woe unto the inhabitants of the sea coast,(GAZA) the nation of the Cherethites! the word of the LORD is against you; O Canaan, the land of the Philistines,(PALESTINIANS) I will even destroy thee, that there shall be no inhabitant.
6 And the sea coast (GAZA) shall be dwellings and cottages for shepherds, and folds for flocks.
7 And the coast (GAZA) shall be for the remnant of the house of Judah;(ISRAEL) they shall feed thereupon: in the houses of Ashkelon shall they lie down in the evening: for the LORD their God shall visit them, and turn away their captivity.(BY THIS PROPHECY I PREDICT ISRAEL WILL RETAKE GAZA SO ISRAELIS AROUND THE WORLD CAN IMMIGRATE THERE AND BUILD HOMES AND LIVE)
ISAIAH 14:29-32
29 Rejoice not thou, whole Palestina,(ARABS-PALESTINIANS) because the rod of him that smote thee is broken: for out of the serpent's root shall come forth a cockatrice, and his fruit shall be a fiery flying serpent.(BOMBS)(WARFARE)
30 And the firstborn of the poor shall feed, and the needy shall lie down in safety: and I will kill thy root with famine, and he shall slay thy remnant.
31 Howl, O gate; cry, O city; thou, whole Palestina,(ARABS) art dissolved: for there shall come from the north a smoke, and none shall be alone in his appointed times.
32 What shall one then answer the messengers of the nation? That the LORD hath founded Zion,(JERUSALEM) and the poor of his people shall trust in it.
RELATED
http://israndjer.blogspot.ca/2014/07/day-23-israel-create-hamongog-in-jordan.html
http://israndjer.blogspot.ca/2014/07/day-22-israel-create-hamongog-in-jordan.html
http://israndjer.blogspot.ca/2014/07/day-21-israel-create-hamongog-in-jordan.html
http://israndjer.blogspot.ca/2014/07/day-20-israel-create-hamongog-in-jordan.html
http://israndjer.blogspot.ca/2014/07/day-19-israel-create-hamongog-in-jordan.html
http://israndjer.blogspot.ca/2014/07/day-18-israel-create-hamongog-in-jordan.html
http://israndjer.blogspot.ca/2014/07/day-17-israel-create-hamongog-in-jordan.html
http://israndjer.blogspot.ca/2014/07/the-kerry-9-month-flop-in-so-called.html
http://israndjer.blogspot.ca/2014/07/day-16-israel-create-hamongog-in-jordan.html
http://israndjer.blogspot.ca/2014/07/day-15-israel-create-hamongog-in-jordan.html
http://israndjer.blogspot.ca/2014/07/international-media-whores-up-to-arabs.html
http://israndjer.blogspot.ca/2014/07/day-14-israel-create-hamongog-in-jordan.html
http://israndjer.blogspot.ca/2014/07/day-13-israel-create-hamongog-in-jordan.html
http://israndjer.blogspot.ca/2014/07/day-12-israel-create-hamongog-in-jordan.html
http://israndjer.blogspot.ca/2014/07/day-11-israel-create-hamongog-in-jordan.html
http://israndjer.blogspot.ca/2014/07/day-10-israel-create-hamongog-in-jordan.html
http://israndjer.blogspot.ca/2014/07/day-9-israel-create-hamongog-in-jordan.html
http://israndjer.blogspot.ca/2014/07/freak-hail-storm-hits-russias-siberia.html
http://israndjer.blogspot.ca/2014/07/israel-time-to-nuke-gaza-now-create_4204.html
http://israndjer.blogspot.ca/2014/07/arabs-muslims-get-ready-israel-israels.html
http://israndjer.blogspot.ca/2014/07/israel-time-to-nuke-gaza-now-create_14.html
http://israndjer.blogspot.ca/2014/07/does-tonights-super-moon-represent-sun.html
http://israndjer.blogspot.ca/2014/07/israel-time-to-nuke-gaza-now-create_5777.html
http://israndjer.blogspot.ca/2014/07/israel-time-to-nuke-gaza-now-create_11.html
http://israndjer.blogspot.ca/2014/07/israel-time-to-nuke-gaza-now-create_10.html
http://israndjer.blogspot.ca/2014/07/israel-time-to-nuke-gaza-now-create_9.html
http://israndjer.blogspot.ca/2013/10/3-of-israels-200-400-nuke-arsenal.html
http://israndjer.blogspot.ca/2012/01/could-this-be-russia-muslims-time-of.html
http://israndjer.blogspot.ca/2014/07/israel-time-to-nuke-gaza-now-create_8.html
http://israndjer.blogspot.ca/2014/07/israel-time-to-nuke-gaza-now-create.html
http://israndjer.blogspot.ca/2014/07/cnn-puts-makeup-on-arabs-face-to-make.html
http://israndjer.blogspot.ca/2014/07/missisaga-ontario-arab-lunatics-sends.html
http://israndjer.blogspot.ca/2014/07/israel-gives-hamas-gaza-48-hour.html
http://israndjer.blogspot.ca/2014/07/a-plee-to-israeli-leaders-what-must-be.html
IN DEPTH LOOK WERE RUSSIA-ARAB-MUSLIMS BURRIAL SPOT IN ISRAEL-JORDAN
http://philologos.org/bpr/files/h009.htm
2 PETER 3:8
8 But, beloved, be not ignorant of this one thing, that one day is with the Lord as a thousand years, and a thousand years as one day.
PSALMS 90:4
4 For a thousand years in thy sight are but as yesterday when it is past, and as a watch in the night.
EVEN CREATION IS ONE THOUSAND YEARS IN JESUS SITE IS ONE DAY.SO ONE DEAD ISRAELI TO ONE THOUSAND DEAD ENEMIES FITS RIGHT IN WITH CREATION.THE WORLD GOES ON FOR 6 THOUSAND YEARS-THEN THE 7 THOUSANDTH YEAR IS JESUS' RULE FROM JERUSALEM FOR ONE THOUSAND YEARS-THEN FOREVER.AND IN WAR IS THE SAME BY CREATION.FOR EVERY ONE DEAD ISRAELI-ONE THOUSAND DEAD ENEMIES WILL OCCUR.
ISAIAH 30:17
17 A thousand will flee at the threat of one; at the threat of five you will all flee away, till you are left like a flagstaff on a mountaintop, like a banner on a hill."

PSALMS 91:7
7 A thousand shall fall at thy side, and ten thousand at thy right hand; but it shall not come nigh thee.

LEVIDICUS 26:7-8
7 You will pursue your enemies, and they will fall by the sword before you.
8 Five of you will chase a hundred, and a hundred of you will chase ten thousand, and your enemies will fall by the sword before you.

DEUTERONOMY 32:30
30 How should one chase a thousand, and two put ten thousand to flight, except their Rock had sold them, and the LORD had shut them up?
EZEKIEL 39:11-21
11 And it shall come to pass in that day, that I will give unto Gog (RUSSIA-ARAB-MUSLIMS) a place there of graves in Israel, the valley of the passengers on the east of the sea: and it shall stop the noses of the passengers: and there shall they bury Gog and all his multitude: and they shall call it The valley of Hamongog.(THE ARAB-MUSLIM-RUSSIA BURRIAL SPOT WILL BE EAST OF THE DEAD SEA IN THE JORDAN VALLEY)
12 And seven months shall the house of Israel be burying of them, that they may cleanse the land.
13 Yea, all the people of the land shall bury them; and it shall be to them a renown the day that I shall be glorified, saith the Lord GOD.
14 And they shall sever out men of continual employment, passing through the land to bury with the passengers those that remain upon the face of the earth, to cleanse it: after the end of seven months shall they search.
15 And the passengers that pass through the land, when any seeth a man's bone, then shall he set up a sign by it, till the buriers have buried it in the valley of Hamongog.
16 And also the name of the city shall be Hamonah. Thus shall they cleanse the land.
17 And, thou son of man, thus saith the Lord GOD; Speak unto every feathered fowl, and to every beast of the field, Assemble yourselves, and come; gather yourselves on every side to my sacrifice that I do sacrifice for you, even a great sacrifice upon the mountains of Israel, that ye may eat flesh, and drink blood.
18 Ye shall eat the flesh of the mighty, and drink the blood of the princes of the earth, of rams, of lambs, and of goats, of bullocks, all of them fatlings of Bashan.
19 And ye shall eat fat till ye be full, and drink blood till ye be drunken, of my sacrifice which I have sacrificed for you.
20 Thus ye shall be filled at my table with horses and chariots, with mighty men, and with all men of war, saith the Lord GOD.
21 And I will set my glory among the heathen, and all the heathen shall see my judgment that I have executed, and my hand that I have laid upon them.
GENESIS 16:11-12
11 And the angel of the LORD said unto her,(HAGAR) Behold, thou art with child, and shalt bear a son, and shalt call his name Ishmael;(FATHER OF THE ARAB/MUSLIMS) because the LORD hath heard thy affliction.
12 And he (ISHMAEL) will be a wild (DONKEY-JACKASS) man;(ISLAM IS A FAKE AND DANGEROUS SEX FOR MURDER CULT) his hand will be against every man,(ISLAM HATES EVERYONE) and every man's hand against him;(PROTECTING THEMSELVES FROM BEING BEHEADED) and he (ISHMAEL ARAB/MUSLIM) shall dwell in the presence of all his brethren.(LITERAL-THE ARABS LIVE WITH THEIR BRETHERN JEWS)
EARTH DESTROYED WITH THE EARTH (BECAUSE OF SIN AND GODLESS PEOPLE)
GENESIS 6:11-13
11 The earth also was corrupt before God, and the earth was filled with violence.(WORLD TERRORISM,MURDERS)(HAMAS IN HEBREW IS VIOLENCE)
12 And God looked upon the earth, and, behold, it was corrupt; for all flesh had corrupted his way upon the earth.
13 And God said unto Noah, The end of all flesh is come before me; for the earth is filled with violence (TERRORISM)(HAMAS) through them; and, behold, I will destroy them with the earth.
IS THIS TIME FOR ISRAEL TO GET SOME OF ITS PROMISED LAND BY GOD BY DESTROYING THE ARAB NATIONS AROUND ISRAEL
https://www.youtube.com/watch?v=kPXbRO9gfxY&list=UUkz3m787ygph7Uvjxzngl-g
PSALMS 83:3-7
3 They (ARABS,MUSLIMS) have taken crafty counsel against thy people,(ISRAEL) and consulted against thy hidden ones.
4 They have said, Come, and let us cut them off from being a nation; that the name of Israel may be no more in remembrance.
5 For they (MUSLIMS) have consulted together with one consent: they are confederate against thee:(TREATIES)
6 The tabernacles of Edom,(JORDAN) and the Ishmaelites;(ARABS) of Moab, PALESTINIANS,JORDAN) and the Hagarenes;(EGYPT)
7 Gebal,(HEZZBALLOH,LEBANON) and Ammon,(JORDAN) and Amalek;(SYRIA,ARABS,SINAI) the Philistines (PALESTINIANS) with the inhabitants of Tyre;(LEBANON)
And here are the bounderies of the land that Israel will inherit either through war or peace or God in the future. God says its Israels land and only Israels land. They will have every inch God promised them of this land in the future.(ALL MOSTLY PSALMS 83 ARABS)
Egypt east of the Nile River, Saudi Arabia, Israel, Jordan, Syria, Lebanon, The southern part of Turkey and the Western Half of Iraq west of the Euphrates. Gen 13:14-15, Psm 105:9,11, Gen 15:18, Exe 23:31, Num 34:1-12, Josh 1:4.ALL THIS LAND ISRAEL WILL DEFINATELY OWN IN THE FUTURE, ITS ISRAELS NOT ISHMAELS LAND.
12 TRIBES INHERIT LAND IN THE FUTURE
SECOND ANGEL TO DR DOCTORIAN
The angel showed me that the United Nations shall be broken in pieces because of the crisis in the Middle East. There shall be no more United Nations. The angel with the sickle shall reap the harvest.
UPDATE JULY 31,14-05:45PM
CNN PROPAGANDA IS IN FULL GEAR WITH JOHN VOSS TODAY AGAIN.VOSS SAYS HAMAS KIDS ARE SO SCARED IN GAZA THEIR ALWAYS HOLDING ONTO THEIR MOTHERS. MEAN WHILE HE WAS SAYING THAT THE HYPOCRITE WAS SHOWING AN ARAB KID IN GAZA BY HIMSELF PLAYING WITH A DECK OF CARDS.YA-THATS REALLY BEING SCARE OUT OF YOUR MIND HOLDING ONTO YOUR MOTHER-WHILE THE KID IS PLAYING CARDS LIKE THERES NOTHING GOING ON AT ALL.SEE THIS PROPAGANDA HYPOCRITICAL ACTIONS BY THE CNN WHORING UP TO ARABS.ITS JUST REDICULAS.

MARK REGEV SAID IF THE CIVILIANS WERE ACCIDENTALLY KILLED BY ISRAEL AT THE U.N SCHOOL.IT WAS BECAUSE HAMAS WAS EGGING ISRAEL ON BY SHOOTING AT ISRAEL FROM OUTSIDE THE SCHOOL.BUT THE USELESS UNITED NATIONS ARE ACCUSING ISRAEL THAT THE SCHOOL STRIKE DOES NOT APPEAR ACCIDENTAL. THE TYPICAL U.N ISRAEL BIAS HATE.AND ACCUSATIONS.STUPID KERRY AND THAT LUNATIC BAN-KI-MOON ARE TELLING ISRAEL AND THE HAMAS MURDERERS THERE WILL BE A 72 HOUR CEASE-FIRE STARTING AT 8:00AM TOMORROW ISRAEL TIME-1:00AM CANADA TIME.THE U.S AND U.N CLAIME IT HAS TO BE DONE THE USELESS U.N IS RUNNING OUT OF FOOD-WATER FOR THE POOR ARABS IN GAZA IN THEIR HUMAN SHIELD-SECRET ROCKET HIDOUT HOSPITALS-SCHO0LS FOR THE 80,000 POOR ARABS HELD UP IN THESE HUMAN SHIELD HAMAS WHORING UNITED NATIONS PROPERTIES.AND THE OTHER 160,000 ARABS LIVING IN THE CENTER OF GAZA NEED 72 HOURS TO GET FOOD AND WATER SO THEY DO NOT DIE OF STARVATION.WE WILL SEE HOW LONG IT TAKES FOR HAMAS TO BREAK THIS 8TH OR 9TH CEASE-FIRE-PAUSE FAKE CONTRACT AGAIN.ISLAM-HAMAS-ARABS ARE REALLY GETTING DESPARATE NOW FOR MORE WEAPONS FROM OTHER ARAB- MUSLIM COUNTRIES.I HOPE ISRAEL JUST KEEPS PUMMELING ARABS IN GAZA AND JUST IGNORES THIS FORCED ON ISRAEL FAKE CEASE-FIRE.I COULD CARE HOW BAD IT MAKES ISRAEL LOOK.ISRAEL MUST JUST IGNORE IT AND PUMEL THE HAMAS ARAB-MURDERERS IN GAZA AND THE TUNNELS TILL THE JOB IS COMPLETE.
UPDATE JULY 31,14-04:50PM
MAEN AREIKAT THE PALESTINIAN LUNATIC WAS STICKING UP FOR HAMAS TUNNELS AND SAYS ISRAEL HAS NO REASON TO DESTROY HAMAS'S TUNNELS.

Hamas Fires 94 Rockets on Israel; Hits in Ashdod, Ashkelon-JULY 18,14-INN
Nearly 100 rockets fired in one day, bringing total to 1,350 since operation began; hits on home, school.


JULY 21,2014
Hamas terrorists unleashed a fierce missile barrage on central and southern Israel at midday Monday, but the hand of God nevertheless intervened to protect Israelis from physical harm.No physical injuries were reported but at least one home was damaged in the attack in Ashdod where an open miracle occurred. An M75 missile slammed into a home, crashing through the ceiling and landing on the floor of a balcony — but it did not explode, greatly limiting the damage to the home. Family members remained safe in the apartment's internal bomb shelter room, meanwhile; although they were traumatized by the incident, they were physically unharmed.


30 July:
Israel announced a temporary humanitarian ceasefire between 15:00-19:00. A few minutes after the ceasefire began Hamas fired rockets at the southern cities of Ashdod and Ashkelon, as well as other Israeli communities.


ZEPHANIAH 2:4-5
4 For Gaza shall be forsaken, and Ashkelon a desolation: they shall drive out Ashdod at the noon day, and Ekron shall be rooted up.(ITS NO ACCIDENT THAT IN THIS GAZA WAR ITS ASHKELON-ASHDOD AND THE MURDERER HAMAS IN GAZA WERE MOST OF THE BOMBING ARE)(THIS IS PROPHECY COMING TO PASS BIGTIME)
5 Woe unto the inhabitants of the sea coast,(GAZA) the nation of the Cherethites! the word of the LORD is against you; O Canaan, the land of the Philistines,(PALESTINIANS) I will even destroy thee, that there shall be no inhabitant.
ROCKETS NOW FIRED IN ISRAEL FROM HAMAS IS AT LEAST 3,000-3,500.SINCE THIS WAR BEGAN AND PROBABLY 50% OR HALF HAVE LANDED IN ASHDOD-ASHKELON AREAS.
UPDATE JULY 31,14-03:15PM
THIS NOW IS THE LONGEST WAR BETWEEN ISRAEL AND GAZA IN HISTORY.AND THIS TIME ISRAEL IS PUMMELING GAZA AND HAMAS AND THEIR TUNNELS FOR GOOD.

Ben Hartman-@Benhartman
Six Israelis injured, three seriously, in mortar attack in the Eshkol region #Israel #Gaza
UPDATE JULY 31,14-01:25PM
HAMAS IS CONTINUING TO SHOOT ROCKETS-MISSLES INTO ISRAEL.THE PENTAGON CLAIMS CIVILIAN DEATHS ARE TO HIGH IN GAZA.EVERYBODY CLAIMES THE CIVILIAN DEATHS ARE TO HIGH.BUT WHY WILL NO ARAB-MUSLIM COUNTRIES ALLOW THESE SO CALLED CIVILIANS OF GAZA TO IMMIGRATE TO THEIR COUNTRIES AROUND ISRAEL SO THEY SO CALLED WON'T BE TRAPPED IN GAZA AND KILLED LIKE THE MEDIA IS ALWAYS CLAIMING.AND THEN THE KIDS AND WOMEN WOULD NOT BE DYING LIKE FLYS IN GAZA.BUT OVIOUSLY NO OTHER ARAB-MUSLIM COUNTRIES WANT THESE VOTED IN HAMAS GAZANS BECAUSE THE CITIZENS OF GAZA MOSTLY AGREE WITH HAMAS AND WILL GLADLY USE THEMSELVES AS HUMAN SHIELDS TO PROTECT THE HAMAS LEADERS.THEIR TUNNELS.THE SCHOOLS-HOSPITALS-MOSQUES AND WILL GLADLY KILL THEMSELVES FOR THE CAUSE.SO WORLD QUIT COMPLAINING ABOUT THE INNOCENT ARABS DYING IN GAZA.IF THESE CITIZENS REALLY WANTED OUTTA GAZA.THY WOULD BREAK DOWN THE BORDER FENCE IN EGYPT AND ESCAPE OVER THERE.BECAUSE IN ANY OTHER SITUATION THE ARABS-RIOT-BURN-KILL TO GET THEIR OWN WAY.BUT HERE IN GAZA THEY STAY IN THERE HOMES AND NO RIOTING-BURNING-KILLING AT THE EGYPT BORDER TO GET OUTTA GAZA.THIS CIVILIAN DEATH CLAIM AGAINST ISRAEL IS JUST ANOTHER PLOY TO TRY TO FORCE ISRAEL INTO A CEASE-FIRE SO HAMAS CAN RESTOCK.AND SO THR ARABS CAN CLAIME ISRAEL IS COMMITTING WAR CRIMES IN GAZA.
WATCH: Destruction of Israel is not Hamas' end goal, says 'Son of Hamas'-Mosab Hassan Yousef tells CNN what it was like to grow up with Hamas' leadership; Hamas' goal is to build an Islamic state on the rubble of all other civilizations.By Haaretz-Jul. 27, 2014 | 5:30 PM | 2
http://www.youtube.com/watch?v=KakxXN5Z-XI
Mosab Hassan Yousef, who famously wrote "Son of Hamas" and later wrote and starred in the film of the same title, is the son of Hamas founder and leader Sheikh Hassan Yousef. Yousef betrayed his father and Hamas by spying on their activities for Israeli intelligence during the second intifada, eventually seeking asylum in the U.S. and converting to Christianity - the topics of his book and film.Interviewed on CNN's Tonight by Don Lemon, Yousef recounted what he learned growing up in and around the ranks of Hamas' leadership. "In the mosques Hamas' taught us that without shedding innocent blood for the sake of the ideology we will not be able to build the Islamic state," Yousef told Lemon.Yousef told CNN that Hamas's final goal is not just the destruction of the state of Israel, but "Hamas' final destination is building the Islamic caliphate, building an Islamic state on the rubble of all other civilizations." When asked whether or not Israel and Hamas can live side by side in coexistence, Yousef responded, "Hamas is not seeking coexistence and compromise," but the full destruction of the state of Israel.
UPDATE JULY 31,14-08:55AM
BENJAMIN NETANYAHU SAID IN A SPEECH TO ISRAELIS TODAY.WETHER THERE IS A CEASE-FIRE OR NOT.THE DESTRUCTION OF ALL THE TUNNELS WILL CONTINUE TILL ALL FOUND AND DESTROYED.AND ALSO ABBAS SENDS A LETTER TO THE USELESS U.N STATING GAZA A HUMANITARIAN DISASTER AND ALSO THE GAZA STRIPE A DISASTER AREA.ABBAS CALLS ISRAEL BRUTAL.ABBAS IS THIS REALLY A WAY FOR A PEACE LOVING PEACE PARTNER LIKE YOU TO TALK ABOUT YOUR PEACE PARTNER ISRAEL.THE ONE YOU CLAIME YOU LOVE SO MUCH AND WANT TO HAVE SUCH A PEACEFUL RELATIONSHIP WITH.SEE HOW THE ISRAEL HATE REALLY COMES OUT OF ALL THESE ARAB-HAMAS-ISLAMIC-MUSLIM LEADERS.
Abbas Declares Gaza a 'Humanitarian Disaster Area'-PA Chairman urges UN to adopt the necessary measures for declaring Gaza a disaster area.By Elad Benari-First Publish: 7/31/2014, 3:14 AM-ISRAELNATIONALNEWS
Palestinian Authority (PA) Chairman Mahmoud Abbas on Wednesday proclaimed Gaza a "humanitarian disaster area", Kuwait's state news agency KUNA reported.According to the report, Abbas sent a letter to United Nations Secretary-General Ban Ki-moon, calling on him to adopt the necessary measures for declaring the Strip a disaster area and urging the international community to shoulder its responsibility in this regard."The UN and its affiliate agencies must meet the urgent needs of our people in Gaza and provide them with relief aid," the message said, according to the report."The brutal Israeli aggression on Gaza resulted in a humanitarian emergency and suffering for countless numbers of people," Abbas wrote Ban."Therefore, I decided to declare the region a humanitarian disaster area and I call upon you to shoulder your responsibility in this regard as per the provisions of the UN Charter, particularly Article No. 99," he added.Abbas reportedly called on Ban to use all means at his disposal as UN chief to provide urgent aid to, and protection for, the residents of Gaza.He also called for opening lifelines and establishing safe havens for the civilians displaced in Gaza in order to provide them with safe food, water and medicines.Abbas's letter came as the Israeli government agreed to a temporary humanitarian ceasefire on Wednesday afternoon. Hamas took advantage of the ceasefire to fire a salvo of rockets at communities in southern Israel. The Iron Dome intercepted two rockets over Israeli population centers, while several others struck in open areas.The PA Chairman has previously vowed to pursue Israel over its self-defense operation in Gaza.He claimed that Israel has violated all the international laws in its operation in Gaza, stressing that "we will pursue the perpetrators of the crimes against our people, until they are punished."At one point, Abbas encouraged Hamas to accept internationally-brokered ceasefire efforts - if not in the name of Palestinian Arab unity, then at least specifically to hurt Israel.
Arab Leaders, Viewing Hamas as Worse Than Israel, Stay Silent
By DAVID D. KIRKPATRICK-JULY 31,14-NEW YORK TIMES
After the military ouster of the Islamist government in Cairo last year, Egypt has led a new coalition of Arab states — including Jordan, Saudi Arabia and the United Arab Emirates — that has effectively lined up with Israel in its fight against Hamas, the Islamist movement that controls the Gaza Strip. That, in turn, may have contributed to the failure of the antagonists to reach a negotiated cease-fire even after more than three weeks of bloodshed.
"The Arab states' loathing and fear of political Islam is so strong that it outweighs their allergy to Benjamin Netanyahu," the prime minister of Israel, said Aaron David Miller, a scholar at the Wilson Center in Washington and a former Middle East negotiator under several presidents."I have never seen a situation like it, where you have so many Arab states acquiescing in the death and destruction in Gaza and the pummeling of Hamas," he said. "The silence is deafening."
JORDAN-SAUDI DO NOT WANT PALESTINIAN STATE RUN BY HAMAS
Turkey and Qatar. This reaction shows again Ankara and Doha's unwelcome position in the region because of their unqualified support for Hamas and the Muslim Brotherhood.Arguing that Kerry's cease-fire attempt ended in a "fiasco," The Wall Street Journal in a July 28 commentary underlined that Jordan and Saudi Arabia were also among regional countries that do not want a Palestinian state run by Hamas.Read more: http://www.al-monitor.com/pulse/originals/2014/07/idiz-qatar-gaza-israel-operation-hamas-ankara-akp-erdogan.html#ixzz3934bSMfQ
UPDATE JULY 31,14-04:00AM
ISRAEL IS CALLING UP ANOTHER 16,000 RESERVES.ISRAEL IS GOING AFTER HAMAS BIGTIME NOW.GREAT-WE GOTTA GET MURDERERS OFF THE FACE OF THE EARTH. THE ARAB-HAMAS MURDERERS.1,361 GAZANS KILLED-59 ISRAELIS KILLED.AND NOW WE FIND OUT SAUDI-ARABIA-JORDAN AND THE UNITED ARAB EMERATES WILL NOT STICK UP FOR HAMAS-JUST LIKE THE BIBLE SAYS SAUDI-ARABIA AND JORDAN WILL BE WITH ISRAEL AND SUPPORT THEM WHEN THIS WAR OCCURS IN THE FUTURE.HERES PROOF ALREADY THE PROPHECY WILL COME TO PASS WHEN THIS MAJOR WAR OCCURS DURING THE 7 YEAR TRIBULATION PERIOD OR 7 YEAR ISRAEL-ARAB PEACE TREATY.
COUNTRIES WITH ISRAEL
EZEKIEL 38:10-19
10 Thus saith the Lord GOD; It shall also come to pass, that at the same time shall things come into thy mind,(RUSSIA) and thou shalt think an evil thought:(GET RID OF ISRAEL FOR GOOD)
11 And thou shalt say,(RUSSIA,ARAB,MUSLIMS) I will go up to the land of unwalled villages; I will go to them that are at rest, that dwell safely, all of them dwelling without walls, and having neither bars nor gates,
12 To take a spoil,(POSSIBLY OIL) and to take a prey;(ANNIALATE ISRAEL) to turn thine hand upon the desolate places that are now inhabited, and upon the people that are gathered out of the nations, which have gotten cattle and goods, that dwell in the midst of the land.(ISRAEL)
13 Sheba, and Dedan,(SAUDIA ARABIA)(JORDAN) and the merchants of Tarshish,(ENGLAND) with all the young lions thereof,(USA,CANADA,AUSTRALIA,NEW ZEALAND,EU,ENGLAND,ENGLISH SPEAKING) shall say unto thee,(RUSSIA-ARAB-MUSLIMS) Art thou come to take a spoil? hast thou gathered thy company to take a prey? to carry away silver and gold, to take away cattle and goods, to take a great spoil?
14 Therefore, son of man, prophesy and say unto Gog,(RUSSIA) Thus saith the Lord GOD; In that day when my people of Israel dwelleth safely, shalt thou not know it?
REVELATION 12:6,14
6 And the woman (MARY WHOS JEWISH REPRESENTING ISRAEL)fled into the wilderness, where she hath a place prepared of God, that they should feed her there a thousand two hundred and threescore days.(3 1/2 YRS PROTECTED IN PETRA JORDAN)
14 And to the woman (ISRAEL) were given two wings of a great eagle, that she might fly into the wilderness, into her place, where she is nourished for a time, and times, and half a time,(3 1/2 YRS) from the face of the serpent.(PROTECTED FOR 3 1/2 YRS IN PETRA JORDAN)(SO WE KNOW JORDAN WILL IN THE END BE ISRAELS ALLY BY PROPHECY)
UPDATE JULY 31,14-12:00AM
DON LEMON THAT RACIST-BIGOT ISRAEL HATER TRYED TO SAY TO HAAS OF THE NEW WORLD ORDER COUNCIL ON FOREIGN RELATIONS.IS ISRAEL COMMITTING A WAR CRIME FOR HITTING THE ARAB MARKET AND KILLING INNOCENT POOR ARABS.BUT NO MENTION BY LEMON OF ALL THE WAR CRIMES-GENICIDE THAT HAMAS AND THE UNITED NATIONS WORKING TOGETHER TO PUT ROCKETS IN THE UNITED NATIONS SCHOOLS AND HOSPITALS SO HAMAS HAS BACKUP ROCKETS-MISSLES FOR WHEN THEY GET LOW.THEN THE U.N LETS HAMAS HAVE THE KILLER ROCKETS TO SHOOT AT ISRAEL TO KILL INNOCENT ISRAELI WOMEN AND CHILDREN.AND CIA COOPER WAS PLAYING THE SAME MARKET VIDEO ALL NIGHT ALSO.SEE HOW BIAS CNN IS AGAINST ISRAEL.NOT ONCE DID THEY SAY THAT MMARKET BOMB COULD HAVE BEEN A MORTOR FROM HAMAS.NO ITS ALWAYS ISRAEL GETTING THE BLAME.THIS IS COMPLETE HOGWASH ISRAEL HATE BIAS BY CNN AND THE MEDIA.
UPDATE JULY 30,14-06:40PM
THE UNITED NATIONS IS DIRECTLY BLAMING ISRAEL FOR THE SHELLING OF THE 19 PEOPLE IN THE SCHOOL ARAB U.N GAZAN PROTECTION CENTER WERE 3,000 WERE HELD UP AS HUMAN SHIELDS TO PROTECT HAMAS'S HIDDEN ROCKETS-MISSLES TO KILL EVERY JEW.TWO DIFFERENT USELESS UNITED NATIONS OFFICIALS ARE BLAMING ISRAEL.THE U.N OFFICIALS SAID THE HIIDEN STASH OF ROCKETS BY HAMAS WERE IN AN EMPTY SCHOOL OWNED BY THE UNITED NATIONS YESTERDAY.SO WE CAN'T DO NOTHING ABOUT THAT.BUT WE QUICKLY SURE CAN BLAME ISRAEL AND SAY THEY MORTORED THE UNITED NATIONS SCHOOL THIS MORNING.JAN ELIASSON IS THE ONE THAT I CAUGHT BLAMING ISRAEL IN THIS PEACE.JAN ALSO CLAIMES THE U.N IS PROTECTING 80,000 ARABS IN THERE SHELETERS AROUND GAZA.AND WE GOTTA GET A CEASE-FIRE QUICK BECAUSE THE GAZAN ARABS HAVE NO HYDRO-WATER AND HOMES BECAUSE ISRAEL IS BLOWING THEM ALL UP.OH THOSE POOR MURDERERS ARABS-HAMAS VOTING IN A TERRORIST GROUP AND NOW SUFFERING BECAUSE HAMAS WON'T STOP SHOOTING ROCKETS-MISSLES INTO ISRAEL TILL EVERY JEW IN ISRAEL IS KILLED.I THINK ISRAEL WOULD RATHER BLOW UP 10,000 HOUSES IN GAZA THEN SACRIFICE ISRAELI LIVES TO HAMAS.LIKE I SAY ISRAEL IN OPERATION PROTECTIVE EDGE OR OPERATION ATOMIC DEFENCE OF ISRAELI CITIZENS AS I CALL IT.IS TAKIN CARE OF HAMAS-ARAB MURDERERS AND PROTECTING ITS CITIZENS SO THE MURDERERS CAN NOT KILL EVERY ISRAELI.

SAEB ERAKAT IS BLABBIN AGAIN SAYING 1,500 ARAB-HAMAS MURDERERS ARE KILLED BY SHELLING FROM THE BAD ISRAEL ARMY SPECIALIST PROFESSIONALS. WE NEED ALL KINDS OF SUPPLIES.WE NEED A CEASE-FIRE NOW TO GET IRAN AND OTHER ARAB MUSLIM COUNTRIES WEAPONS TO KILL EVERY JEW IN ISRAEL.OUR PEACE PLAN IS STEAL ISRAEL-DIVIDE JERUSALEM TILL WE KILL EVERY JEW IN ISRAEL.THEN WE HAVE ALL OF ISRAEL AND JERUSALEM AS THE ARAB-MUSLIMS CAPITAL.AND WE LOVING PEACEFUL PEACE PARTNERS OF ISRAEL WILL ONLY HAVE TO GO INTO ALL THE WESTERN COUNTRIES AND KILL EVERY CHRISTIAN.WE ARABS-MUSLIMS OF ISLAM ARE A RELIGION OF PEACE AND OUR CAMEL MOON GOD ALLAH IS A MAN OF PEACE WHO WANTS WORLD DOMINATION.AND ALLAH BOYS FOLLOWERS WILL FULFIL HIS WISH BY KILLING EVERY JEW AND CHRISTIAN BY BEHEADING THEM AND PUTTING THERE HEADS IN STAKES AND TYING THE METAL POLE WE PUT THE HEADS ON TO FENCES SO ALL OF ISLAM CAN SEE HOW HAMAS-ARABS ARE HEROS AND KNOW HOW TO KILL CHRISTIANS AND JEWS PROPERLY TO LET THE WORLD KNOW WHAT A PEACEFUL LOVING CULT SO CALLED RELIGION WE REALLY ARE.AND ITS ALSO A WARNING TO ARAB-MUSLIMS WHO THINK THEY CAN COME AGAINST THE LEADERS OF ISLAM OR THEY GET THE SAME RESULT AS THE JEWS AND CHRISTIANS.THE HEADS IN THE AIR ARE TO SHOW AN EXAMPLE HOW PEACEFUL AND POWER AND CONTROL FREAKS ISLAM REALLY IS.
REVELATION 20:4
4 And I saw thrones, and they sat upon them, and judgment was given unto them: and I saw the souls of them that were beheaded (ISLAM ARE THE BEHEADERS) for the witness of Jesus, and for the word of God, and which had not worshipped the beast, neither his image, neither had received his mark upon their foreheads, or in their hands;(WILLINGLY-THEY CHOSE THE IMPLANT) and they lived and reigned with Christ a thousand years.
JOHN 16:2
2 They shall put you out of the synagogues: yea, the time cometh, that whosoever killeth you will think that he doeth God service.(ISLAM MURDERS IN THE NAME OF MOON GOD ALLAH OF ISLAM)
Security cabinet instructs IDF to keep hitting Hamas-Army said to be making strategic gains — demolishing Hamas tunnels, killing gunmen, degrading 'terror infrastructure'-By Raphael Ahren July 30, 2014, 9:48 pm 11-The Times of Israel
Amid mounting diplomatic pressure on Israel to agree to a ceasefire, the security cabinet on Wednesday instructed the IDF to continue to "forcefully hit Hamas and the other terrorist organizations in Gaza," and to conclude its mission to destroy the tunnels leading from the Strip into Israel, diplomatic sources said.The army's actions in locating and destroying these terror tunnels have brought about significant strategic achievements in an area in which Hamas has invested much effort over the years, the sources said.There were no indications that the cabinet, which met for several hours on Wednesday afternoon, had ordered the much expanded ground offensive aimed at smashing Hamas that key ministers such as Economy Minister Naftali Bennett and Foreign Minister Avigdor Liberman have been demanding.The US is pressing Israel to halt the fighting. On Sunday, in a phone call to Prime Minister Benjamin Netanyahu, President Barack Obama urged an immediate and unconditional ceasefire. The UN Security Council also urged a ceasefire. On Wednesday, Britain's Foreign Secretary Philip Hammond warned: "Israelis have to understand that while they are defending their security in seeking to root out these rocket launchers and deal with the attack tunnels, they are also undermining the support for Israel that exists in the West." Netanyahu on Monday told Israelis to be braced for what he called a prolonged operation.The Israeli diplomatic sources noted: "The IDF also has significant achievements in damaging the terrorist infrastructure of Hamas and additional terrorist groups and will continue to act and expand these operations."The army will continue to enact local and temporary humanitarian truces, like one observed on Wednesday in areas where there is no fighting, "without endangering the lives of Israeli soldiers and the operation to destroy the tunnels," the sources added. "The purpose of these truces is to help the civilian population of Gaza."The full cabinet will meet on Thursday at noon in Tel Aviv for an update on the progress of Operation Protective Edge.On Wednesday Chile, El Salvador, and Peru recalled their ambassadors in protest of Israel's actions in Gaza that, according to Palestinian sources, have killed over 1,300 people. Israel says that hundreds of those were armed fighters and combatants.The IDF began Operation Protective Edge on July 8 with the goal of halting rocket fire from Gaza at Israeli towns and destroying a network of tunnels, dug by Hamas under the border into Israel, from which terrorists have launched lethal ambushes on Israeli forces.On Wednesday three IDF soldiers were killed and another fifteen injured by a booby-trapped UNRWA health clinic building in the Gaza Strip. The deaths brought to 56 the number if IDF soldiers killed in Operation Protective Edge, which began on July 8.On Wednesday afternoon, the IDF's Southern Command chief, Sami Turgeman, said "many hundreds" of Hamas operatives had been killed, and that the IDF had destroyed hundreds of weapons storage facilities, and significantly compromised Hamas's terror infrastructure.He said the IDF was "days away" from completing the military goal of destroying all of the tunnels, though the process is complex. Four tunnels have been destroyed in the past 24 hours, he added.Turgeman said the IDF expanded its operation Tuesday night, targeting new sites in the north and center of the coastal enclave.With the amount of concrete Hamas poured into the tunnel project, two hospitals, twenty schools, twenty healthcare centers, and 100 kindergartens could have been built, he said.Times of Israel staff contributed to this report.
Canada blames Hamas for Gaza fatalities-The Times of Israel-July 30,2014
Canadian Prime Minister Stephen Harper blames Hamas for the heavy loss of civilian life in the Gaza Strip since Operation Protective Edge began on July 8.At least 110 people were killed on Wednesday alone in Gaza, one of the most densely populated areas in the world, as the Palestinian death toll after 23 days soared to 1,360. Israel says hundreds are Hamas and Islamic Jihad gunmen.Fifty-six Israeli soldiers have died in the fighting so far."Obviously, no one likes to see the suffering and loss of life that has occurred," Harper said in televised remarks."That said, we hold the terrorist organization Hamas responsible for this. They have initiated and continue this conflict, and continue to seek the destruction of the state of Israel."Canada's conservative government has long supported the Jewish state and stressed its recognition of Israel's right to defend itself.Israel launched the most recent military operation earlier this month to stop the indiscriminate rocket fire on Israeli cities and destroy the Hamas tunnels that infiltrate into Israeli territory.– AFP, Times of Israel staff
US calls for immediate probe into shelling of Gaza school
WASHINGTON – The White House expects a "a full, prompt and thorough investigation" into Wednesday's shelling of a United Nations-run girls' school in Gaza, Principal Deputy Press Secretary Eric Schultz told reporters Wednesday during an impromptu press conference aboard Air Force One. Schultz's statement underscored similar calls from the State Department, but unlike the UN, administration officials refused to ascribe blame to Israel for the incident that Gazan sources said left some 20 people dead.Schultz seemed to dismiss statements from UN Secretary-General Ban Ki-moon immediately ascribing responsibility for the attack to Israel, which he accused of ignoring repeated communications on the location of the school.Rebecca Shimoni Stoil's story is here.
New IDF account of building where 3 soldiers were killed
The IDF's Gaza Division commander, Brig. Gen. Micky Edelstein, said Wednesday evening that three IDF soldiers killed in Khan Younis were blown up in an explosion at a booby-trapped UNRWA health clinic that housed a tunnel entry shaft. Enemy forces blew up "the UNRWA clinic on our troops," he said.However, the Coordinator of Government Activities in the Territories, the military unit that implements government policies in the Palestinian areas, later said that the clinic was last registered as a sensitive location three years ago, "and it hasn't been since."The spokesperson said the site had not been registered then as belonging to UNRWA, leading to speculation that, perhaps, militants stole the sign and tacked it on the door, posting it as a security umbrella under which a tunnel could be dug.The army named the fallen soldiers as Staff Sgt. Matan Gotlib, 21, of Rishon Lezion, Staff Sgt. Omer Chai, 21, of Savion, and Sgt. Guy Algranati, 20, of Tel Aviv.– Mitch Ginsburg's updated story is here.
http://www.timesofisrael.com/day-24-despite-criticism-government-resolves-to-intensify-gaza-offensive/
IDF: 'Cowardly' tunnel attack shows why Gaza op must go on-Video of Hamas killing five soldiers demonstrates that 'such attacks can happen anytime, anywhere,' officer says-By Raphael Ahren July 30, 2014, 11:55 pm 20-The Times of Israel
A video showing Hamas gunmen emerging from a tunnel, infiltrating an Israeli army base and killing five soldiers, demonstrates that Israel is faced with a cruel and unforgiving enemy and must continue Operation Protective Edge until all remaining tunnels are destroyed, Israeli officials said Wednesday.The video (warning: graphic content), filmed by one of the Hamas gunmen who participated in Monday evening's attack on an army post south of Kibbutz Nahal Oz, was widely broadcast by Arab and Palestinian media outlets."These are the people we're dealing with on a daily basis – cowardly terrorists who don't care about human lives. They're on an ongoing mission to kill and maim, and to abduct Israeli soldiers and civilians," Maj. Arye Shalicar, a spokesman for the Israel Defense Forces, told The Times of Israel. "We have to be prepared for this to recur again and again around the Gaza Strip. Until we find and destroy each and every tunnel they have dug over the last few years, such attacks can happen anytime, anywhere."Likud MK Danny Danon said the video once again proved that the IDF needs to continue destroying Hamas's tunnel infrastructure and must not give in to international pressure for a ceasefire before the mission is completed. "The video speaks for itself," he said. "Only two weeks ago, the cabinet approved a ceasefire proposal, but Hamas still has dozens of tunnels. Had we stopped the operation two weeks ago, now they would attack civilians and children in kibbutzim instead of soldiers."Danon was fired from his post as deputy defense minister earlier this month over his sharp criticism of what be considered the government's too hesitant response to Hamas rocket fire. "This video shows us the threat we're dealing with: we have to deal with a professional and well-organized terrorist organization," he told The Times of Israel."And you still hear voices that say we need to stop now with the ground operation. But we cannot stop as long as we know they have more tunnels, and have capacity to build more tunnels. If we don't destroy their terror infrastructure, it's only a matter of time until we will see more tunnels and more attacks like the one we saw in the video."Deputy Foreign Minister Tzachi Hanegbi acknowledged that although the Israeli government knew about the existence of Hamas's tunnels, it might have underestimated the organization's willingness to use them to carry out brutal attacks."Sometimes you don't understand that they don't need rational justification. They think that by killing, massacring, butchering your enemy, they're going to achieve any of their goals," he said. "Maybe we didn't grasp, the way we should have, that these are tunnels that will be used for exactly the same atrocities" for which they are being used now.Speaking more generally, Hanegbi said that Israel finds itself in a bind because its restrained way of conducting war is interpreted by Hamas and other Islamic terrorist groups as feebleness, which invites yet even crueler attacks."When we show restraint, the other side… translates any kind of moderation, any kind of sanity, as a sign of weakness, as a symptom that Israel is not really determined to defend itself," he said. "In the West, when you have a more rational thinking, compromise is part of your culture and part of your life. Unfortunately, with fundamentalist, zealous organizations, such demonstrations of normality, of realism, of pragmatism, of moderation, are being translated as a sign of weakness. And when you see that your enemy is weak you go forward and try to harm him much more."One Hamas fighter was killed in the attack on the IDF post. Hamas's armed wing, the Izz ad-Din al-Qassam Brigades, claimed a raid "behind enemy lines" in the same area and said it had killed 10 Israeli soldiers, but denied losses on its side. It said it had tried but failed to kidnap an Israeli soldier, and had seized a gun.Yifa Yaakov and AFP contributed to this report.
Israel must be permitted to crush Hamas-Washington Post By Michael Oren July 24
Michael Oren was Israel's ambassador to the United States from 2009 to 2013. He currently is a fellow at the Interdisciplinary Center Herzliya and the Atlantic Council.U.N. Secretary General Ban Ki-Moon, Secretary of State John Kerry and the foreign ministers of Great Britain and France all are rushing to achieve a cease-fire between Israel and Hamas. Their motive — to end civilian suffering and restore stability to the area — is noble. The images of the wounded and dead resulting from the conflict are indeed agonizing. However, these senior statesmen can be most helpful now by doing nothing.
To preserve the values they cherish and to send an unequivocal message to terrorist organizations and their state sponsors everywhere, Israel must be permitted to crush Hamas in the Gaza Strip.(I TOTALLY AGREE WITH MICHAEL)
This is the lesson of previous rounds of fighting between the Israeli Defense Forces and terrorist strongholds. In Lebanon in 2006 and in Gaza in 2008 and again in 2012, Israel responded to rocket attacks on its cities with fierce counteroffensives. Fighting against a deeply dug-in enemy that both blended in with the local population and used it as a shield, Israel's best efforts to avoid civilian casualties invariably proved limited. Incensed world opinion generated immense pressure on governments to convene the U.N. Security Council and empower human rights organizations to censure Israel and stop the carnage. These measures succeeded where the terrorists' rockets failed. Israel was compelled to back down.And the terrorists, though badly mauled, won. Admittedly, their bar for claiming victory was exceptionally low. While Israel must achieve a clear battlefield success to win, the terrorists merely had to survive. But they did more than survive. Under the protection of cease-fires and, in some cases, international peacekeepers, they vastly expanded their arsenals to include more lethal and longer-range missiles. While reestablishing their rule in the streets, they burrowed beneath them to create a warren of bombproof bunkers and assault tunnels. Such measures enabled Hamas, as well as Hezbollah, to mount devastating attacks at the time of their choosing, confident that the international community would once again prevent Israel from exacting too heavy a price.
So the cycle continued. Allowed to fight for several weeks, at most, Israel was eventually condemned and hamstrung by cease-fires. The terrorists, by contrast, could emerge from their hideouts and begin to replenish and enhance their stockpiles. That is precisely the pattern established in the second Lebanon War and repeated in Operations Cast Lead and Pillar of Defense in Gaza. Hezbollah and Hamas sustained losses but, rescued and immunized by international diplomacy, they remained in power and became more powerful still. Israel, on the other hand, was forced to defend its right to defend itself. Jihadist organizations no different from the Islamic State and al-Qaeda gained regional legitimacy, while Israel lost it in the world.The cycle can end, now and decisively. As Operation Protective Edge enters its third week , responsible world leaders can give Israel the time and the leverage it needs to alter Hamas's calculus. They can let the Israeli army ferret Hamas out of its holes and make it pay a prohibitive cost for its attacks. They can create an outcome in which the organization, even if it remains in Gaza, is defanged and deprived of its heavy arms. Of course, Hamas will resist demilitarization, and more civilians will suffer, but by ending the cycle once and for all thousands of innocent lives will be saved.Life in Gaza is miserable now, but if Israel is permitted to prevail, circumstances can improve markedly. U.S.- and Canadian-trained security forces of the Palestinian Authority can take over key crossings and patrol Gaza's porous border with Egypt. Rather than be funneled into Hamas's war chest, international aid can be transferred directly to the civilian population to repair war damage and stimulate economic growth. Terrorist groups and their state patrons can be put on notice: The game has changed unalterably.And by letting Israel regain its security with regard to Gaza — with all the pain it entails — the United States and its allies will be safeguarding their own. Though bitter, the fighting between Israel and Hamas raging in Gaza's alleyways is merely part of the far vaster struggle between rational nations and the al-Qaeda and Islamic State-like forces seeking their destruction. Relative to that global conflict, Operation Protective Edge may seem small, but it is nevertheless pivotal. To ensure that it concludes with a categorical Israeli win is in the world's fundamental interest. To guarantee peace, this war must be given a chance.
ANOTHER BOEING 777-MH17 GOES DOWN-DAY 15-THU JULY 31,14
JEWISH KING JESUS IS COMING AT THE RAPTURE FOR US IN THE CLOUDS-DON'T MISS IT FOR THE WORLD.THE BIBLE TAKEN LITERALLY- WHEN THE PLAIN SENSE MAKES GOOD SENSE-SEEK NO OTHER SENSE-LEST YOU END UP IN NONSENSE.GET SAVED NOW- CALL ON JESUS TODAY.THE ONLY SAVIOR OF THE WHOLE EARTH - NO OTHER
MORE MH17 STORIES
http://israndjer.blogspot.ca/2014/07/another-boeing-777-mh17-goes-down-day_30.html
http://israndjer.blogspot.ca/2014/07/another-boeing-777-mh17-goes-down-day_29.html
http://israndjer.blogspot.ca/2014/07/another-boeing-777-mh17-goes-down-day_28.html
http://israndjer.blogspot.ca/2014/07/another-boeing-777-mh17-goes-down-day.html
http://israndjer.blogspot.ca/2014/07/another-boeing-777-mh17-goes-down-day-9.html
http://israndjer.blogspot.ca/2014/07/another-boeing-777-mh17-goes-down-day-8.html
http://israndjer.blogspot.ca/2014/07/another-boeing-777-mh17-goes-down-day-7.html
http://israndjer.blogspot.ca/2014/07/dutch-mayor-wants-putins-daughter.html
http://israndjer.blogspot.ca/2014/07/another-boeing-777-mh17-goes-down-day-6.html
http://israndjer.blogspot.ca/2014/07/another-boeing-777-mh17-goes-down-day-5.html
http://israndjer.blogspot.ca/2014/07/another-boeing-777-mh17-goes-down-day-4.html
http://israndjer.blogspot.ca/2014/07/another-boeing-777-mh17-goes-down-day-3.html
http://israndjer.blogspot.ca/2014/07/another-boeing-777-mh17-goes-down-day-2.html
http://israndjer.blogspot.ca/2014/07/another-boeing-777-mh17-goes-down-this.html
MH370 STORIES
http://israndjer.blogspot.ca/2014/06/day-95-mh370-777-200er-missing-plane.html
MUSLIM NATIONS (SLAUGHTERED BY NUKES FOR COMING AGAINST ISRAEL)
EZEKIEL 36:4-5
5 Therefore thus saith the Lord GOD; Surely in the fire (NUCLEAR BOMBS) of my jealousy have I spoken against the residue of the heathen, and against all Idumea,(ARAB-MUSLIMS) which have appointed my land into their possession with the joy of all their heart, with despiteful minds, to cast it out for a prey.
6 Prophesy therefore concerning the land of Israel, and say unto the mountains, and to the hills, to the rivers, and to the valleys, Thus saith the Lord GOD; Behold, I have spoken in my jealousy and in my fury,(OF MY ANGER) because ye have borne the shame of the heathen:
7 Therefore thus saith the Lord GOD; I have lifted up mine hand, Surely the heathen that are (Round) about you,(ARAB-MUSLIMS) they shall bear their shame.(AND BE NUKED)
EZEKIEL 35:9-11
9 I will make thee perpetual desolations, and thy (ARABS) cities shall not return: and ye shall know that I am the LORD.
10 Because thou (ARABS) hast said, These two nations (ISRAEL & JUDAH) and these two countries (ISRAEL & JUDAH) shall be mine, and we (ARABS) will possess it; whereas the LORD was there:
11 Therefore, as I live, saith the Lord GOD, I will even do according to thine anger, and according to thine envy (GELIOUSY) which thou hast used out of thy hatred against them;(ISRAELIS) and I will make myself known among them, when I have judged thee.(ARABS)
EZEKIEL 38:1-12
1 And the word of the LORD came unto me, saying,
2 Son of man, set thy face against Gog,(RULER) the land of Magog,(RUSSIA) the chief prince of Meshech (MOSCOW) and Tubal,(TOBOLSK) and prophesy against him,
3 And say, Thus saith the Lord GOD; Behold, I am against thee, O Gog,(LEADER OF RUSSIA) the chief prince of Meshech(MOSCOW) and Tubal:TOBOLSK)
4 And I will turn thee back, and put hooks into thy jaws,(GOD FORCES THE RUSSIA-MUSLIMS TO MARCH) and I will bring thee forth, and all thine army, horses and horsemen, all of them clothed with all sorts of armour, even a great company with bucklers and shields, all of them handling swords:
5 Persia,(IRAN,IRAQ) Ethiopia, and Libya with them; all of them with shield and helmet:
6 Gomer,(GERMANY) and all his bands; the house of Togarmah (TURKEY) of the north quarters, and all his bands: and many people with thee.(AFRICAN MUSLIMS,SUDAN,TUNESIA ETC)
7 Be thou prepared, and prepare for thyself, thou, and all thy company that are assembled unto thee, and be thou a guard unto them.
8 After many days thou shalt be visited: in the latter years thou shalt come into the land that is brought back from the sword, and is gathered out of many people, against the mountains of Israel, which have been always waste: but it is brought forth out of the nations, and they shall dwell safely all of them.
9 Thou shalt ascend and come like a storm, thou shalt be like a cloud to cover the land, thou, and all thy bands, and many people with thee.(RUSSIA-EGYPT AND MUSLIMS)
10 Thus saith the Lord GOD; It shall also come to pass, that at the same time shall things come into thy mind, and thou shalt think an evil thought:
11 And thou shalt say, I will go up to the land of unwalled villages;(ISRAEL) I will go to them that are at rest, that dwell safely, all of them dwelling without walls, and having neither bars nor gates,
12 To take a spoil,(OIL IS IN SPOIL) and to take a prey; to turn thine hand upon the desolate places that are now inhabited, and upon the people that are gathered out of the nations, which have gotten cattle and goods, that dwell in the midst of the land.
EZEKIEL 39:1-7
1 Therefore, thou son of man, prophesy against Gog,(LEADER OF RUSSIA) and say, Thus saith the Lord GOD; Behold, I am against thee, O Gog, the chief prince of Meshech (MOSCOW) and Tubal: (TUBOLSK)
2 And I will turn thee back,(RUSSIA-ARAB MUSLIM ISRAEL HATERS) and leave but the sixth part of thee,(5/6TH OR 300 MILLION DEAD RUSSIAN/ARAB/MUSLIMS I BELIEVE) and will cause thee to come up from the north parts,(RUSSIA) and will bring thee upon the mountains of Israel:
3 And I will smite thy bow out of thy left hand, and will cause thine arrows to fall out of thy right hand.
4 Thou shalt fall upon the mountains of Israel, thou, and all thy bands,( ARABS) and the people that is with thee: I will give thee unto the ravenous birds of every sort, and to the beasts of the field to be devoured.
5 Thou shalt fall upon the open field: for I have spoken it, saith the Lord GOD.
6 And I will send a fire on Magog,(NUCLEAR ATOMIC BOMB) and among them that dwell carelessly in the isles: and they shall know that I am the LORD.
7 So will I make my holy name known in the midst of my people Israel; and I will not let them pollute my holy name any more: and the heathen shall know that I am the LORD, the Holy One in Israel.
WORLD POWERS IN THE LAST DAYS (END OF AGE OF GRACE NOT THE WORLD)
EUROPEAN UNION-KING OF WEST-DAN 9:26-27,DAN 7:23-24,DAN 11:40,REV 13:1-10
EGYPT-KING OF THE SOUTH-DAN 11:40
RUSSIA-KING OF THE NORTH-EZEK 38:1-2,EZEK 39:1-3
CHINA-KING OF THE EAST-DAN 11:44,REV 9:16,18
VATICAN-RELIGIOUS LEADER-REV 13:11-18,REV 17:4-5,9,18
AMERICA (POLITICAL BABYLON)(NUKED BY SNEAK ATTACK FROM RUSSIA)
IN REVELATION 17 & 18 IS THE DESTRUCTION OF THE RELIGIOUS AND POLITICAL BABYLONS.IF YOU CAN NOT DECERN BETWEEN THE 2 BABYLONS IN REV 17 & 18.YOU WILL JUST THINK THEIR BOTH THE SAME.BUT NO-THERES A RELIGIOUS BABYLON (THE VATICAN IN REV 17)(AND THE POLITICAL BABYLON IN REV 18 (AMERICA OR NEW YORK TO BE EXACT)
ISAIAH 34:10
10 It (AMERICA-POLITICAL BABYLON) shall not be quenched night nor day; the smoke thereof shall go up for ever: from generation to generation it shall lie waste; none shall pass through it for ever and ever.
JEREMIAH 51:29-32 (CYBER ATTACK 1ST)
29 And the land shall tremble and sorrow: for every purpose of the LORD shall be performed against Babylon,(AMERICA-NEW YORK) to make the land of Babylon (AMERICA) a desolation without an inhabitant.
30 The mighty men of Babylon (AMERICA) have forborn to fight, they have remained in their holds: their might hath failed; they became as women: they have burned her dwellingplaces; her bars are broken.
31 One post shall run to meet another, and one messenger to meet another, to shew the king of Babylon (NEW YORK) that his city is taken at one end,
32 And that the passages are stopped,(THE WAR COMPUTERS HACKED OR EMP'D) and the reeds they have burned with fire, and the men of war are affrighted.(DON'T KNOW WHAT TO DO)
COMPLETE SILENCE AFTER AN EMP GOES OFF
REVELATION 8:1
1 And when he had opened the seventh seal, there was silence in heaven about the space of half an hour.
JEREMIAH 50:3,24
3 For out of the north (RUSSIA) there cometh up a nation against her, which shall make her land desolate, and none shall dwell therein: they shall remove, they shall depart, both man and beast.
24 I have laid a snare for thee, and thou art also taken, O Babylon,(AMERICA) and thou wast not aware: thou art found, and also caught, because thou hast striven against the LORD. (RUSSIA A SNEAK CYBER,EMP ATTACK,THEN NUKE ATTACK ON AMERICA)
REVELATION 18:3-6,19-21
3 For all nations have drunk of the wine of the wrath of her fornication,(U.S.A) and the kings of the earth have committed fornication with her,(U.S.A) and the merchants of the earth are waxed rich through the abundance of her delicacies.
4 And I heard another voice from heaven, saying, Come out of her,(AMERICA) my people,(CHRISTIANS,JEWS) that ye be not partakers of her sins, and that ye receive not of her plagues.
5 For her sins have reached unto heaven, and God hath remembered her iniquities.
6 Reward her (AMERICA-NEW YORK) even as she rewarded you,(WITH FALSE FLAG TERRORISM) and double unto her double according to her works:(DOUBLE-EMP 1ST,THEN RUSSIA NUKE ATTACKS U.S.A) in the cup which she hath filled fill to her double.(PROBABLY A RUSSIAN CYBER ATTACK WILL SET THE WHOLE SITUATION UP AS RUSSIA HACKS THE USA ARMY COMPUTERS.THEN THE EMP,THEN THE NUKE ATTACK)
19 And they cast dust on their heads, and cried, weeping and wailing, saying, Alas, alas that great city, wherein were made rich all that had ships in the sea by reason of her costliness! for in one hour is she made desolate.
20 Rejoice over her, thou heaven, and ye holy apostles and prophets; for God hath avenged you on her.
21 And a mighty angel took up a stone like a great millstone, and cast it into the sea, saying, Thus with violence shall that great city Babylon be thrown down, and shall be found no more at all.
Clashes prevent experts from reaching bodies-Associated Press-By DMITRY LOVETSKY-JULY 30,14-YahooNews
DONETSK, Ukraine (AP) — Almost two weeks after Malaysia Airlines Flight 17 was blown out of the sky, the remains of some passengers are feared rotting in the 90-degree (32-degree Celsius) midsummer heat, deepening the frustration of relatives desperate to recover the bodies of their loved ones.Fighting between Ukrainian forces and separatist rebels has kept away international police charged with securing the site, a sprawling area of farmland and villages. And until it's secured, there is no way for forensic experts to gather up any remaining bodies or collect debris for analysis.Even the rebels — who initially oversaw the collection of more than 200 of the 298 bodies in a disorganized, widely criticized effort — have stopped their work, saying attacks from the Ukrainian military have forced them to focus on defending themselves.It remains unclear exactly how many bodies remain and what condition they are in after being exposed for so long to the elements. Dutch officials are adamant there are still bodies to be recovered, and Prime Minister Mark Rutte has said repeatedly that bringing them back is his government's top priority.But Dutch officials were gloomy Wednesday about the prospects of reaching the site any time soon."We don't expect the security situation to improve enough over the next few days to make this possible," said Pieter-Jaap Aalbersberg, head of the Dutch-led recovery mission.Two crucial pieces of evidence — the flight recorders — have already been retrieved and analyzed, however.The U.S. and Ukrainian governments say the Boeing 777 was brought down July 17 by a Russian-made missile fired by eastern Ukraine's pro-Moscow separatists. The separatists deny it; Russia denies providing the Buk missile launcher and says the Ukrainian military may have shot the plane down.After the investigative team's failure to reach the site on Wednesday, the United Nations called on both sides in Ukraine's grinding civil conflict to cease hostilities in the area."The families of the victims of this horrific tragedy deserve closure and the world demands answers. International teams must be allowed to conduct their work," U.N. spokesman Stephane Dujarric said.In their latest attempt to get to the wreckage zone, observers from the Organization for Security and Cooperation in Europe left in two vehicles from the rebel-held city of Donetsk but got only as far as the city's outskirts.The observers talked with rebels and turned back after being "warned of gunfire on the route and in the surrounding areas," the Dutch said in a statement.Recent offensives by the Ukrainian army have enabled it to take back swaths of territory from the rebels. But the fighting has edged ever closer to the crash zone."We are still waiting and it is a miserable process," said Jasmine Calehr, the grandmother of two Dutch brothers who died in the crash.Despite her mounting frustration, Calehr said she did not want investigators to go unless it was safe."Other people are not supposed to risk their lives," she said. "But that there is nobody strong enough to put pressure on a bunch of rebels is very painful."Ukraine's U.N. Ambassador Yuriy Sergeyev said in New York that Ukrainian forces have adhered to President Petro Poroshenko's order not to conduct operations within a 40-kilometer (24-mile) radius of the crash site. He accused the rebel side of bombing the site.Sergeyev said Ukrainian forces are trying to "liberate the villages and the cities around this site and to give the possibility to international experts to come in."Of the 298 who died, 194 were Dutch citizens, and Ukraine has asked for their government's help in investigating the crash. Thirty-seven were from Australia. A total of 227 coffins have been flown to the Netherlands for identification and investigation.With the debris field left unsecured over the past two weeks, international observers say wreckage has been cut, moved or otherwise tampered with.Ukrainian government security spokesman Andriy Lysenko added to security concerns Wednesday by accusing the separatists of mining the approaches to the area. Even if rebels leave, he said, it will take time to remove the mines and make the area safe for investigators.Meanwhile, the head of Ukraine's security services revealed what he said was fresh satellite imagery proving Russia had created a major cross-border corridor for the delivery of military equipment to the rebels.Valentyn Nalyvaichenko said other photographs showed burn marks from rockets fired at Ukrainian troops from a position two kilometers inside Russian territory.___Associated Press writers Mike Corder in the Hague, Netherlands, David McHugh and Peter Leonard in Kiev, Ukraine, and Mstyslav Chernov in Donetsk, Ukraine, contributed to this report.
US joins EU on Russia economic sanctions-Today @ 09:28-JULY 30,14-EUOBSERVER-By Valentina Pop
BRUSSELS - The US on Tuesday (29 July) announced a widening of its own Russia sanctions to match the EU's economic sanctions adopted just a few hours previously."Today, and building on the measures we announced two weeks ago, the United States is imposing new sanctions in key sectors of the Russian economy: energy, arms, and finance," US President Barack Obama said at a press conference in Washington.He said exports of "specific goods and technologies to the Russian energy sector" will be banned, and more Russian banks and defence companies added to an existing blacklist."And we're formally suspending credit that encourages exports to Russia and financing for economic development projects in Russia," he added.He said the sanctions regime "will have an even bigger bite" as it was widened in close co-operation with the EU.EU ambassadors earlier on Tuesday adopted the so-called stage three of the sanctions regime, banning trade in Russian bonds and stocks issued by state-owned companies, as well as arms, technology for oil exploration and high-tech items imported by Russian military companies."The European Union is joining us in imposing major sanctions on Russia - its most significant and wide-ranging sanctions to date," Obama said.He accused Moscow of continuing to arm and train pro-Russian rebels in eastern Ukraine, who are still shooting down Ukrainian planes and killing civilians even after the downing of the Malaysia Airlines flight MH17 on 17 July.Obama said the sanctions regime is already weakening the Russian economy, as foreign investors are staying away and nearly $100 billion (€74bn) in capital is fleeing Russia."Russia's energy, financial, and defence sectors are feeling the pain. Projections for Russian economic growth are down to near zero. The major sanctions we're announcing today will continue to ratchet up the pressure on Russia, including the cronies and companies that are supporting Russia's illegal actions in Ukraine," Obama said.He said this was not "a new Cold War", rather a "very specific issue related to Russia's unwillingness to recognise that Ukraine can chart its own path."
Will the sanctions work?
Bloomberg has estimated that Russian firms will be cut off from €447 billion worth of funding on EU and US financial markets, but the key question is whether these economic sanctions will have any impact on President Vladimir Putin.Obama noted that "we can't in the end make President Putin see more clearly" but both Washington and Brussels are hoping that hitting the Russian economy hard will make Moscow change course.An EU official on Tuesday in Brussels explained that the sanctions can be scaled back or suspended at any time if there are "political developments" or if they prove too harmful for the EU economies. Circumventing the sanctions regime is another issue "that always arises" when trade embargoes are put in place, the official said.Brussels and Washington have been reaching out to other countries - such as Switzerland, Norway, Japan - asking them not to come in and supply to Russia with what it is missing due to the sanctions.But in the end, the sanctions regime "does not create an obligation to other countries to stick to these measures," the EU official said."We are aware there could be a substitution effect, that's why we focused on technologies with a lower risk of substitution. But there will be, as of tomorrow, an outreach [by Russia] to all third states concerned," the official said.
Moscow fights back after sanctions; battle rages near Ukraine crash site-Reuters-By Polina Devitt and Gabriela Baczynska-JULY 30,14-YahooNews
MOSCOW/KIEV (Reuters) - Russia fought back on Wednesday over new U.S. and EU sanctions imposed over Ukraine even as G7 leaders warned of further steps, while Ukraine's government accused pro-Russian rebels of placing land mines near the site of a crashed Malaysian airliner to prevent a proper investigation. Russia announced a ban on most fruit and vegetable imports from Poland and said it could extend it to the entire European Union, a move Warsaw called Kremlin retaliation for new Western sanctions over Ukraine imposed on Russia on Tuesday.Moscow called the new EU and U.S. sanctions "destructive and short-sighted" and said they would lead to higher energy prices in Europe and damage cooperation with the United States on international affairs.The confrontation between Russia and the West entered a new phase this week, with the United States and European Union taking by far the strongest international steps yet against Moscow over its support for Ukraine's rebels.The new EU and U.S. sanctions restrict sales of arms and of equipment for the oil industry, while Russian state banks are barred from raising money in Western capital markets.G7 leaders issued a joint statement on Wednesday warning Russia that it would face added economic sanctions if Moscow does not change course on its Ukraine policy.The statement from the leaders of the G7 countries - the United States, Canada, France, Germany, Italy, Japan and Britain - was a show of solidarity among allies. They expressed grave concern about Russian actions that have undermined "Ukraine's sovereignty, territorial integrity and independence.""Russia still has the opportunity to choose the path of de-escalation," the statement said. "If it does not do so, however, we remain ready to further intensify the costs of its adverse actions."In addition, the European Commission published the names of eight Russians, including some of President Vladimir Putin's associates, and three companies that will have their assets frozen as part of the sanctions. The people on the list include Arkady Rotenberg, who is Putin's long-time judo partner and has been on a U.S. sanctions list since March.Yury Kovalchuk and Nikolai Shamalov - the two largest shareholders in Bank Rossiya, a St. Petersburg company that expanded rapidly after Putin moved to Moscow and became president in 2000 - were also blacklisted.The companies named include Russian National Commercial Bank, which was the first Russian bank to go into Crimea after the region's annexation by Russia this year. The other two firms are anti-aircraft weapons maker Almaz-Antey and airline Dobrolyot, which operates flights between Moscow and Simferopol in the Crimea.
FIGHTING NEAR THE CRASH SITE
On the ground in Ukraine, heavy fighting between government forces and separatists has been taking place near the site where Malaysian flight MH17 crashed into wheat and sunflower fields on July 17, shot down by what Washington and Brussels say was a missile supplied by Russia.Kiev accused the pro-Russian rebels on Wednesday of fortifying the area, including with land mines, to prevent the site from being properly investigated. The land mine report could not be independently confirmed. Ukraine is party to a treaty banning land mines; Russia is not.Ukrainian military spokesman Andriy Lysenko said the rebels were digging in for battle near the crash site: "They have brought a large number of heavy artillery there and mined approaches to this area. This makes impossible the work of international experts trying to start work to establish the reasons behind the Boeing 777 crash."The G7 leaders called on all sides to establish a ceasefire at the crash site.The new Western sanctions mark the first time Washington and Brussels have adopted measures designed to hurt the overall Russian economy, after weeks of narrow steps targeting only specific individuals blamed for Russia's Ukraine policy.German Economy Minister and Vice Chancellor Sigmar Gabriel said the measures would hurt the European economy but would hurt Russia more. The price was worth paying, he added: "At a time of war and peace, economic policy is not the main consideration."Even so, Russian markets rallied, as investors deemed the sanctions less severe than feared, with Russian stocks, bonds and the rouble rising.The first European economic victims of the trade war were Polish apple growers, who sell more than half their exports to Russia. Moscow is by far the biggest importer of EU fruit and vegetables, buying more than 2 billion euros' worth a year.Russia said the ban, covering most Polish fruit and vegetables, was for sanitary reasons and it would look into expanding it to the rest of the EU.Moscow denies Western accusations that it has armed and supported rebels who are fighting Ukrainian forces in eastern Ukraine. But Western countries say flows of heavy weapons across the frontier have only increased since the airliner was shot down, killing all 298 people on board.Lysenko said 363 Ukrainian troops had been killed and 1,434 wounded since Kiev's "anti-terrorist" operation began.Ukraine's fragile economy is also taking a battering.Parliament will consider austerity budget amendments on Thursday that are key to receiving IMF support and to assign more financing for the army.
GOVERNMENT TROOPS ADVANCE
Despite what the West says is an increase in armaments for the rebels, government troops have advanced since the start of the month, when they pushed the rebels out of their best-defended stronghold, the town of Slaviansk. Since then, Western countries say thousands of Russian soldiers have returned to the border from which they had withdrawn weeks ago.NATO military commander General Philip Breedlove said the number of troops along the border was now "well over 12,000", and weaponry was also building up.Valentyn Nalivaichenko, the head of Ukraine's SBU security service, said arms including Grad multiple rocket launchers were flooding across the border."Grads come in from Russian territory, take pre-agreed positions and fire on the Ukrainians. This is hundreds of rocket launches. They come in, shoot around like in a safari. This is serious military aggression," he told a news conference.The rebels are mainly holed up in the cities of Donetsk and Luhansk, which they have declared capitals of two independent "people's republics", as well as in the surrounding countryside.The sanctions are intended to persuade Putin to back down from a months-long campaign to seize territory and disrupt his neighbour, a former Soviet state of 45 million where a pro-Russian president was toppled by street protests in February.But Putin, whose popularity at home has surged since he annexed Ukraine's Crimea peninsula in March, has shown no sign of backing down from support for the rebellion in parts of Ukraine that he has referred to as New Russia.The EU had been reluctant to impose tighter sanctions - it has 10 times more trade with Russia than the United States does, and all 28 members must agree EU decisions - until the downing of the plane en route from Amsterdam to Kuala Lumpur.The EU sanctions have nevertheless been crafted so as to inflict the minimum hardship on Europe: Russia's oil industry has been targeted but not the natural gas that fuels European industry and lights its cities. Existing contracts are excluded from the arms embargo, allowing France to move ahead with delivery of a warship it has already sold for the Russian navy.(Additional reporting by Steve Holland in Washington, Justyna Pawlak, Barbara Lewis and Julia Fioretti in Brussels, Tessa Walsh in London, Elizabeth Piper, Vladimir Soldatkin and Thomas Grove in Moscow, Aleksandar Vasovic in Donetsk and Natalia Zinets in Kiev and Wiktor Szary and Jakub Iglewski in Warsaw; Writing by Peter Graff, Will Waterman and Will Dunham; Editing by James Dalgleish)
32 COUNTRIES BACK ISRAELIS YOM KAPUR AS USELESS U.N HOLIDAY
JEWISH KING JESUS IS COMING AT THE RAPTURE FOR US IN THE CLOUDS-DON'T MISS IT FOR THE WORLD.THE BIBLE TAKEN LITERALLY- WHEN THE PLAIN SENSE MAKES GOOD SENSE-SEEK NO OTHER SENSE-LEST YOU END UP IN NONSENSE.GET SAVED NOW- CALL ON JESUS TODAY.THE ONLY SAVIOR OF THE WHOLE EARTH - NO OTHER

And here are the bounderies of the land that Israel will inherit either through war or peace or God in the future. God says its Israels land and only Israels land. They will have every inch God promised them of this land in the future.

Egypt east of the Nile River, Saudi Arabia, Israel, Jordan, Syria, Lebanon, The southern part of Turkey and the Western Half of Iraq west of the Euphrates. Gen 13:14-15, Psm 105:9,11, Gen 15:18, Exe 23:31, Num 34:1-12, Josh 1:4.ALL THIS LAND ISRAEL WILL DEFINATELY OWN IN THE FUTURE, ITS ISRAELS NOT ISHMAELS LAND.

12 TRIBES INHERIT LAND IN THE FUTURE

SIGNS OF THE END OF THE AGE (NOT THE WORLD) THE WORLD GOES ON FOREVER.

GENESIS 1:5,14
5 And God called the light Day, and the darkness he called Night. And the evening and the morning were the first day.
14 And God said, Let there be lights in the firmament of the heaven to divide the day from the night; and let them be for signs, and for seasons, and for days, and years:(ISRAELS HOLY DAYS AND SABBATH STARTS AT 6PM) And for SIGNS (PROPHECY SIGNS TO HAPPEN IN THE FUTURE, OUR DAY)

32 nations back Judaism's Yom Kippur as UN holiday-Associated Press-By EDITH M. LEDERER-JULY 30,14-YahooNews

UNITED NATIONS (AP) — Thirty-two countries have written to a U.N. General Assembly committee asking the United Nations to recognize Judaism's holiest day, Yom Kippur, as an official holiday.
The letter to the assembly's Committee on Conferences, circulated on Wednesday, says the U.N. "recognizes the major festivals of many of the world's main religions, yet Judaism is not represented.""We believe that the United Nations calendar should reflect the organization's founding principles of coexistence, justice and mutual respect," the 32 countries said. "We urge the United Nations to correct this inequity and recognize the holiest day of the Jewish faith."Israel launched a campaign in May to make Yom Kippur a U.N. holiday.U.N. deputy spokesman Farhan Haq said in May that a report from the Committee on Conferences would go to the assembly's budget committee and then to the General Assembly's 193 member states for a final decision.Israel has had an often difficult relationship with the United Nations and is attacked regularly over its dealings with the Palestinians and the failure to reach a peace deal that would create an independent Palestinian state.The letter to the committee was dated June 30, before the current Israeli-Hamas war began. But it was circulated on a particularly tense day between Israel and the U.N.Secretary-General Ban Ki-moon condemned an attack on a U.N. school in Gaza that killed at least 16 people early Wednesday as "outrageous," adding that "nothing is more shameful than attacking sleeping children." He said "all available evidence points to Israeli artillery as the cause."Ban, the U.S., and many other nations are demanding an immediate cease-fire between Israel and Hamas.

The 32 ambassadors who signed the letters were from the U.S., Albania, Andorra, Argentina, Bahamas, Canada, Costa Rica, Cyprus, Dominica, El Salvador, Ethiopia, Grenada, Guatemala, Honduras, Israel, Ivory Coast, Malawi, Micronesia, Monaco, Nauru, Nigeria, Palau, Panama, Philippines, Rwanda, Samoa, Seychelles, South Sudan, Suriname, Togo, Uruguay and Vanuatu.There are currently 10 official U.N. holidays including the Christian holidays Christmas and Good Friday and the Muslim holidays Eid al-Fitr and Eid al-Adha. The six others are major U.S. holidays — New Year's Day, Presidents' Day, Memorial Day, Independence Day, Labor Day and Thanksgiving.The letter said that on Yom Kippur, "The Day of Atonement," the Jewish people "reflect on the events of the past year and pray that all peoples will enjoy a year of good health, peace and prosperity."Jews believe that on Yom Kippur "every person's deeds are weighed on the heavenly scales of justice and the blessings of the coming year are determined by the good deeds performed in the service of others," the letter said. "In the days leading up to Yom Kippur, Jews throughout the world seek forgiveness and reconciliation."The 32 ambassadors said "the messages of Yom Kippur are universal and as such, we the representatives of the delegations listed below are writing to request that Yom Kippur be included as an official holiday of the United Nations as from 2015."

DISEASES

REVELATION 6:7-8
7 And when he had opened the fourth seal, I heard the voice of the fourth beast say, Come and see.
8 And I looked, and behold a pale horse:(CHLORES GREEN) and his name that sat on him was Death, and Hell followed with him. And power was given unto them over the fourth part of the earth, to kill with sword,(WEAPONS) and with hunger,(FAMINE) and with death,(INCURABLE DISEASES) and with the beasts of the earth.(ANIMAL TO HUMAN DISEASE).

DRUG PUSHERS AND ADDICTS

1 PET 5:8
8 Be sober,(NOT DRUGED UP OR ALCOHOLICED) be vigilant; because your adversary the devil, as a roaring lion, walketh about, seeking whom he may devour:

REVELATION 18:23
23 And the light of a candle shall shine no more at all in thee; and the voice of the bridegroom and of the bride shall be heard no more at all in thee: for thy merchants were the great men of the earth; for by thy sorceries (DRUGS) were all nations deceived.

REVELATION 9:21
21 Neither repented they of their murders,(KILLING) nor of their sorceries (DRUG ADDICTS AND DRUG PUSHERS), nor of their fornication,(SEX OUTSIDE MARRIAGE OR PROSTITUTION FOR MONEY) nor of their thefts.(STEALING)

Fatigue, fear are daily lot of Ebola fighters-AFP-By Richard Ingham-JULY 30,14-YahooNews

Paris (AFP) - Doctors, nurses and hospital workers fighting the Ebola epidemic in west Africa are struggling with a daily burden of exhaustion, shortage of staff and fear for themselves over the deadly virus, specialists say.Containing an outbreak by a lethal pathogen places big demands on workers in any health system, but this is especially the case in one of the world's poorest regions, they say.Peter Piot, director of the London School of Hygiene and Tropical Medicine, who co-discovered the Ebola virus in 1976, said health workers faced "their own fear of this epidemic, a fear that is grounded in reality. They're the front line.""They often don't have the resources, they see colleagues dying, so I'm not surprised that some hospitals have been abandoned, basically," he said in an interview with AFP in London."Some nurses in some hospitals have gone on strike because there isn't a minimum basic equipment for protecting both the hospital workers and the patients and their relatives.""The health workers are tired," said Jean-Claude Manuguerra, a professor at the Pasteur Institute in Paris who spent two weeks at the Donka Hospital in Conakry, the capital of Guinea, the country that has been at the epicentre of the scare."It's hard to recruit people and get them to come. Some aren't available, and there's the factors of fatigue and fear."The epidemic has caused more than 670 deaths and 1,200 cases in Guinea, Liberia and Sierra Leona, with one case confirmed in Nigeria.Piot on Wednesday said the number of cases in Guinea appeared to be in decline but was rising in Liberia and Sierra Leone, where it had become "a national emergency" in the two countries.Brigitte Vasset, deputy medical director at the French-based charity Medecins Sans Frontieres (MSF), or Doctors without Borders, said tackling an Ebola outbreak required a large pool of personnel. They were not just doctors and nurses who had to handle infected patients, she said.Around half are people who take care of things such as logistics and cleaning and going to homes to trace relatives or friends of people who have fallen sick.They, too, need to be trained in infection risk, she said in a phone interview. Every extension of the outbreak ratchets up the demand for resources, she said.Foreign staff for MSF who were being sent to fight the epidemic are being rotated every three weeks "before they go beyond the point of exhaustion," she said."We can no longer respond to every outbreak," Vasset warned. "We just don't have the staff to train other people properly and ensure that they are not placed at risk. We need to have more people, more specialists."

- '40 minutes, maximum' -

The Ebola virus is transmitted through contact with the blood, body fluids, secretions or organs of an infected person.After an incubation period of up to 21 days, the virus causes severe fever and muscle pain, weakness, vomiting and diarrhoea, and in some causes unstoppable bleeding that shuts down vital organs.Treating patients with Ebola means donning a full protective suit, mask, gloves and goggles, which according to medical guidelines is then checked by a fellow worker to ensure there are no gaps to expose the skin.The outfit is being worn in searing tropical heat, in clinics where there is no air conditioning, Vasset said. "You can stand it for 40 minutes maximum, then have to be replaced."Those who go to remote villages to try to trace people who have been in contact with patients, or to educate locals about the risks of contamination, may encounter hostility from inhabitants who suspect they are bringing the virus, said Mariano Lugli, coordinator of MSF's operations in Guinea."We are being threatened if we go to certain villages," he told AFP on Monday. "There are regions where we don't have access and have absolutely no idea what's going on there."

WORLD TERRORISM

GENESIS 6:11-13
11 The earth also was corrupt before God, and the earth was filled with violence.(WORLD TERRORISM,MURDERS)(HAMAS IN HEBREW IS VIOLENCE)
12 And God looked upon the earth, and, behold, it was corrupt; for all flesh had corrupted his way upon the earth.
13 And God said unto Noah, The end of all flesh is come before me; for the earth is filled with violence (TERRORISM)(HAMAS) through them; and, behold, I will destroy them with the earth.

2 PETER 2:5
5 And spared not the old world, but saved Noah the eighth person, a preacher of righteousness, bringing in the flood upon the world of the ungodly;

2 PETER 3:7
7 But the heavens and the earth, which are now, by the same word are kept in store, reserved unto fire against the day of judgment and perdition of ungodly men

LEVITICUS 26:16
16 I also will do this unto you; I will even appoint over you( sudden) terror(ISM), consumption, and the burning ague, that shall consume the eyes, and cause sorrow of heart: and ye shall sow your seed in vain, for your enemies shall eat it.

GENESIS 16:11-12
11 And the angel of the LORD said unto her,(HAGAR) Behold, thou art with child, and shalt bear a son, and shalt call his name Ishmael;(FATHER OF THE ARAB/MUSLIMS) because the LORD hath heard thy affliction.
12 And he (ISHMAEL) will be a wild (DONKEY-JACKASS) man;(ISLAM IS A FAKE AND DANGEROUS SEX FOR MURDER CULT) his hand will be against every man,(ISLAM HATES EVERYONE) and every man's hand against him;(PROTECTING THEMSELVES FROM BEING BEHEADED) and he (ISHMAEL ARAB/MUSLIM) shall dwell in the presence of all his brethren.(LITERAL-THE ARABS LIVE WITH THEIR BRETHERN JEWS)

ISAIAH 14:12-14
12 How art thou fallen from heaven, O Lucifer,(SATAN) son of the morning!(HEBREW-CRECENT MOON-ISLAM) how art thou cut down to the ground, which didst weaken the nations!
13 For thou hast said in thine heart, I will ascend into heaven, I will exalt my throne above the stars of God: I will sit also upon the mount of the congregation, in the sides of the north:
14 I (SATAN HAS EYE TROUBLES) will ascend above the heights of the clouds; I will be like the most High.(AND 1/3RD OF THE ANGELS OF HEAVEN FELL WITH SATAN AND BECAME DEMONS)

ISAIAH 33:1,18-19 Woe to thee that spoilest,(destroys) and thou wast not spoiled;(destroyed) and dealest treacherously, and they dealt not treacherously with thee! when thou shalt cease to spoil,(destroy) thou shalt be spoiled;(destroyed) and when thou shalt make an end to deal treacherously, they shall deal treacherously with thee.
18 Thine heart shall meditate terror. Where is the scribe? where is the receiver? where is he that counted the towers?
19 Thou shalt not see a fierce people, a people of a deeper speech than thou canst perceive; of a stammering tongue, that thou canst not understand.

JOHN 16:2
2 They shall put you out of the synagogues: yea, the time cometh, that whosoever killeth you will think that he doeth God service.(ISLAM MURDERS IN THE NAME OF MOON GOD ALLAH OF ISLAM)

Temporary ceasefire in Tripoli, 75 bodies found in Benghazi-Reuters-By Aziz El Yaakoubi and Ayman Al-Warfalli-JULY 30,14-YahooNews

BENGHAZI/TRIPOLI (Reuters) - Rival Libyan militias fighting for control of Tripoli's airport agreed to a temporary ceasefire on Wednesday to allow firefighters to try to control a huge blaze at a fuel depot hit by a rocket.Meanwhile in Libya's second city, Benghazi, at least 75 bodies, mostly soldiers, were found after two days of fighting in which Islamist fighters and allied militiamen overran an army base.
The past two weeks of fighting have been the worst since the civil war that ousted Muammar Gaddafi in 2011, prompting Western governments to follow the United States and the United Nations in pulling their diplomats out of the North African country.Two brigades of former rebels, mainly rooted in the towns of Zintan and Misrata, have pounded each other's positions in Tripoli with Grad rockets, artillery fire and cannon, turning the south of the capital into a battlefield.But except for sporadic shelling away from the ceasefire zone near the international airport, Wednesday was the quietest day in the capital for two weeks."Many mediators have succeeded in convincing the militias to stop fighting, at least temporarily," government spokesman Ahmed Lamin said. "They are trying to get them to the negotiating table, we hope they will agree."France nevertheless closed its embassy on Wednesday, and evacuated 30 French nationals from Tripoli, a few days after the U.S. embassy evacuated its staff across the Tunisian border under heavy military escort.It was unclear if the blaze at the airport depot, which supplies millions of liters of gasoline and gas to the capital, was under control on Wednesday, although the volume of smoke had lessened.A spokesman for the state-run National Oil Corporation (NOC), owner of the tanks' operator, Brega Oil company, said he did not yet have any update on the situation.Three years after the fall of Gaddafi, Libya's government is unable to impose its authority on numerous brigades of former fighters who remain heavily armed and often make political demands of the state.Benghazi was also quieter on Wednesday, after fierce battles that led special forces to withdraw from the main army base in the city the previous day.The Libyan Red Crescent's Mohammed al-Misrati said it had found more than 50 bodies inside the base. "We are trying to get them out," he said.At least 35 of the bodies were later taken to Benghazi's main hospital, according to a Reuters reporter. Sources in the city's hospitals said they had received at least 25 bodies from fighting in other places.The forces of the self-declared Benghazi Shura Council, which include former rebels and militants from the al Qaeda-linked Ansar al-Sharia, seized the base on Tuesday after fighting involving rockets and warplanes.Special forces troops and irregular forces loyal to Khalifa Haftar, a renegade former army general who had launched a campaign to clear Benghazi of Islamist militants, withdrew to an air base outside Benghazi, Haftar's spokesman said.Benghazi's main police station was also abandoned on Wednesday morning, according to a Reuters reporter at the scene.Fighters from Ansar al-Sharia, classified as a terrorist organization by Washington, have been blamed by authorities for an attack on the U.S. consulate in Benghazi in 2012 in which the U.S. ambassador was killed.(Editing by Patrick Markey and Kevin Liffey)

2ND WAVE CHINA AND KINGS OF THE EAST MARCH TO ISRAEL

REVELATION 16:12-16
12 And the sixth angel poured out his vial upon the great river Euphrates;(WERE WW3 STARTS IN IRAQ OR SYRIA OR TURKEY) and the water thereof was dried up, that the way of the kings of the east might be prepared.
13 And I saw three unclean spirits like frogs come out of the mouth of the dragon,(SATAN) and out of the mouth of the beast,(WORLD DICTATOR) and out of the mouth of the false prophet.(FALSE POPE)
14 For they are the spirits of devils, working miracles, which go forth unto the kings of the earth and of the whole world, to gather them to the battle of that great day of God Almighty.(WERE 2 BILLION DIE FROM NUKE WAR)
15 Behold, I come as a thief. Blessed is he that watcheth, and keepeth his garments, lest he walk naked, and they see his shame.
16 And he gathered them together into a place called in the Hebrew tongue Armageddon.(ITS AT THIS TIME I BELIEVE WHEN AMERICA GETS NUKED BY RUSSIA ON THE WAY TO THE MIDEAST)

DANIEL 11:44 (2ND WAVE OF WW3)
44 But tidings out of the east(CHINA) and out of the north(RUSSIA, MUSLIMS WHATS LEFT FROM WAVE 1) shall trouble him:(EU DICTATOR IN ISRAEL) therefore he shall go forth with great fury to destroy, and utterly to make away many.( 1/3RD OF EARTHS POPULATION)

REVELATION 9:12-18
12 One woe is past; and, behold, there come two woes more hereafter.
13 And the sixth angel sounded, and I heard a voice from the four horns of the golden altar which is before God,
14 Saying to the sixth angel which had the trumpet, Loose the four(DEMONIC WAR) angels which are bound in the great river Euphrates.(4 WINDS OF THE WORLD-WORLDWIDE WAR)(TURKEY-IRAQ-SYRIA)(EUPHRATES RIVER CONSISTS OF 760 MILES IN TURKEY,440 MILES IN SYRIA AND 660 MILES IN IRAQ)
15 And the four(DEMONIC WAR) angels were loosed,(COULD ALSO MEAN THE 4 CORNERS OF THE EARTH OR WORLDWIDE WAR) which were prepared for an hour, and a day, and a month, and a year, for to slay the third part of men.(1/3 Earths Population die in WW 3 2ND WAVE)
16 And the number of the army of the horsemen were two hundred thousand thousand:(200 MILLION MAN ARMY FROM CHINA AND THE KINGS OF THE EAST) and I heard the number of them.
17 And thus I saw the horses in the vision, and them that sat on them, having breastplates of fire, and of jacinth, and brimstone: and the heads of the horses were as the heads of lions; and out of their mouths issued fire and smoke and brimstone.(NUCLEAR BOMBS)
18 By these three was the third part of men killed, by the fire, and by the smoke, and by the brimstone, which issued out of their mouths.(NUCLEAR BOMBS)

U.S. blacklists North Korea shipping firms over arms shipments-Reuters-JULY 30,14-YahooNews

WASHINGTON (Reuters) - The United States on Wednesday blacklisted two North Korean shipping firms that it said tried to conceal arms shipments from Cuba to North Korea, following a similar move by the United Nations.The ship, Chong Chon Gang, was discovered last July near the Panama Canal hiding a large amount of arms, including two MiG-21 jet fighters under 200,000 bags of sugar, which the United States said showed a clear attempt to circumvent U.N. and U.S. sanctions against North Korea.North Korea is under an array of sanctions for nuclear and ballistic missile tests since 2006 in defiance of global demands to stop."The Chong Chon Gang episode, in which (North Korea) tried to hide an arms shipment under tons of sugar, is a perfect example of North Korea's deceptive activity, and precisely the sort of conduct that we are committed to disrupting," David Cohen, the U.S. Treasury Department's undersecretary for terrorism and financial intelligence, said in a statement.The Treasury Department imposed sanctions on Chongchongang Shipping Company, which is owned by the North Korean government, and the Ocean Maritime Management Company, which tried to help conceal the weapons and provide false documents to authorities in Panama, Treasury said. It also blacklisted 18 vessels in which the firms have an interest.The new sanctions freeze any assets the companies may hold in the United States and prohibit people and firms in the United States from dealing with them.(Reporting by Anna Yukhananov; Editing by Meredith Mazzilli and Tom Brown)

FALSE POPE FROM THE VATICAN

REVELATION 13:11-13
11 And I beheld another beast coming up out of the earth;(FALSE VATICAN POPE) and he had two horns like a lamb,(JESUS IS THE LAMB OF GOD) and he spake as a dragon.(HES SATANICALLY INSPIRED,HES A CHRISTIAN DEFECTOR FROM THE FAITH)
12 And he (FALSE RELIGIOUS LEADER) exerciseth all the power of the first beast before him,(WORLD DICTATOR) and causeth the earth and them which dwell therein to worship the first beast, whose deadly wound was healed.(THE WORLD DICTATOR CREATES A FALSE RESURRECTION AND IS CROWNED LEADER OF THE NEW WORLD ORDER).
13 And he doeth great wonders, so that he maketh fire come down from heaven on the earth in the sight of men,

REVELATION 17:1-5,9,15-18
1 And there came one of the seven angels which had the seven vials, and talked with me, saying unto me, Come hither; I will shew unto thee the judgment of the great whore that sitteth upon many waters:
2 With whom the kings of the earth have committed fornication,(VATICAN IN POLITICS) and the inhabitants of the earth have been made drunk with the wine of her fornication.
3 So he carried me away in the spirit into the wilderness: and I saw a woman sit upon a scarlet coloured beast, full of names of blasphemy, having seven heads and ten horns.
4 And the woman (FALSE CHURCH) was arrayed in purple and scarlet colour,(VATICAN COLOURS)(ANOTHER REASON WE KNOW THE FALSE POPE COMES FROM THE VATICAN) and decked with gold and precious stones and pearls, having a golden cup in her hand full of abominations and filthiness of her fornication:
5 And upon her forehead was a name written, MYSTERY, BABYLON THE GREAT, THE MOTHER OF HARLOTS AND ABOMINATIONS OF THE EARTH.
9 And here is the mind which hath wisdom. The seven heads are seven mountains, on which the woman sitteth.(THE VATICAN IS BUILT ON 7 HILLS OR MOUNTAINS)
15 And he saith unto me, The waters which thou sawest, where the whore sitteth, are peoples, and multitudes, and nations, and tongues.(VATICAN-CATHOLICS ALL AROUND THE WORLD OVER 1 BILLION)
16 And the ten horns which thou sawest upon the beast,(WORLD DICTATOR) these shall hate the whore, and shall make her desolate and naked, and shall eat her flesh, and burn her with fire.(BOMB OR NUKE THE VATICAN)
17 For God hath put in their hearts to fulfil his will, and to agree, and give their kingdom unto the beast, until the words of God shall be fulfilled.
18 And the woman which thou sawest is that great city,(VATICAN) which reigneth over the kings of the earth.

07/30/2014 - VATICAN INSIDER-Holy Land: The Arab Christian revolt against the Orthodox Patriarch-Jerusalem-The Israeli military offensive has reignited conflicts within the Jerusalem Patriarchate which has organized a Catholic-Orthodox theological summit on supremacy to be held in Amman this coming September-Gianni Valente

Rome-The growing tensions between Arab faithful and the high clergy of the Greek Orthodox Patriarchate in Jerusalem has now turned into a full-fledged war. The Israeli offensive in the Gaza Strip and the tragedy of the growing Palestinian civilian death toll is catalyzing the showdown between Orthodox Christians in the Holy Land: Greek Orthodox Arabs blame the Patriarch and other Orthodox prelates of Greek origin of colluding with the instigators of Israel's "genocidal war" as it is referred to it in their communiqués. The conflict going on within the Orthodox Church of Jerusalem – which is purely internal - could potentially have consequences for ecumenism: between 15 and 23 September, the Greek Orthodox Patriarchate of Jerusalem will be hosting the Commission for Theological Dialogue between the Catholic Church and the Oriental Orthodox Churches' plenary session. The purpose of this meeting will be to discuss the issue of supremacy.The Orthodox Patriarch of Jerusalem, Theophilos III, chose the Jordanian capital Amman as the venue for the meeting. Amman is inside the Patriarchate's canonical territory and seemed like a stable place to hold the meeting given the climate of uncertainty that has rocked the region as a whole. But now there are protests in Amman against the Patriarch and the Synod which they claim is being hegemonised by Greek bishops. Last week, a movement for the reform and revival of the Patriarchate was formed in the capital of the Hashemite Kingdom. A group of over 700 representatives from Arab Orthodox communities, led by a few bishops and Arab Orthodox archimandrites, met at the Orthodox Club to address and announce the goals and strategies of what they presented as a reform battle aimed at saving the Patriarchate from decline.The ecclesial revolt's programmatic "manifesto" published after the meeting was based on controversial arguments, which Arab faithful have resorted to in the past to criticize the dominance of Greek patriarchs and bishops – all of them picked from the monastic Congregation of St. Michael - over the Orthodox Church in the Holy Land.The Arab bishop Atallah Hanna, together with the archimandrites, priests and Arab faithful once again spoke out against the "racist domination over the Church of Jerusalem" and the decline caused by a lack of pastoral care for its faithful. This has led to a drastic drop in the number of Orthodox Christians is recent years as they are choosing to switch to other Christian Churches. The statement's authors are protesting against the squandering of money donated to the Church by previous generations. They criticize the dereliction of patriarchal schools and ecclesial courts and the corrupt administration of the Patriarch's assets, which totally lacks transparency. The statement also recalls the restrictions placed on advocators of an apparently urgent reform.But given the events currently being witnessed in the Holy Land, the points which stand out the most are those relating to the Israeli-Palestinian conflict. "Today our people are being exterminated by the army of Israeli occupation while a priest comes to us with a plan to compel Christians to mandatory service in the army of Zionist occupation, under the cover and with the blessing of the Greek patriarch who has not once looked at the suffering of his people and his flock." There is an implicit reference here to Gabriel Naddaf, a Greek Orthodox priest serving in the Nazareth region. The priest has become the main ecclesiastical supporter of the campaign, which is backed by Israeli political circles in order to make military service in the Israeli army obligatory for Arab Christians. Patriarch Theophilos also comes under fire for "award[ing] medals to an officer in the army of occupation while our people-- women, children and elderly-- are being targeted by the occupation's artillery."In their statement, the Orthodox Christians in the Holy Land stress their Arab identity, mentioning their partnership with their "Muslim brothers" "in the unity and defence of our nation." "The Arab Orthodox clergy … call for an Orthodox ecclesiastical revival that preserves the teachings of the fathers, the canons of the Church and her spirituality in its pastoral and patriotic dimensions." They set out eight concrete demands for their "reform" programme. Amongst other things, they demand an end to the sale of Church property, the modification of the Synod's membership to include Arab members and the formation of an elective body composed of priests and lay people who would contribute to the ordinary administration of the Church. The Orthodox "rebels" are seeking political support for their ecclesial offensive, declaring their loyalty to Jordan's King Abdullah II, asking the Palestinian president Mahmood Abbas for help and paying tribute to the Hashemite monarchy as custodian of the Muslim and Christian Holy Places in Jerusalem.

JEREMIAH 6:14
14 They have healed also the hurt of the daughter of my people slightly, saying, Peace, peace; when there is no peace.

JEREMIAH 8:11
11 For they have healed the hurt of the daughter of my people slightly, saying, Peace, peace; when there is no peace.

1 THESSALONIANS 5:3
3 For when they shall say, Peace and safety; then sudden destruction cometh upon them, as travail upon a woman with child; and they shall not escape.

ISAIAH 33:8
8 The highways lie waste, the wayfaring man ceaseth: he hath broken the covenant,(7 YR TREATY) he hath despised the cities, he regardeth no man.(THE WORLD LEADER-WAR MONGER CALLS HIMSELF GOD)

07/30/2014 - VATICAN INSIDER-Vatican Secretary for Relations with States urges politicians to do their utmost for peace-The Israeli-Palestinian conflict continues-The Vatican has sent a "nota verbale" to embassies to reiterate the Pope's appeals for peace in the Middle East. The Vatican "foreign affairs minister" expressed the Holy See's concern for Christians in Iraq-Domenico Agasso jr
Turin-The Vatican Secretariat of State has sent embassies accredited to the Holy See a "nota verbale" recalling the Pope's recent appeals on the situation Christians are facing in Iraq and on the Middle Eastern conflicts on general. The Holy Father made these appeals at the end of his most recent Angelus prayers. Vatican Radio reported on the comments the Secretary for Relations with States, Archbishop Dominique Mamberti made on the "nota verbale": "The Secretariat of State is keeping up to speed with the situation of the Christian communities in the Middle East and is deeply concerned about them," Mamberti said in his statement."Christian communities are suffering unjustly, they are scared and many Christians have been forced to emigrate. In Mosul alone about 30 churches and monasteries have been occupied and damaged by extremists, with crosses being removed. For the first time in many years, they have not been able to celebrate Sunday mass," Mgr. Mamberti said. "You must remember that Christians have been present in Iraq and other Middle Eastern countries since the beginning of Christianity and they have played a vital role in the development of society. They simply want to continue to be present as creators of peace and reconciliation," Mgr. Mamberti added.The Secretary for Relations with States explained that the Holy See works at different levels. Above all, the Pope himself has shown his heartfelt closeness to Christians in the Middle East, particularly families living in Mosul, inviting everyone to pray for them. He personally expressed his closeness, sometimes through some the communities' religious leaders, including the Chaldean Patriarch of Babylonia and the Syrian Patriarch of Antioch, encouraging pastors and faithful to remain hopeful. He also sent financial aid to families through the Pontifical Council Cor Unum, to meet humanitarian needs." Now the Secretariat of State has sent a "nota verbale". "Through its own diplomatic channels [the Secretariat of State] continues to hold the attention of international leaders and governments regarding the fate of our brothers and sisters.""We strongly hope that the international community will take the question of peace to heart because the principles that form a fundamental basis for human dignity, the respect of every individual's rights and for a peaceful and harmonious coexistence among people and populations, are at stake," Mgr. Mamberti said.

EARTHQUAKES

ISAIAH 42:15
15 I will make waste mountains and hills, and dry up all their herbs; and I will make the rivers islands, and I will dry up the pools.

MATTHEW 24:7-8
7 For nation shall rise against nation, and kingdom against kingdom: and there shall be famines, and pestilences, and earthquakes, in divers places.
8 All these are the beginning of sorrows.

MARK 13:8
8 For nation shall rise against nation, and kingdom against kingdom:(ETHNIC GROUP AGAINST ETHNIC GROUP) and there shall be earthquakes in divers places, and there shall be famines and troubles: these are the beginnings of sorrows.

LUKE 21:11
11 And great earthquakes shall be in divers places,(DIFFERNT PLACES AT THE SAME TIME) and famines, and pestilences; and fearful sights and great signs shall there be from heaven.

1 Day, Magnitude 2.5+ Worldwide
36 earthquakes - DownloadUpdated: 2014-07-30 21:24:10 UTC-04:00Showing event times using Local System Time (UTC-04:00)36 earthquakes in map area

4.1 76km SSE of Old Iliamna, Alaska 2014-07-30 20:59:37 UTC-04:00 101.0 km
5.2 283km SSW of `Ohonua, Tonga 2014-07-30 20:17:52 UTC-04:00 10.0 km
2.9 9km NNE of Edmond, Oklahoma 2014-07-30 19:48:03 UTC-04:00 6.8 km
2.7 23km NNW of Road Town, British Virgin Islands 2014-07-30 19:33:43 UTC-04:00 105.0 km
3.3 79km NE of Y, Alaska 2014-07-30 19:09:25 UTC-04:00 47.2 km
4.7 38km S of Yunaska Island, Alaska 2014-07-30 17:36:51 UTC-04:00 49.8 km
2.5 Quarry Blast 8km SSW of Princeton, Canada 2014-07-30 17:09:24 UTC-04:00 0.0 km
2.5 29km S of Little Sitkin Island, Alaska 2014-07-30 16:01:53 UTC-04:00 93.8 km
2.9 7km W of Manhattan Beach, California 2014-07-30 15:23:03 UTC-04:00 11.2 km
3.2 35km E of Noatak, Alaska 2014-07-30 14:11:40 UTC-04:00 20.0 km
3.4 86km NE of Road Town, British Virgin Islands 2014-07-30 13:40:38 UTC-04:00 26.0 km
3.3 11km NNE of Edmond, Oklahoma 2014-07-30 12:46:59 UTC-04:00 5.0 km
3.4 11km NE of Edmond, Oklahoma 2014-07-30 12:21:32 UTC-04:00 4.9 km
5.7 119km SW of Panguna, Papua New Guinea 2014-07-30 12:00:58 UTC-04:00 10.0 km
2.5 12km SW of Little Sitkin Island, Alaska 2014-07-30 11:44:20 UTC-04:00 126.9 km
3.3 44km E of Noatak, Alaska 2014-07-30 11:20:27 UTC-04:00 20.0 km
3.4 43km E of Noatak, Alaska 2014-07-30 11:15:27 UTC-04:00 18.0 km
2.6 12km SSE of Laytonville, California 2014-07-30 10:46:43 UTC-04:00 6.2 km
2.8 46km E of Noatak, Alaska 2014-07-30 10:12:45 UTC-04:00 20.0 km
2.7 43km SW of Lone Pine, California 2014-07-30 08:57:47 UTC-04:00 1.5 km
3.0 79km WSW of Cantwell, Alaska 2014-07-30 08:39:58 UTC-04:00 119.5 km
4.6 83km N of Isangel, Vanuatu 2014-07-30 08:25:05 UTC-04:00 232.5 km
3.4 41km ENE of Noatak, Alaska 2014-07-30 08:16:40 UTC-04:00 24.4 km
3.1 75km N of Road Town, British Virgin Islands 2014-07-30 08:01:10 UTC-04:00 76.0 km
4.3 141km NW of Neiafu, Tonga 2014-07-30 05:15:18 UTC-04:00 177.7 km
2.9 4km SSW of Idyllwild, California 2014-07-30 04:54:30 UTC-04:00 19.7 km
2.9 53km NE of Punta Cana, Dominican Republic 2014-07-30 04:34:27 UTC-04:00 70.0 km
2.6 26km NNE of Arecibo, Puerto Rico 2014-07-30 04:25:50 UTC-04:00 31.0 km
2.8 46km NW of Lordsburg, New Mexico 2014-07-30 03:21:38 UTC-04:00 5.0 km
3.1 188km SW of Amatignak Island, Alaska 2014-07-30 01:40:30 UTC-04:00 32.4 km
3.4 6km S of Guaymate, Dominican Republic 2014-07-29 23:57:21 UTC-04:00 156.0 km
2.7 74km SSE of Akutan, Alaska 2014-07-29 23:46:51 UTC-04:00 25.6 km
4.1 17km SW of Little Sitkin Island, Alaska 2014-07-29 23:43:34 UTC-04:00 126.1 km
2.5 3km NW of Honaunau-Napoopoo, Hawaii 2014-07-29 22:56:27 UTC-04:00 13.6 km
5.5 Southern Mid-Atlantic Ridge 2014-07-29 22:24:26 UTC-04:00 9.1 km
5.3 50km WSW of Kish, Iran 2014-07-29 21:32:09 UTC-04:00 5.2 km