Monday, June 30, 2014
THE 3 MYTHES-JERUSALEM IS NOT ISRAELS CAPITAL-2-ALLAH AND JESUS ARE THE SAME GOD-3-PALESTINIANS ARE A LEGITIMATE PEOPLE
REPORTS-THE 3 ISRAELI KIDNAPPED BOYS ARE DEAD IN HEVRON
JEWISH KING JESUS IS COMING AT THE RAPTURE FOR US IN THE CLOUDS-DON'T MISS IT FOR THE WORLD.THE BIBLE TAKEN LITERALLY- WHEN THE PLAIN SENSE MAKES GOOD SENSE-SEEK NO OTHER SENSE-LEST YOU END UP IN NONSENSE.GET SAVED NOW- CALL ON JESUS TODAY.THE ONLY SAVIOR OF THE WHOLE EARTH - NO OTHER

ZECHARIAH 14:12-13
12 And this shall be the plague wherewith the LORD will smite all the people that have fought against Jerusalem; Their flesh shall consume away while they stand upon their feet, and their eyes shall consume away in their holes, and their tongue shall consume away in their mouth.
13 And it shall come to pass in that day, that a great tumult from the LORD shall be among them; and they shall lay hold every one on the hand of his neighbour, and his hand shall rise up against the hand of his neighbour.(1/2-3 BILLION DIE IN WW3)

ISRAEL SATAN COMES AGAINST

1 CHRONICLES 21:1
1 And Satan stood up against Israel, and provoked David to number Israel.

ISRAELS TROUBLE

JEREMIAH 30:7
7 Alas! for that day is great, so that none is like it: it is even the time of Jacob's trouble;(ISRAEL) but he shall be saved out of it.

DANIEL 12:1,4
1 And at that time shall Michael(ISRAELS WAR ANGEL) stand up, the great prince which standeth for the children of thy people:(ISRAEL) and there shall be a time of trouble, such as never was since there was a nation(May 14,48) even to that same time: and at that time thy people shall be delivered, every one that shall be found written in the book.
4 But thou, O Daniel, shut up the words, and seal the book, even to the time of the end: many shall run to and fro,(WORLD TRAVEL,IMMIGRATION) and knowledge shall be increased.(COMPUTERS,CHIP IMPLANTS ETC)

ISRAEL BELIEVES THE 3 KIDNAPPED BOYS IN GAZA MAYBE DEAD.ISRAEL SHOULD GO ALL OUT AFTER GAZA HAMAS NOW.

ITS OFFICIAL-THE 3 KIDNAPPED ISRAELI BOYS WERE FOUND IN A FIELD UNDER A PILE OF ROCKS IN THE WEST BANK.NETANYAHU CALLED HAMAS INHUMAN MURDERERS AND WILL REVENGE THE BLOOD OF THE 3 DEAD TEENS.ALREADY ISRAELI TORE DOWN THE HOUSES OF THE 2 HAMAS MEMBERS SUSPECTED OF MURDERING THE 3 ISRAELI TEENS.HAMAS SAID IF ISRAEL ATTACKS GAZA OR HAMAS.THIS WILL MEAN WAR ON ISRAEL.3:30PM MON JUNE 30,14

ISRAEL HAS STRUCK AT LEAST 20 HAMAS TARGETS TODAYAND COUNTING AS A RESULT OF HAMAS MURDERING THE 3 ISRAELI TEENS.ISRAEL IS TAKING ACTION WHEN THEY SAY-UNLIKE THAT FRAUD SUNNI MUSLIM OBAMA WHO JUST TALKES AND NEVER TAKES ACTION-UNLESS ITS BETRAYING ISRAEL.UPDATE JUNE 30,14-8:15PM

Israeli jets reportedly strike several sites in Gaza-Air force targets locations in Khan Younis, Rafah; rocket fired at Eshkol region; no injuries or damage reported-By Times of Israel staff July 1, 2014, 2:20 am 2
Israeli jets struck several sites in Khan Younes and Rafah in the Gaza Strip early Tuesday morning, according to Palestinian sources.Earlier, a rocket was fired in the direction of the Eshkol Regional Council, landing in open terrain. There were no immediate reports of injuries or damage.The strikes came hours after the bodies of kidnapped Israeli teenagers — Eyal Yifrach, 19, Gil-ad Shaar, 16 and Naftali Fraenkel, 16 — were found partially buried in a field near the West Bank village of Halhul, north of Hebron.The teenagers were kidnapped on the night of June 12 at a hitchhiking post outside the settlement of Alon Shvut in the Etzion Bloc south of Jerusalem.The bodies were found at about 5:30 p.m. Monday, bound and partially buried, in an open field in a hard-to-access area. The site is less than 20 kilometers (12 miles) from where the teens had been abducted.Israel is on the hunt for two Hamas men it says were behind the kidnappings, Marwan Kawasme and Amer Aby Aysha.Since the start of Operation Brother's Keeper to find them, 18 days of searches had seen the arrests of over 400 Palestinians, a majority of them members of Hamas.On Monday, Hamas operatives launched a large volley of rockets which slammed into Israel, the first time in years the Islamist group has directly challenged the Jewish state, according to Israeli defense officials.At least 16 rockets were fired at Israel Monday morning, most of them hitting open areas in the Eshkol region, the army said.The security sources, who spoke on condition of anonymity, assessed that Hamas had probably launched the barrage in revenge for an Israeli airstrike several hours earlier which killed one person and injured three more.A member of Hamas's militant wing was killed in the attack, Gaza health official Ashraf al-Kidra said.While Israel has maintained it holds Hamas responsible for all rocket attacks, officials have said that smaller groups, such as Islamic Jihad, are usually behind the rocket attacks, while Hamas squads generally attempt to thwart the rocket fire.Hamas hasn't fired rockets into Israel since Operation Pillar of Defense ended in November 2012, and has yet to take responsibility for this latest barrage.The group fired hundred of rockets at Israel over eight days during Operation Pillar of Defense in 2012, as Israel carried out punishing strikes on the Palestinian enclave.Officials said Monday's rocket attacks, which appeared to deliberately target Israeli communities close to the border with the Gaza Strip, may have been intended to warn Israel against targeting Hamas operatives.The army said in a statement that the Sunday night air raid was targeting terrorists "in the southern Gaza Strip, during​ their final preparations to launch rockets at civilian communities of southern Israel.""Hamas is responsible for the outrageous attacks originating from Gaza, and will be pursued as such," IDF spokesman Lt. Col. Peter Lerner said.The air force attack on Khan Younis Sunday night came minutes after Palestinians in the coastal enclave fired a volley of rockets at southwestern Israel. The Iron Dome defense system shot down two of the projectiles — Grad rockets — over Netivot. There were no reports of injury or damage in the rocket attack.Early Sunday morning, air force planes struck 12 sites in Gaza in response to rockets fired over the weekend. Two rockets hit the town of Sderot, close to the border with Gaza, late Saturday, causing a massive fire that destroyed a paint factory.

Security cabinet to convene emergency session-Defense minister reports dramatic developments in case of kidnapped teens; IDF troops increase sweeps north of Hebron-By Times of Israel staff June 30, 2014, 7:51 pm 2

The security cabinet was set to convene an emergency session at 8:00 p.m. on Monday night, as the IDF increased its presence in the search for the kidnapped teenagers north of Hebron.Defense Minister Moshe Ya'alon said dramatic developments have taken place in the abduction case.Clashes were reported between Palestinian and the IDF Monday in the West Bank village of Halhul, north of Hebron. Several Palestinian protesters hurled stones and other objects at the soldiers. IDF forces have been in the area since the three teenagers were abducted.Israel's security forces arrested six Palestinians Sunday night in an ongoing effort to find three kidnapped Israeli teens.The IDF said that five of the suspects were members of Hamas from Hebron, where the military has been concentrating its search, and one was from the Ramallah area.IDF Spokesman Lt. Col. Peter Lerner confirmed that all of the arrests were made in connection with the search for the teens.The three kidnapped Israeli teens, from L-R: Eyal Yifrach, 19, Naftali Fraenkel, 16, and Gil-ad Shaar, 16. (photo credit: courtesy) Since the start of Operation Brother's Keeper to rescue Naftali Fraenkel, Gil-ad Shaar and Eyal Yifrach, over 400 Palestinians have been arrested, a majority of them members of Hamas.Israeli authorities on Thursday named two Hamas members as prime suspects in the kidnapping.The two, Amer Abu Aysha and Marwan Kawasme, have been missing from their homes in Hebron's Hares neighborhood ever since the kidnapping took place on the night of June 12 and are still at large.Hamas officials in Hebron confirmed the two suspects were members, and said Israeli troops have targeted the men's homes since the beginning of Operation Brother's Keeper. The officials said troops had entered the homes several times, conducting intense searches and confiscating items as evidence.Israeli intelligence officials were quoted over the weekend saying that they anticipated the search for the three could be very protracted, and that it was clear the kidnappers had prepared carefully ahead of carrying out the abduction. Fraenkel, Shaar and Yifrach were abducted from a West Bank bus stop on June 12, prompting a massive manhunt by Israeli forces and intelligence agencies focused on the Hebron area.

Breaking: Major IDF Sweep in Northern Hevron Area-IDF focuses heavily on northern Hevron in search for kidnapped teens.By Uzi Baruch-First Publish: 6/30/2014, 7:32 PM / Last Update: 6/30/2014, 7:43 PM-IsraelNationalNews

IDF forces are currently conducting heavy sweeps of the northern Hevron Hills area, eyewitnesses say, in the ongoing search for kidnapped teens Naftali Frenkel (16), Gilad Sha'ar (16), Eyal Yifrah (19).At least one report claims that several Palestinian Arab terrorists have clashed with the large scale IDF forces in the area.Additional information cannot be reported at this time.The search follows an announcement by Israeli Police Monday that five officers would be dismissed over the handling of the call made by one of the abductees to the police hotline, after an intensive investigation revealed that the Judea-Samaria Police District had delayed reporting the abduction for over eight hours. A policeman at the police's 100 hotline received the call and passed on the information as per protocol, but several higher-level officers dismissed it as a prank.More to follow.

COUNTRIES WITH ISRAEL

EZEKIEL 38:10-19
10 Thus saith the Lord GOD; It shall also come to pass, that at the same time shall things come into thy mind, and thou shalt think an evil thought:
11 And thou shalt say,(RUSSIA,ARAB,MUSLIMS) I will go up to the land of unwalled villages; I will go to them that are at rest, that dwell safely, all of them dwelling without walls, and having neither bars nor gates,
12 To take a spoil, and to take a prey; to turn thine hand upon the desolate places that are now inhabited, and upon the people that are gathered out of the nations, which have gotten cattle and goods, that dwell in the midst of the land.
13 Sheba, and Dedan,(SAUDIA ARABIA) and the merchants of Tarshish,(ENGLAND) with all the young lions thereof,(USA,CANADA,AUSTRALIA,NEW ZEALAND,EU,ENGLAND,ENGLISH SPEAKING,JORDAN) shall say unto thee, Art thou come to take a spoil? hast thou gathered thy company to take a prey? to carry away silver and gold, to take away cattle and goods, to take a great spoil?
14 Therefore, son of man, prophesy and say unto Gog, Thus saith the Lord GOD; In that day when my people of Israel dwelleth safely, shalt thou not know it?
15 And thou shalt come from thy place out of the north parts, thou, and many people with thee, all of them riding upon horses, a great company, and a mighty army:
16 And thou shalt come up against my people of Israel, as a cloud to cover the land; it shall be in the latter days, and I will bring thee against my land, that the heathen may know me, when I shall be sanctified in thee, O Gog, before their eyes.
17 Thus saith the Lord GOD; Art thou he of whom I have spoken in old time by my servants the prophets of Israel, which prophesied in those days many years that I would bring thee against them?
18 And it shall come to pass at the same time when Gog shall come against the land of Israel, saith the Lord GOD, that my fury shall come up in my face.
19 For in my jealousy and in the fire of my wrath have I spoken, Surely in that day there shall be a great shaking in the land of Israel;

REVELATION 12:14
14 And to the woman (ISRAEL) were given two wings of a great eagle, that she might fly into the wilderness, into her place, where she is nourished for a time, and times, and half a time,(3 1/2 YRS) from the face of the serpent.(PROTECTED FOR 3 1/2 YRS IN PETRA JORDAN)

Liberman: Jordan's Stability 'Vital' to Israel's Security-Foreign Minister says Israel 'will do everything to maintain the stability of Jordan' following threats from ISIS takeover.By Tova Dvorin and Elad Ben-Ari-First Publish: 6/30/2014, 6:29 PM-IsraelNationalNews

The spread of the Islamic State of Iraq and the Levant (ISIS) through Iraq has not eluded the Jewish state's notice, Foreign Minister Avigdor Liberman (Yisrael Beytenu) said Monday.According to Liberman, regional stability is important enough to prompt financial help from Israel to Jordan, if necessary, to prevent ISIS from reaching the Jewish state."Jordan's stability is a vital interest of the State of Israel," Liberman stated, in a meeting with German Foreign Minister Frank-Walter Steinmeier. "Without going into details, we will do everything to maintain the stability of Jordan."

Steinmeier agreed.

"ISIS in Iraq constitutes a serious threat to the territorial integrity of Iraq and the entire region," he said. He urged that the entire international community must work so that "ISIS cannot tighten its grip [on the Middle East] and the caliphate it declared does not turn into a center for terror and violence." "We have seen from clashes in the Golan Heights how events in the region can affect the security of Israel," Steinmeier continued. "We must ensure that a solution is found for the internal problems in Iraq, and establish a government that will represent proportionally all communities and factions to detract support for ISIS from the Sunni population." On Sunday, former National Security Council director Yaakov Amidror warned against ISIS moving in on Jordan and posing a threat to Israel, adding that if Jordan requested Israeli assistance in preventing its border with Iraq from being overrun by ISIS, Israel would have little choice but to help.ISIS on Sunday declared it had established a "caliphate", or Islamist state, straddling Iraq and Syria.The jihadists said the state would spread from Aleppo in northern Syria to Diyala in eastern Iraq, and ordered Muslims in those areas to pay allegiance to the group.In Syria, ISIS fighters already control large swathes of territory in Deir Ezzor near the Iraq border, in Raqa in the north, as well as parts of neighboring Aleppo province.In Iraq, they have spearheaded a lightning offensive, capturing sizable territories in the north and west of the conflict-torn country.Prime Minister Binyamin Netanyahu also voiced concern over "the powerful wave triggered by ISIS, which could reach Jordan in a very short time" Sunday, in a speech calling for independence for Kurdish Pashmerga forces fighting the terrorist group. "We must be able to stop the terrorism and fundamentalism that can reach us from the east at the Jordan line and not in the suburbs of Tel Aviv," he added.

Netanyahu's commitment to 2 states seems shakier than ever-With speech cementing Jordan River as Israel's border and ignoring calls for unilateral withdrawal, PM gives annexationists cause for hopeBy Raphael Ahren June 30, 2014, 5:31 pm-The Times of Israel

On Sunday night, at a high-profile conference, Benjamin Netanyahu delivered what was essentially his "Bar-Ilan 3″ speech – a foreign policy address that outlined his government's policy regarding the conflict with the Palestinians. But while other speakers at the conference put forth new ideas on how to break the impasse in the peace process, the prime minister, despite stating his commitment to a two-state solution, announced a set of policies that would make such a solution even harder to achieve.The conference, held by the Institute for National Security Studies and titled "In the Absence of Progress toward a Final Status Agreement: Options for Israel," was the ideal venue for Netanyahu to lay down a new vision for the future now that the US-brokered peace talks have collapsed and a Palestinian unity government has been established. He utilized it to announce the construction of a security fence on Israel's border with Jordan, and to insist that the IDF must maintain overall security responsibility for the entire West Bank in the foreseeable future. Rather than explaining how he intends to implement his first Bar-Ilan speech of 2009, in which he envisaged the creation of a Palestinian state, he fueled the right wing's hopes that there will never be a Palestinian state between the river and the sea.Before Netanyahu took the podium at the prestigious think thank in Tel Aviv, its director, retired general Amos Yadlin, a former military intelligence chief, laid out his Plan B, to be implemented in the likely scenario that Israeli and Palestinian leaders fail to bridge their gaps and sign a peace agreement. He called for Israeli "redeployment" — in other words, a unilateral withdrawal from most of the West Bank that could facilitate, if not the end of the conflict, at least a two-state reality that would forestall the binational state scenario.If Jerusalem finds that it has no Palestinian partner with which to sign an accord, "Israel will initiate a long-term program to independently draw Israel's borders in coordination with its allies," Yadlin suggested. "This program will signal the state's willingness to relinquish sovereignty over 80 to 90 percent of the West Bank, a willingness that will be also be exercised on the ground." Israel's new borders would be based on the security fence in the West Bank, but the Jordan Valley and the entire city of Jerusalem should remain under Israeli sovereignty, Yadlin recommended."Israel needs to have an alternative plan, because we don't want to remain with the status quo," Yadlin continued. He didn't fear the current state of affairs in Israel and the West Bank as much as others in the international community did, he clarified. But, he cautioned, "if managed unwisely," the status quo will harm Israel in the long run, causing delegitimization, boycotts, economic woes and eventually a one-state solution that would spell the end to Israel's Jewish and democratic character."As we've always done in the history of Zionism, we need to take the initiative, to move on to a proactive policy, to stop buying time and to start enacting a policy that will benefit us," Yadlin said. An Israeli "redeployment" would be no gift to the Palestinians, the veteran military analyst asserted, but would ultimately serve Israel's interest.To be sure, the idea that Israelis need to take their destiny in their own hands and unilaterally withdraw from large parts of the West Bank has been gaining traction for months now. It has many supporters, including former close advisers to Netanyahu such as Yoaz Hendel and Michael Oren.Yadlin himself has spoken about his Plan B several times in the past, yet never in quite so prominent a venue: a half-day conference keynoted by the prime minister. In between Yadlin's presentation and Netanyahu's speech, a panel comprising prominent Israeli lawmakers from various parties discussed a possible Israeli withdrawal, and alternatives to it, wondering whether the prime minister would pick up the gauntlet and offer something new on the future of Israeli-Palestinian relations.But Yadlin and others who hoped that Netanyahu would agree that Israel needs to proactively shape its own borders were disappointed. The prime minister spoke for 25 minutes, and delivered headlines by calling for an independent Kurdistan, but there was nary a word about how Israel could draw closer to implementing the two-state solution he himself has in the past endorsed as a key policy point.Declaring that "the forces of fanatical Islam" — in the form of Sunni ISIL militants in Iraq and Syria, as well as Iran — "are already knocking on our door," the prime minister called for the construction of "a security fence on our eastern border, and to build it gradually all the way from Eilat to merge with the security fence that we've been building over the last two years in the Golan Heights."Such a plan implicitly suggests that the Jordan River would become Israel's eastern border, and it leaves little room for an independent Palestine, a senior Israeli official acknowledged in a private conversation. Whether intended or not, erecting a border fence always signals a state's intention to draw a final border, the official said. It certainly won't bring Israel closer to a negotiated two-state solution, since the Palestinians have insisted that even if short-term security arrangements keep the Jordan Valley out of their hands for a limited time, they eventually expect to be granted control of the border with Jordan.Another senior government official, however, rejected this assessment. "The political border between us and the Palestinians will be determined in the negotiating room. But what the prime minister made clear last night is that Israel's will have a security presence on the Jordan River," the official said. Jerusalem's plans to construct the fence along Israel's border with the Hashemite kingdom are nothing new and were discussed with the Americans during the recently halted peace talks, the official added.During his speech Sunday, Netanyahu interpreted his seminal first Bar Ilan speech, in which he agreed, in principle, to a demilitarized Palestinian state that recognized Israel as the nation-state of the Jewish people. (He gave a second Bar Ilan speech last October.) 'Netanyahu does not believe in the creation of a Palestinian state under the current circumstances'"What does 'demilitarized' mean?" he asked Sunday. Answering his own question, he said that "in light of what's happening in our surroundings," only Israel can be responsible for security in the entire West Bank, to make sure terrorism is intercepted at the Jordan River and not on the outskirts of Tel Aviv. "It must be clear that in every future agreement with the Palestinians, Israel will need to retain military control in the territory up to the Jordan River for a very long time."Israeli media didn't pay much attention to that part of Netanyahu's speech, as his statement on the Kurds appeared far more piquant. But Israeli right wingers who read between the lines found reason to rejoice over the prime minister's words."Two of Netanyahu's assertions yesterday, when combined, are very significant," said Dani Dayan, the chief foreign envoy of the settler movement's Yesha Council and an advocate for a single-state solution. First, when speaking about the need for a fence, the prime minister referred to the Jordan River as Israel's "eastern border." Second, Dayan pointed out, Netanyahu claimed that only the Israeli army can provide security in the West Bank, and that only Israel's presence there prevents the Palestinian Authority from collapsing."The two combined," Dayan asserted, "show Netanyahu does not believe the creation of a Palestinian state is possible under the current circumstances, falling just a few steps short of retracting his Bar Ilan speech."
RAINBOW OVER TORONTO AFTER ABIMINATION PARADE YESTERDAY-MANITOBA-SASKATEWAN FLOODED OUT
JEWISH KING JESUS IS COMING AT THE RAPTURE FOR US IN THE CLOUDS-DON'T MISS IT FOR THE WORLD.THE BIBLE TAKEN LITERALLY- WHEN THE PLAIN SENSE MAKES GOOD SENSE-SEEK NO OTHER SENSE-LEST YOU END UP IN NONSENSE.GET SAVED NOW- CALL ON JESUS TODAY.THE ONLY SAVIOR OF THE WHOLE EARTH - NO OTHER
2 PETER 3:10-11
10 But the day of the Lord will come as a thief in the night; in the which the heavens shall pass away with a great noise, and the elements (NUKES) shall melt with fervent heat,(BLAST) the earth also and the works that are therein shall be burned up.(BUT ITS NO END OF THE WORLD HOGWASH)
11 Seeing then that all these things shall be dissolved,(BY NUKES INCLUDING 3 BILLION PEOPLE) what manner of persons ought ye to be in all holy conversation and godliness,(GOD TELLS US HERE-THE EARTH WIL BE BURNED WITH NUKES IN THE FUTURE-NEVER AGAIN WILL THE EARTH BE TOTALLY FLOODED THATS WHY THE RAINBOW IN THE SKY AS GODS PROMISE TO US.
GENESIS 9:8-17 (GODS PROMISE EARTH NEVER TOTALLY FLOODED EVER AGAIN)
8 And God spake unto Noah, and to his sons with him, saying,
9 And I, behold, I establish my covenant with you, and with your seed after you;
10 And with every living creature that is with you, of the fowl, of the cattle, and of every beast of the earth with you; from all that go out of the ark, to every beast of the earth.
11 And I will establish my covenant with you; neither shall all flesh be cut off any more by the waters of a flood; neither shall there any more be a flood to destroy the earth.
12 And God said, This is the token of the covenant which I make between me and you and every living creature that is with you, for perpetual generations:
13 I do set my bow in the cloud, and it shall be for a token of a covenant between me and the earth.
14 And it shall come to pass, when I bring a cloud over the earth, that the bow shall be seen in the cloud:
15 And I will remember my covenant, which is between me and you and every living creature of all flesh; and the waters shall no more become a flood to destroy all flesh.
16 And the bow shall be in the cloud; and I will look upon it, that I may remember the everlasting covenant between God and every living creature of all flesh that is upon the earth.
17 And God said unto Noah, This is the token of the covenant, which I have established between me and all flesh that is upon the earth.
JUST A BIT OF AN UPDATE FROM MY YESTERDAY SODOMITE STORY.AFTER THE PARADE WAS OVER THERE WAS A BEAUTIFUL GIGANTIC RAINBOW OVER TORONTO.THIS WAS GOD TELLING US OF THE TRUE MEANING OF THE RAINBOW. NOT THE MOCKING OF THE SODOMITE RAINBOW GROUPERS SO CALLED RAINBOW FLAG.

AND THIS WAS ALSO A WARNING TO CANADA FOR HAVING THIS ABOMINATION IN CANADA.GOD SAID THE EARTH WOULD NEVER BE TOTALLY FLOODED AGAIN.BUT GOD WARNED THE WORLD.THIS TIME THE EARTH WILL BE BURNED WITH ELEMENTS-WERE DO YOU HAVE TO GO IN THE DICTIONARY TO LOOK FOR ATOMIC BOMBS (ELEMINTS).SO GOD BY HAVING THAT RAINBOW OVER TORONTO YESTERDAY-IS A DIRECT WARNING TO THE SODOMITES AND TORONTO THAT ATOMIC BOMBS WILL BE DESTROYING ANYBODY WHO POLLUTES AND MOCKS THE TRUE MEANING OF THE RAINBOW.
Yesterdays story i done
http://israndjer.blogspot.ca/2014/06/world-sodomite-parade-in-toronto-as.html
Rainbow graces Toronto sky to end World Pride-by John Bowman Posted: June 30, 2014 9:30 AM Last Updated: June 30, 2014 9:35 AM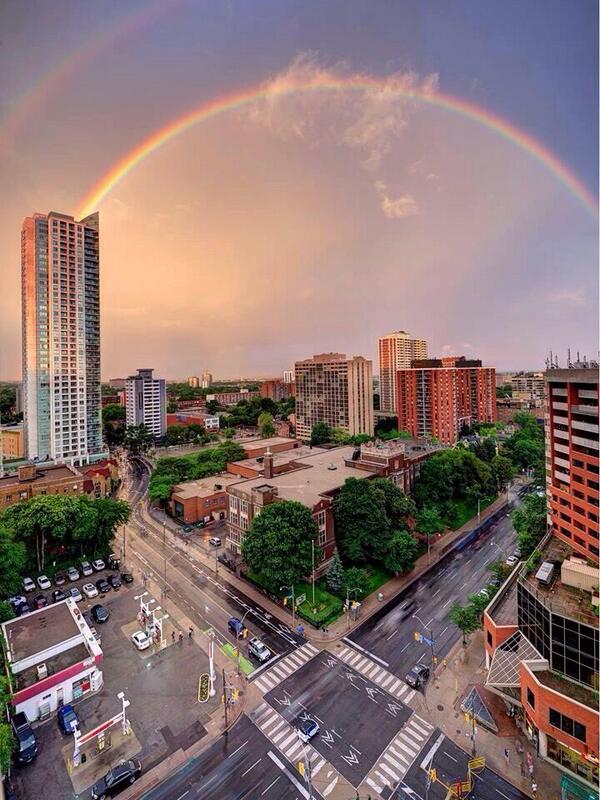 t was near the end of a spectacular Sunday for Toronto's Pride march when the sky darkened and released a heavy torrent of rain on World Pride revellers. If the storm dampened spirits, the rainbow that followed provided the perfect exclamation point for the week-long event.(The above shot of the rainbow over the intersection of Wellesley and Jarvis was taken by photographer Matt Mills.)
The rainbow appeared just as the final event of World Pride 2014, a free concert in Yonge-Dundas Square, was taking place.
STORMS HURRICANES-TORNADOES
LUKE 21:25-26
25 And there shall be signs in the sun, and in the moon, and in the stars; and upon the earth distress of nations, with perplexity;(MASS CONFUSION) the sea and the waves roaring;(FIERCE WINDS)
26 Men's hearts failing them for fear,(TORNADOES,HURRICANES,STORMS) and for looking after those things which are coming on the earth:(DESTRUCTION) for the powers of heaven shall be shaken.(FROM QUAKES,NUKES ETC)
THE FIRST JUDGEMENT OF THE EARTH STARTED WITH WATER-IT ONLY MAKES SENSE THE LAST GENERATION WILL BE HAVING FLOODING
GENESIS 7:6-12
6 And Noah was six hundred years old when the flood of waters was upon the earth.
7 And Noah went in, and his sons, and his wife, and his sons' wives with him, into the ark, because of the waters of the flood.
8 Of clean beasts, and of beasts that are not clean, and of fowls, and of every thing that creepeth upon the earth,
9 There went in two and two unto Noah into the ark, the male and the female, as God had commanded Noah.
10 And it came to pass after seven days, that the waters of the flood were upon the earth.
11 In the six hundredth year of Noah's life, in the second month, the seventeenth day of the month, the same day were all the fountains of the great deep broken up, and the windows of heaven were opened.
12 And the rain was upon the earth forty days and forty nights.
GOD PROMISED BY A RAINBOW-THE EARTH WOULD NEVER BE DESTROYED TOTALLY WITH A FLOOD AGAIN.BUT FLOODIING IS A SIGN OF JUDGEMENT.
I BELIEVE THIS FLOODING OVER THE WEEKEND IS A DIRECT JUDGEMENT ON CADADA FOR HAVING THE SODOMITE RAINBOW GROUPERS WORLD PRIDE WEEK HERE IN CANADA.
Updated-Manitoba flood fears: 24 municipalities in states of emergency-Overland flooding a concern as crews spent Sunday pumping water from ponds, ditches into Assiniboine-CBC News Posted: Jun 29, 2014 10:36 AM CT Last Updated: Jun 30, 2014 8:02 AM CT-Manitoba municipalities declare states of emergency
Saskatchewan flooding: 16 areas declaring state of emergency-Officials feeling more hopeful about Rainy Lake flood situation-Winnipeg man has close call after tree lands on him
The western Manitoba city of Brandon and 23 other communities in the province remain in states of local emergency today after overland flooding became a major concern following a weekend rainstorm.The other communities are Archie, Arthur, Cameron, Coldwell, Cornwallis, Daly, Deloraine, Edward, Elkhorn, Hartney, Grahamdale, Miniota, Oak Lake, Pipestone, Roblin, Sifton, Siglunes, Strathclair, Virden, Wallace, Westbourne, Whitewater and Winchester.The Brandon area received nearly 125 millimetres of rain between Friday and Sunday evening, and more is expected.Environment Canada is calling for 10 to 15 millimetres on Monday and a 60 per cent chance of rain on Tuesday, with the skies expected to clear in the late afternoon." Most people think of high water [and] they think of the Assiniboine River here in Brandon, but this is overland flooding," Mayor Shari Decter Hirst told CBC News late Sunday afternoon."A lot of our ditches, storm sewers, retention ponds, streets are full of water."Crews spent Sunday pumping water from retention ponds and ditches into the Assiniboine River to help alleviate some of the pressure on the city's sewer system, she said."Our big concern is we're almost at capacity now, so when it starts raining again — and we know it will — we want to make sure that we're ready."A flood warning is in effect for the Assiniboine from the Shellmouth Dam to Brandon, as well as Lake St. Martin, Dauphin Lake and the Winnipeg River system.Both Lake Manitoba and Lake Winnipeg are under a flood watch, and the Red and Saskatchewan rivers are under high water advisories.
Power outages, trees uprooted
It's also been a windy weekend.That was the biggest issue in the Winnipeg area, where the gusts hit 81 kilometres an hour at times. A city spokesperson said Monday that some 400 calls came in about toppled trees or branches. Manitoba Hydro crews spent much of Sunday restoring electricity to areas that experienced outages due to branches falling on power lines.Hydro spokesman Scott Powell said staff have been overloaded with calls throughout southern Manitoba and the Interlake region, with lines affected in both urban and rural areas.The strongest wind, though, was measured in Brandon at 96 km/h.
Flights to, from Manitoba affected
Flights to and from the Brandon Municipal Airport were cancelled Sunday because overland flooding on the main access road.But on Monday, WestJet announced that a flight to Calgary would go ahead as scheduled. Passengers on other flights are advised to check WestJet's website for updates.Although the main road leading into the Brandon Municipal Airport (McGill Field) remains underwater and closed to public, a detour has been set up from the west, via Bloomsburry Road, which is located on the north side of the Trans-Canada Highway, 1.5 kilometres west of the KK Penner tire company property.Detour signs will be in place along the Highways 1 and 10 and airport staff will also be on site to direct traffic.In Winnipeg, a number of flights in and out of James Armstrong Richardson International Airport were delayed or cancelled Sunday as well."The rain combined with the really high winds is making the runways a little bit dicey for landing on," said Felicia Wiltshire, of the Winnipeg Airports Authority."So when something like that happens, it's up to pilots to decide if they feel comfortable or not landing on our runways. And it sounds like a lot are choosing not to land right now."
Rural states of emergency declared
The 23 other communities under state of local emergency belong to one of six rural municipalities, including Whitehead, Cornwallis, Pipestone, Wallace, Siglunes and Grahamdale.A number of roads in the affected municipalities have been closed or breached by overland flooding. As well, the Manitoba government has closed numerous sections of highways due to washed-out roads."It basically rained all night, quite heavy, and then a lot of overland flooding happening," said Bob Brown, a councillor with the RM of Cornwallis. "The culvert systems … can't handle the water."Officials in that RM urged residents to voluntarily leave their homes on Sunday night before roads became impassable.Residents who need to get out are asked to call the regional municipality office's at (204) 748-1239.More rain on Monday could turn those voluntary evacuations into mandatory ones, said Reeve Don Neufeld.As well, those evacuations could stretch south all the way to Virden, north to Elkorn, and west all the way to the Saskatchewan border, he said."We have a lot of infrastructure, roads that are breached and cut by the water, and it makes it difficult for [people] to get around. We would like to do that during the daylight hours rather than at night if we could," he said.An evacuation centre has been set up in Virden and hotels are already booked in advance for flood evacuees, Neufeld said.People in Virden worked through the night getting sandbags filled and stacked to protect homes along the creek that runs through the town.Nicole Hunter said water backed up into her basement and the situation has been overwhelming."Yeah, I've had a couple of cry moments, but what can we do? We're doing all we can do, and that's all we can do," she said.
The closed highways include:
Trans-Canada Highway from Brandon to Highway 110.
Highway 3 from Pierson to the south junction of Highway 83.
Highway 21, from the north junction of Highway 23, to Highway 2.
A complete, updated list of closed roads can be found on the province's 511 website.High water in eastern Manitoba also has people scrambling to protect property along the Winnipeg River at Otter Falls Resort.The resort is near Seven Sisters Falls on the river, in Whiteshell Provincial Park.Lori Derksen, who owns and operates the resort with her husband, said several sections of the campground are under water.The river is higher than anyone can remember, and crews have set out sandbags and aqua dams to protect the property.
Big numbers
Environment Canada says the intense storm system has dumped between 75 and 124 millimetres of rain on southwest Manitoba over the weekend.The weather agency released a list of rainfall totals, recorded between Friday and Sunday evening, in the following communities:
Deloraine — 144 mm
Virden — 137 millimetres
Pierson — 129 mm
Brandon Airport — 124 mm
Moosehorn — 119 mm
Reston — 106 mm
Neepawa — 98 mm
Eriksdale — 97 mm
Birtle — 96 mm
Dauphin — 94 mm
Hamiota — 93 mm
Forrest — 92 mm
Dauphin — 94 mm
Melita — 89 mm
Souris — 89 mm
Boissevain — 87 mm
Minnedosa — 79 mm
Shoal Lake — 78 mm
Roblin — 71 mm
Winnipeg — 50 mm
More water expected from Saskatchewan
In the regional municipality of Edward, which was in a state of local emergency all weekend, residents are also worried about flash flooding across the border in southeastern Saskatchewan. Heavy rain leads to flash flooding in southeast Sask.Debbie McMechan, a municipal councillor in the area, says water from swollen waterways in Saskatchewan will flow into Manitoba, adding to residents' existing worries about high rainfall amounts on this side of the border. 'When roads start to get washed out, we get very concerned about getting ambulances in and out.'- Debbie McMechan, councillor, regional municipality of Edward-We're the third-largest oil producer in the province. We have an oil industry that's been brought to a screeching halt out here," she said."This is a serious situation but of course, our first and foremost concerns is our people. And so, you know, when roads start to get washed out, we get very concerned about getting ambulances in and out."McMechan said officials have been trying to get the provincial government to address the issue for many years, but without much success.
LIEBERMAN-ISRAEL RETAKE GAZA GET IT BACK IN OUR HANDS
JEWISH KING JESUS IS COMING AT THE RAPTURE FOR US IN THE CLOUDS-DON'T MISS IT FOR THE WORLD.THE BIBLE TAKEN LITERALLY- WHEN THE PLAIN SENSE MAKES GOOD SENSE-SEEK NO OTHER SENSE-LEST YOU END UP IN NONSENSE.GET SAVED NOW- CALL ON JESUS TODAY.THE ONLY SAVIOR OF THE WHOLE EARTH - NO OTHER

And here are the bounderies of the land that Israel will inherit either through war or peace or God in the future. God says its Israels land and only Israels land. They will have every inch God promised them of this land in the future.

Egypt east of the Nile River, Saudi Arabia, Israel, Jordan, Syria, Lebanon, The southern part of Turkey and the Western Half of Iraq west of the Euphrates. Gen 13:14-15, Psm 105:9,11, Gen 15:18, Exe 23:31, Num 34:1-12, Josh 1:4.ALL THIS LAND ISRAEL WILL DEFINATELY OWN IN THE FUTURE, ITS ISRAELS NOT ISHMAELS LAND.

12 TRIBES INHERIT LAND IN THE FUTURE

Liberman Calls to Retake Gaza Following Renewed Rocket Fire-Foreign Minister Avigdor Liberman reiterates call to crack down on Hamas in Gaza, says 'limited' operation could prove ineffective.Share on facebook Share on twitter Share on email Share on print More Sharing Services 8By Tova Dvorin-First Publish: 6/29/2014, 8:33 AM-IsraelNationalNews

Foreign Minister Avigdor Liberman proposed that Israel should "consider" retaking Gaza on Sunday, noting that a "limited" operation in Judea and Samaria against Hamas could prove ineffective. "We have to decide whether we are going to explore the alternative of full occupation of the Gaza Strip," Liberman said, on IDF Radio's "Good Morning Israel" show. "We saw that a limited operation only strengthens Hamas in the end; the alternative is clear."This is not the first time Liberman has suggested retaking Gaza. The Foreign Minister has proposed a full operation against Hamas there multiple times over the past year, following several periods of heavy rocket fire from Hamas and Islamic Jihad. Liberman's comments surface less than 24 hours after Gaza terrorists rained even more rockets on Israel, with one setting fire to plastics and paint factories in the southern city of Sderot Saturday. Four workers managed to escape the factories before they were set ablaze, police spokesperson Micky Rosenfeld told AFP. The IAF responded Saturday night by striking nine terror targets in Gaza. Since Operation Brother's Keeper began seventeen days ago, no fewer than 23 rockets from Gaza have hit Israel, an IDF spokesperson noted Sunday.

Netanyahu Vows to Outlaw Raed Salah's Islamic Movement in Israel-Prime Minister blames Friday's anti-Israel rally on terror-linked group, promises to crack down following calls to abduct IDF soldiers.By Hezki Ezra, Tova Dvorin-First Publish: 6/29/2014, 11:27 AM / Last Update: 6/29/2014, 11:50 AM-IsraelNationalNews

Prime Minister Binyamin Netanyahu opened his weekly cabinet meeting by addressing anti-Israel incitement on Friday outside Umm-Al-Fahm, adding to a chorus of criticism regarding a rally calling for the abduction of Israeli soldiers. "Outrageous calls were heard supporting the kidnapping of Israeli soldiers," the Prime Minister began. "Most of Israel's Arab citizens do not support this, and I call on their leaders to stand boldly and firmly in condemning these statements."Until then, he said, he would fight the incitement. "As Israeli citizens, we cannot accept and put up with such outrageous statements," Netanyahu warned. "The IDF protects all of us."Netanyahu also warned that the incident is directly linked to activity from the northern branch of the Islamic Movement, headed by Sheikh Raeh Salah. Salah was recently banned from traveling abroad in connection with anti-Israel incitement, and Netanyahu vowed to outlaw the group entirely. "In many cases, those behind these readings, behind these protests, are the northern branch of the Islamic Movement," the Prime Minister said. "[The movement] constantly preaches against Israel, and has publicly identified with terrorist organizations like Hamas. Therefore, I have instructed the competent officials to explore the possibility of declaring the northern branch of the Islamic movement as blacklisted.""This announcement will provide significant tools for the security authorities to battle the movement," he added. Transportation Minister Yisrael Katz (Likud) agreed. "It is a most necessary action, following a weekend demonstration in Umm al-Fahm, [to outlaw the group], as I requested years ago," Katz said, explaining that the group's activities are known throughout the Middle East. The Israeli government in late May began discussions on whether to declare Salah's Islamic Movement in Israel an illegal organization. Salah has been jailed for incitement in the past after calling followers to physically block Jews from entering the Temple Mount, and has been sentenced in the past for incitement and assault, among other nationalistically-motivated crimes.The Islamic Movement has also been involved in the violent "Nakba Day" protests opposing Israel's existence.

ISRAEL SATAN COMES AGAINST

1 CHRONICLES 21:1
1 And Satan stood up against Israel, and provoked David to number Israel.

ISRAELS TROUBLE

JEREMIAH 30:7
7 Alas! for that day is great, so that none is like it: it is even the time of Jacob's trouble;(ISRAEL) but he shall be saved out of it.

DANIEL 12:1,4
1 And at that time shall Michael(ISRAELS WAR ANGEL) stand up, the great prince which standeth for the children of thy people:(ISRAEL) and there shall be a time of trouble, such as never was since there was a nation(May 14,48) even to that same time: and at that time thy people shall be delivered, every one that shall be found written in the book.
4 But thou, O Daniel, shut up the words, and seal the book, even to the time of the end: many shall run to and fro,(WORLD TRAVEL,IMMIGRATION) and knowledge shall be increased.(COMPUTERS,CHIP IMPLANTS ETC)

IAF Drone Strike Kills Gaza Terrorist-An IAF aircraft struck a terror cell that was about to launch rockets, after terrorists fired 6 rockets at Israeli civilians.By Uzi Baruch, Gil Ronen-First Publish: 6/29/2014, 10:19 PM-IsraelNationalNews

An IAF drone aircraft fired a missile Sunday evening at a terror cell that was making final preparations to launch a rocket at Israel, the IDF Spokesman said."The IDF will continue to act with determination, and to any extent necessary, against every element, until quiet and routine life is restored to the citizens of the state of Israel," the Spokesman added. "Hamas, the terror organization, along with its offshoots, is the address, and it bears responsibility."Gaza media reported Sunday that one person was killed in the IDF strike. It is possible that the terrorist belongs to the armed wing of Hamas.Earlier Sunday, Gaza terrorists fired six rockets at the town of Netivot. Two of them were intercepted by the Iron Dome system, and struck harmlessly in open, uninhabited spaces.

Gaza Terrorists Fire 6 Rockets at Israel-Two Iron Dome rockets intercept missiles fired at Netivot. Four other rockets fall in empty spaces.By Gil Ronen-First Publish: 6/29/2014, 9:07 PM-IsraelNationalNews

Gaza terrorists peppered southern Israel with rocket fire aimed at the town of Netivot Sunday evening. No one was hurt and no damage was reported. Two of the rockets, reported to be Grad Katyushas, were intercepted by Iron Dome batteries stationed near the town. The four others fell in uninhabited and empty areas and did not cause any injuries or damage.Gaza terrorists fired two rockets on Israel on Saturday evening, hitting communities in the Sha'ar Hanegev Regional Council area to the immediate east of the Hamas-enclave.One rocket directly hit the "Denber" plastic factory in Sderot's industrial area, causing a large fire to break out. The factory is attached to a paint factory, and both caught fire.Ten firefighting units from Sderot, Be'er Sheva, Ashkelon and Netivot succeeded in controlling the fire and prevent it from spreading to other factories after an hour-long struggle with the massive blaze. However, the factory apparently was completely burned to the ground.Four workers who were in the factory at the time it was struck by the rocket managed to rescue themselves, escaping from the blazing building, reported Walla!. The four were reportedly unharmed, and police continue to search if anyone remains trapped inside.One man in his fifties suffered mild injuries including wounds to his limbs, apparently from the blast of the rocket and ensuing explosions in the factory. The injured man was able to get to a Magen David Adom (MDA) station in the city on his own, and then was evacuated to the Barzilai Hospital in Ashkelon by paramedics.Two others reportedly suffered light burns, and were evacuated to the Barzilai Hospital as well.Several strong explosions were heard from the factory, after a gas balloon and explosive chemicals in the factory apparently exploded from the flames.The second rocket, which also was fired towards Sderot, landed outside of the city limits. The city has been often beleaguered by Gaza rocket fire; in March, a three-day barrage of roughly 100 rockets hit the city.Saturday and Sunday's rocket fire comes as part of a recent escalation since Hamas terrorists kidnapped three Israeli teens on June 12.

MUSLIM NATIONS (SLAUGHTERED BY NUKES FOR COMING AGAINST ISRAEL)

EZEKIEL 36:4-5
5 Therefore thus saith the Lord GOD; Surely in the fire (NUCLEAR BOMBS) of my jealousy have I spoken against the residue of the heathen, and against all Idumea,(ARAB-MUSLIMS) which have appointed my land into their possession with the joy of all their heart, with despiteful minds, to cast it out for a prey.
6 Prophesy therefore concerning the land of Israel, and say unto the mountains, and to the hills, to the rivers, and to the valleys, Thus saith the Lord GOD; Behold, I have spoken in my jealousy and in my fury,(OF MY ANGER) because ye have borne the shame of the heathen:
7 Therefore thus saith the Lord GOD; I have lifted up mine hand, Surely the heathen that are (Round) about you,(ARAB-MUSLIMS) they shall bear their shame.(AND BE NUKED)

EZEKIEL 35:9-11
9 I will make thee perpetual desolations, and thy (ARABS) cities shall not return: and ye shall know that I am the LORD.
10 Because thou (ARABS) hast said, These two nations (ISRAEL & JUDAH) and these two countries (ISRAEL & JUDAH) shall be mine, and we (ARABS) will possess it; whereas the LORD was there:
11 Therefore, as I live, saith the Lord GOD, I will even do according to thine anger, and according to thine envy (GELIOUSY) which thou hast used out of thy hatred against them;(ISRAELIS) and I will make myself known among them, when I have judged thee.(ARABS)

EZEKIEL 38:1-12
1 And the word of the LORD came unto me, saying,
2 Son of man, set thy face against Gog,(RULER) the land of Magog,(RUSSIA) the chief prince of Meshech (MOSCOW) and Tubal,(TOBOLSK) and prophesy against him,
3 And say, Thus saith the Lord GOD; Behold, I am against thee, O Gog,(LEADER OF RUSSIA) the chief prince of Meshech(MOSCOW) and Tubal:TOBOLSK)
4 And I will turn thee back, and put hooks into thy jaws,(GOD FORCES THE RUSSIA-MUSLIMS TO MARCH) and I will bring thee forth, and all thine army, horses and horsemen, all of them clothed with all sorts of armour, even a great company with bucklers and shields, all of them handling swords:
5 Persia,(IRAN,IRAQ) Ethiopia, and Libya with them; all of them with shield and helmet:
6 Gomer,(GERMANY) and all his bands; the house of Togarmah (TURKEY) of the north quarters, and all his bands: and many people with thee.(AFRICAN MUSLIMS,SUDAN,TUNESIA ETC)
7 Be thou prepared, and prepare for thyself, thou, and all thy company that are assembled unto thee, and be thou a guard unto them.
8 After many days thou shalt be visited: in the latter years thou shalt come into the land that is brought back from the sword, and is gathered out of many people, against the mountains of Israel, which have been always waste: but it is brought forth out of the nations, and they shall dwell safely all of them.
9 Thou shalt ascend and come like a storm, thou shalt be like a cloud to cover the land, thou, and all thy bands, and many people with thee.(RUSSIA-EGYPT AND MUSLIMS)
10 Thus saith the Lord GOD; It shall also come to pass, that at the same time shall things come into thy mind, and thou shalt think an evil thought:
11 And thou shalt say, I will go up to the land of unwalled villages;(ISRAEL) I will go to them that are at rest, that dwell safely, all of them dwelling without walls, and having neither bars nor gates,
12 To take a spoil,(OIL IS IN SPOIL) and to take a prey; to turn thine hand upon the desolate places that are now inhabited, and upon the people that are gathered out of the nations, which have gotten cattle and goods, that dwell in the midst of the land.

EZEKIEL 39:1-8,11-21
1 Therefore, thou son of man, prophesy against Gog,(LEADER OF RUSSIA) and say, Thus saith the Lord GOD; Behold, I am against thee, O Gog, the chief prince of Meshech (MOSCOW) and Tubal: (TUBOLSK)
2 And I will turn thee back,(RUSSIA-ARAB MUSLIM ISRAEL HATERS) and leave but the sixth part of thee,(5/6TH OR 300 MILLION DEAD RUSSIAN/ARAB/MUSLIMS I BELIEVE) and will cause thee to come up from the north parts,(RUSSIA) and will bring thee upon the mountains of Israel:
3 And I will smite thy bow out of thy left hand, and will cause thine arrows to fall out of thy right hand.
4 Thou shalt fall upon the mountains of Israel, thou, and all thy bands,( ARABS) and the people that is with thee: I will give thee unto the ravenous birds of every sort, and to the beasts of the field to be devoured.
5 Thou shalt fall upon the open field: for I have spoken it, saith the Lord GOD.
6 And I will send a fire on Magog,(NUCLEAR ATOMIC BOMB) and among them that dwell carelessly in the isles: and they shall know that I am the LORD.
7 So will I make my holy name known in the midst of my people Israel; and I will not let them pollute my holy name any more: and the heathen shall know that I am the LORD, the Holy One in Israel.
8 Behold, it is come, and it is done, saith the Lord GOD; this is the day whereof I have spoken.
11 And it shall come to pass in that day, that I will give unto Gog (RUSSIA/ARAB/MUSLIMS) a place there of graves in Israel, the valley of the passengers (EAST OF THE DEAD SEA IN JORDAN VALLEY) on the east of the sea: and it shall stop the noses of the passengers: and there shall they bury Gog (RUSSIAN) and all his multitude:(ARAB/MUSLIM HORDE) and they shall call it The valley of Hamongog.(BURIEL SITE OF THE 300 MILLION,RUSSIAN/ARAB/MUSLIMS)
12 And seven months shall the house of Israel be burying of them, that they may cleanse the land.(OF ISRAEL)
13 Yea, all the people of the land (OF ISRAEL) shall bury them; and it shall be to them a renown the day that I (GOD-JESUS) shall be glorified, saith the Lord GOD.
14 And they shall sever out men of continual employment,(NUCLEAR ATOMIC BOMB EXPERTS) passing through the land to bury with the passengers those that remain upon the face of the earth, to cleanse it: after the end of seven months shall they search.
15 And the passengers that pass through the land, when any seeth a man's bone, then shall he set up a sign by it,(WON'T TOUCH IT) till the buriers have buried it (PROPERLY) in the valley of Hamongog.(RUSSIA/ARAB/MUSLIMS NEW BURIEL SITE)(EAST OF THE DEAD SEA IN THE JORDAN VALLEY)
16 And also the name of the city shall be Hamonah. Thus shall they cleanse the land.(OF THE ISRAEL-GOD HATERS)
17 And, thou son of man, thus saith the Lord GOD; Speak unto every feathered fowl,(500 MILLION MIGRATING BIRDS THREW ISRAEL EVERY SPRING,FALL) and to every beast of the field, Assemble yourselves, and come; gather yourselves on every side to my sacrifice that I do sacrifice for you, even a great sacrifice upon the mountains of Israel, that ye may eat flesh, and drink blood.(OF THE RUSSIAN/ARAB/MUSLIM ARMIES)
18 Ye shall eat the flesh of the mighty, and drink the blood of the princes of the earth, of rams, of lambs, and of goats, of bullocks, all of them fatlings of Bashan.
19 And ye (MIGRATING BIRDS IN ISRAEL) shall eat fat till ye be full, and drink blood till ye be drunken, of my sacrifice which I have sacrificed for you.(RUSSIAN/ARAB/MUSLIM ISRAEL HATERS)
20 Thus ye shall be filled at my table with horses and chariots, with mighty men, and with all men of war, saith the Lord GOD.
21 And I (GOD-JESUS) will set my glory among the heathen,(WORLD NATIONS) and all the heathen (WORLD NATIONS) shall see my judgment that I have executed,(AGAINST ISRAELS ENEMIES) and my (GODS) hand that I have laid upon them.(ISRAELS HATER ENEMIES)

JEREMEIAH 49:35-37 (IN IRAN AT THE BUSHEHR OR ARAK NUKE SITE SOME BELIEVE)
35 Thus saith the LORD of hosts; Behold, I will break the bow of Elam,(IRAN/BUSHEHR NUCLEAR SITE) the chief of their might.(MOST DANGEROUS NUKE SITE IN IRAN)
36 And upon Elam will I bring the four winds from the four quarters of heaven,(IRANIANS SCATTERED OR MASS IMIGARATION) and will scatter them toward all those winds; and there shall be no nation whither the outcasts of Elam shall not come.(WORLD IMMIGRATION)
37 For I will cause Elam (IRAN-BUSHEHR NUKE SITE) to be dismayed before their enemies, and before them that seek their life: and I will bring evil upon them, even my fierce anger,(ISRAELS NUKES POSSIBLY) saith the LORD; and I will send the sword after them, till I have consumed them:(IRAN AND ITS NUKE SITES DESTROYED)

ISAIAH 17:1,11-14
1 The burden of Damascus. Behold, Damascus is taken away from being a city, and it shall be a ruinous heap.
11 In the day shalt thou make thy plant to grow, and in the morning shalt thou make thy seed to flourish: but the harvest shall be a heap in the day of grief and of desperate sorrow.
12 Woe to the multitude of many people, which make a noise like the noise of the seas; and to the rushing of nations,(USELESS U.N) that make a rushing like the rushing of mighty waters!
13 The nations shall rush like the rushing of many waters: but God shall rebuke them, and they shall flee far off, and shall be chased as the chaff of the mountains before the wind, and like a rolling thing before the whirlwind.
14 And behold at evening tide trouble; and before the morning he is not.(ASSAD KILLED IN OVERNIGHT RAID) This is the portion of them that spoil us,(ISRAEL) and the lot of them that rob us.

AMOS 1:5
5 I will break also the bar of Damascus, and cut off the inhabitant from the plain of Aven, and him that holdeth the sceptre from the house of Eden:(IRAQ) and the people of Syria shall go into captivity unto Kir,(JORDAN) saith the LORD.

JEREMEIAH 49:23-27
23 Concerning Damascus.(SYRIA) Hamath is confounded, and Arpad: for they have heard evil tidings: they are fainthearted; there is sorrow on the sea;(WAR SHIPS WITH NUKES COMING ON SYRIA) it cannot be quiet.
24 Damascus is waxed feeble, and turneth herself to flee, and fear hath seized on her: anguish and sorrows have taken her, as a woman in travail.
25 How is the city of praise not left, the city of my joy!
26 Therefore her young men shall fall in her streets, and all the men of war shall be cut off in that day, saith the LORD of hosts.
27 And I will kindle a fire (NUKES OR BOMBS) in the wall of Damascus, and it shall consume the palaces of Benhadad.(ASSADS PALACES POSSIBLY IN DAMASCUS)

PSALMS 83:3-7
3 They (ARABS,MUSLIMS) have taken crafty counsel against thy people,(ISRAEL) and consulted against thy hidden ones.
4 They have said, Come, and let us cut them off from being a nation; that the name of Israel may be no more in remembrance.
5 For they (MUSLIMS) have consulted together with one consent: they are confederate against thee:(TREATIES)
6 The tabernacles of Edom,(JORDAN) and the Ishmaelites;(ARABS) of Moab, PALESTINIANS,JORDAN) and the Hagarenes;(EGYPT)
7 Gebal,(HEZZBALLOH,LEBANON) and Ammon,(JORDAN) and Amalek;(SYRIA,ARABS,SINAI) the Philistines (PALESTINIANS) with the inhabitants of Tyre;(LEBANON)

JEREMIAH 47:1-7
1 The word of the LORD that came to Jeremiah the prophet against the Philistines,(PALESTINIAN/ARABS) before that Pharaoh smote Gaza.
2 Thus saith the LORD; Behold, waters rise up out of the north,(NORTHERN TSUNAMI POSSIBLY) and shall be an overflowing flood, and shall overflow the land, and all that is therein; the city, and them that dwell therein: then the men shall cry, and all the inhabitants of the land shall howl.
3 At the noise of the stamping of the hoofs of his strong horses,(ISRAELS ARMY) at the rushing of his chariots, and at the rumbling of his wheels, the fathers shall not look back to their children for feebleness of hands;(ISRAEL POSSIBLY NUKES GAZA)
4 Because of the day that cometh to spoil all the Philistines,(PALESTINIAN FAKE ARABS) and to cut off from Tyrus and Zidon every helper that remaineth: for the LORD will spoil the Philistines, the remnant of the country of Caphtor.
5 Baldness is come upon Gaza;(NUKED POSSIBLY) Ashkelon is cut off with the remnant of their valley: how long wilt thou cut thyself?
6 O thou sword of the LORD, how long will it be ere thou be quiet? put up thyself into thy scabbard, rest, and be still.
7 How can it be quiet, seeing the LORD hath given it a charge against Ashkelon, and against the sea shore? (MEDITTERANEAN SEA) there hath he appointed it.

EGYPT

ISAIAH 19:1-5
1 The burden of Egypt. Behold, the LORD rideth upon a swift cloud, and shall come into Egypt: and the idols of Egypt shall be moved at his presence, and the heart of Egypt shall melt in the midst of it.
2 And I will set the Egyptians against the Egyptians: and they shall fight every one against his brother, and every one against his neighbour; city against city, and kingdom against kingdom.
3 And the spirit of Egypt shall fail in the midst thereof; and I will destroy the counsel thereof: and they shall seek to the idols, and to the charmers, and to them that have familiar spirits, and to the wizards.
4 And the Egyptians will I give over into the hand of a cruel lord; and a fierce king shall rule over them, saith the Lord, the LORD of hosts.
5 And the waters shall fail from the sea, and the river shall be wasted and dried up.

DANIEL 11:40-43
40 And at the time of the end shall the king of the south ( EGYPT) push at him:(EU DICTATOR IN ISRAEL) and the king of the north (RUSSIA AND MUSLIM HORDES OF EZEK 38+39) shall come against him like a whirlwind, with chariots, and with horsemen, and with many ships; and he shall enter into the countries, and shall overflow and pass over.
41 He shall enter also into the glorious land, and many countries shall be overthrown: but these shall escape out of his hand, even Edom, and Moab, and the chief of the children of Ammon.(JORDAN)
42 He shall stretch forth his hand also upon the countries: and the land of Egypt shall not escape.
43 But he shall have power over the treasures of gold and of silver, and over all the precious things of Egypt: and the Libyans and the Ethiopians shall be at his steps.

JOEL 2:3,20,30-31
3 A fire(NUCLEAR ATOMIC BOMB) devoureth before them;(RUSSIA-ARABS-MUSLIMS) and behind them a flame burneth: the land is as the garden of Eden before them,(BEFORE THE NUKE GOES OFF) and behind them a desolate wilderness;(AFTER THE ATOMIC BOMB GOES OFF) yea, and nothing shall escape them.(EVERYTHING NUKED)
20 But I will remove far off from you the northern army,(RUSSIA,ARAB,MUSLIMS) and will drive him into a land barren and desolate,(SIBERIAN DESERT) with his face toward the east sea, and his hinder part toward the utmost sea, and his stink shall come up, and his ill savour shall come up, because he hath done great things.(FOR COMING AGAINST ISRAEL)
30 And I will shew wonders in the heavens and in the earth, blood, and fire, and pillars of smoke.(NUCLEAR BOMB)
31 The sun shall be turned into darkness, and the moon into blood, before the great and the terrible day of the LORD come.

JEREMIAH 8:7
7 Yea, the stork in the heaven knoweth her appointed times;(MIGRATION TIME) and the turtle and the crane and the swallow observe the time of their coming;(IN MIGRATION SEASON) but my people know not the judgment of the LORD.(WW3 MIGRATING BIRDS EAT ISRAELS ENEMIES FLESH AND BLOOD)

ISIS HAS CHANGED THEIR NAME TO THE ISLAMIC STATE.NOW THE CALIPHATE FOR ISLAMIC SHARIA WORLD DOMINATION IS ON.STARTING WITH THE MIDEAST.WELL NO ONE CAN SAY I HAVE NOT BEEN WARNING ON MY SITE ABOUT THIS HAPPENING FOR YEARS.ITS HERE.

Sectarian genie is out of the bottle from Syria to Iraq
By Samia Nakhoul -JUNE 29,14-YahooNews

BEIRUT (Reuters) - As jihadists storm through the Sunni heartlands of Iraq towards Baghdad, where a Shi'ite government they regard as heretic clings on, they have lifted the veil on deep sectarianism which has also stoked the fires of Syria's civil war and is spilling over into vulnerable mosaic societies such as Lebanon.The sectarian genie is now well out of the bottle, eclipsing traditional inter-state rivalries that plague the Middle East - even if these still play a part in the drama.The 1979 Islamic Revolution brought a Shi'ite theocracy to power in non-Arab Iran, giving a sectarian edge to the long-standing, state-to-state contest for influence in the Gulf between Iran and Saudi Arabia, an absolute monarchy underpinned by the fundamentalist tenets of Sunni Wahhabi doctrine.And the 2003 US invasion shattered Iraq into ethno-sectarian fragments, giving the majority Shi'ites the whip-hand over the Sunni minority and overturning a century-old balance of power.Now the Syrian conflict pitting a government whose core is President Bashar al-Assad's Alawites, a minority sect descended from Shi'ism, in an all-out war against rebels made up mainly from the Sunni majority, has lured jihadi volunteers to create an almost seamless sectarian battlefield from Baghdad to Beirut."There is no sense of common identity and therefore wherever there is a division of power like in Lebanon, Syria, Iraq and Bahrain they end up fighting over who wins. It has become a winner take all situation," said Middle East academic and former State Department official Vali Nasr, also a Senior Fellow at Brookings Institution."This is being driven from both top down and bottom up."

SECTARIAN ATROCITIES

Glimpses of the savagery of this sectarianism have multiplied as the Islamic State in Iraq and the Levant (ISIL), an al Qaeda splinter group which aims to carve out a Caliphate in the heart of the Middle East, captured a string of north and central Iraqi cities in June.One video posted by ISIL shows its fighters storming the house of an old man and accusing him and his two young sons of fighting in the Iraqi army under Nuri al-Maliki, the Shi'ite Islamist prime minister.As the captives dig their own graves, a fighter taunts them, "You're tired, Yes? Dig, dig more, where is Maliki to come and save you? Why did you join Maliki's army?"The old man implores comrades to repent and break ranks with the army, saying: "Look at me, I am digging my own grave, they came to my home and took me". The video ends abruptly with what looks like the swish of a blade falling upon the victim and a one-word caption: "slaughtered".An ISIL leader reached by Reuters via Skype makes clear this brutality is a considered policy as his movement builds its cross-border Islamic State."We will deal with Maliki's followers and his filthy state according to righteous Islamic law", he says. "Whoever comes to us repentant before we have the upper hand upon him, will be one of us; but the one who insists in fighting us and on his infidelity and apostasy, he'll have to face the consequences".
Disowned even by al-Qaeda, ISIL has taken hate speech to a new level in Iraq, denouncing Shi'ites as "dogs of Maliki", or as "reviled and impure rejectionists (rafadah)".They proclaim that "death is the only language the Shi'ite Marjaiyah (clerical leaders) and their rotten gangs understand".

BOTH SIDES

The Shi'ite side has responded in kind, posting videos of Sunnis being executed. In one, groups of men shot randomly, some in the head, lie next to each other in what appears to be a room with blood splashed on the wall and bullet holes everywhere.Religion, many analysts say, is being deployed as a weapon to galvanize rival interests, but is taking on a virulent sectarian life of its own, sometimes escaping the control of those wielding the weapon."National identities in these countries are eroding and sectarian identities are becoming more prominent," Nasr said.In Iraq, says Professor Charles Tripp at London University's School of Oriental and African Studies, the process began in the 1990s when Saddam Hussein, the dictator toppled in 2003, started a "piety campaign" to solidify support for his otherwise secular regime in the face of crippling international sanctions.This indiscriminate encouragement of Sunni Salafism and Shi'ism encouraged "sectarian entrepreneurs who found it very profitable to mobilize people around religion or sect".In a process which continued under Maliki, the poison of sectarian prejudice hardened into bigotry, exploited by leaders who fell into "an awful bidding war" to claim religious legitimacy, Tripp says. Regional players also cloaked their pursuit of geopolitical advantage in religion, he adds."If you emphasize your Shi'ism as an Iranian it allows them to intervene in Lebanon (which has a big Shi'ite community). Equally, if you are a Saudi you can claim it is not about regional rivalry but some bigger cause", he says."On a regional level people get sucked into a power game which is not actually about religion but resources and prestige."Yezid Sayigh, a senior associate at the Carnegie Middle East Center in Beirut, argues that "there is actually no theological debate in this religious war." "It's fundamentally, as always, a fight for political power".

QUASI STATELETS

While enmity between Islam's two competing sects has often been fierce and bloody, it now spreads over huge swathes of territory from the eastern Mediterranean to Iraq, the Gulf and Yemen. "It is neither solely religious nor purely political; the two mix and feed upon each other, with personal interests and geopolitical confrontations pouring petrol on the flames," said Tarek Osman, author of the "Perilous Scenario in the Eastern Mediterranean."Sectarian wars, Osman says, are also occurring at a time when Arab societies are undergoing a transformation from the old political order following the ousting of autocratic leaders, who have ruled for decades to a new, as yet undefined, order.And for the first time in the last 150 years, the region is witnessing the emergence of highly assertive, well-armed, jihadist groups that are dominating the plains from eastern Syria to western Iraq, and gradually carving for themselves quasi-statelets that they aim to have as permanent entities."If that happens, it will not only be a peril to all sovereign states in this part of the world, not only to religious minorities, but to all of the societies," Osman said.The future, experts argue, will be determined as much by local factors as regional forces."Local politics will shape this in one form or another. Sometimes local politics will mean it is horrible and really violent, you will see the kind of things you saw in Syria where one village is massacred by another. And of course localism can take the fuse out, take the bitterness out because it could actually lead to a local settlement," Tripp said.While it is true that Iraqi Sunnis of the north, united in their hatred of Maliki's government which they say disempowered and marginalized them, helped ISIL in its dramatic takeover, the same differences may cause a break with ISIL's intolerant and brutal methods, as happened in Syria and Iraq seven years ago.The Jihadist coalition under ISIL, experts say, will eventually fragment because of internal disputes over sharing money, territory and power.They believe ISIL insurgents will overreach themselves by alienating tribes, more pragmatic Sunni groups, former officers from Saddam's era and ordinary Iraqis as they did in 2005-2008 under al Qaeda leader Abu Musab al-Zarqawi, when Iraqis revolted against its ultra-hardline Islamist agenda.Some argue that these splits will open quickly because the Jihadists have to provide government in the huge swathes of territory they have seized."One of the great strengths of al Qaeda was that it has no social constituency", says Charles Tripp. "It could rally people round an idea but didn't have to provide electricity, water, social justice and so on. ISIL now does."So far in Sunni cities captured by ISIL, the social power structures are those of existing tribal leaders and former Baathist officials, while the people with the guns and the ruthlessness and violence are the ISIL, Tripp says."They know they cannot rule that area without the cooperation of the tribes and when you look at the pattern of what happened before that's how the control of al Qaeda and Zarqawi fell apart because they alienated them," Tripp said.On the ground, it is hard to imagine Maliki regaining Sunni provinces he lost to ISIL with Iraq's army, a force which exists more on paper than on the ground. But regaining it with Iranian-trained Shi'ite militias such as Asa'ib Ahl al-Haq is also a recipe for sectarian slaughter, experts say.Many predict the fighting will go on until all sects - from Syria to Iraq - Shi'ites, Sunnis, Kurds and Alawites carve up their own fiefdoms even if they stay within the same international borders.The clearest emerging enclave is the northern Kurdish autonomous region, which has been more than 20 years in the making and which experts say could be permanent.(Editing by Dominic Evans and Philippa Fletcher)

Iraqi army presses Tikrit assault as lawmakers scramble to fill posts
By Ahmed Rasheed and Alexander Dziadosz -JUNE 29,14-YahooNews

BAGHDAD (Reuters) - Iraq's army sent tanks and armored vehicles to try to dislodge insurgents from the northern city of Tikrit on Sunday, the second day of a pushback against a Sunni militant takeover of large stretches of Iraq.The hardline Sunni group leading the insurgency, until Sunday known as the Islamic State in Iraq and the Levant (ISIL), declared itself a "caliphate" on Sunday and called on factions worldwide to pledge their allegiance - a move analysts saw as a direct challenge to al Qaeda, which disowned ISIL in February, and to Gulf Arab rulers.In Baghdad, which is threatened by the rebel advance, top Shi'ite, Sunni and Kurdish lawmakers scrambled to agree cabinet nominations before parliament meets on Tuesday to try to prevent the rebel advance jeopardizing Iraq's future as a unitary state.They are racing against time as ISIL, which loathes Prime Minister Nuri al-Maliki's Shi'ite-led government, consolidates its grip on the north and west. Maliki's political future after eight years in power will be the most contentious issue.Troops backed by helicopter gunships began an assault on Tikrit, the birthplace of former President Saddam Hussein, on Saturday, to try to take it back from insurgents who have swept to within driving range of Baghdad.The army sent in tanks and helicopters to battle ISIL militants near the University of Tikrit in the city's north on Sunday, security sources said. Two witnesses said they saw a helicopter gunned down over northern Tikrit, reports not possible to immediately verify independently.The offensive was the first major attempt by the army to retake territory after the United States sent up to 300 advisers, mostly special forces, and drones to help the government take on ISIL.Earlier on Sunday, Deputy Prime Minister for Energy Hussain al-Shahristani, one of Iraq's most senior politicians, faulted the U.S. for not doing enough to bolster the country's military, just hours after Russia delivered five Sukhoi jets."Yes, there has been a delay from the Americans in handing over contracted arms. We told them, 'You once did an air bridge to send arms to your ally Israel, so why don't you give us the contracted arms in time?'" he told al-Hurra television.U.S. officials have disputed similar statements from Iraqi officials in the past and say they have done everything possible to ensure the country is equipped with modern weaponry.The five Russian Sukhoi jets were delivered to Baghdad late on Saturday. State television said they "would be used in the coming days to strike ISIL terrorist groups". A Reuters photographer saw the jets unloaded from a transport plane at a military airport in Baghdad as Russian and Iraqi soldiers stood on the tarmac. Iraq has relied largely on helicopters to counter militants and has few aircraft that can fire advanced missiles.

FIGHTING TAKES ITS TOLL

Iraqi army spokesman Qassim Atta told reporters in Baghdad security forces had killed 142 "terrorists" over the last 24 hours across Iraq, including 70 in Tikrit, and said the armed forces were in control of Tikrit's university. Both claims were impossible to immediately verify."Our security forces have taken complete control of the University of Tikrit and they have raised the Iraqi flag on top of the building," Atta said.Iran has also supported Iraq's government against the onslaught. An Iranian general said on Sunday his country was ready to help Iraq fight the revolt using the same methods it deployed against rebels in Syria. [ID:nL6N0P90Z3]-With Syria, too, we announced we would not allow terrorists in the hire of foreign intelligence services to rule and dictate to Syrian people. We will certainly have the same approach with Iraq," Brigadier General Massoud Jazayeri, deputy joint chief of staff of the armed forces and a senior Islamic Revolutionary Guards Corps officer, told Iran's al Alam television.On Sunday, intermittent clashes broke out from the early morning between militants and government forces in the northeastern outskirts of the town of Jurf al-Sakhar, 53 miles(83 km) south of Baghdad.The local government and security commanders have asked for backup from Baghdad to face what they estimate are several hundred ISIL fighters, police sources and the province's governor said.

ISIL DECLARES CALIPHATE

In a statement distributed on Islamist forums, ISIL, also known as ISIS, said it was renaming itself "Islamic State" and proclaiming its leader Abu Bakr al-Baghadi "caliph" of the territory it has seized in Iraq and Syria."He is the imam and khalifah (caliph) for the Muslims everywhere," the group's spokesman Abu Muhammad al-Adnani said in the statement, which was translated into several languages and an Arabic audio speech. [ID:nL6N0PA0YT]-ISIL and allied militias have seized funds, equipment and control of border posts, oilfields and swathes of territory including northern Iraq's largest city Mosul throughout its nearly three-week-old offensive.ISIL has long vowed to re-create a medieval-style caliphate erasing borders from the Mediterranean to the Gulf and they deem all Shi'ites to be heretics deserving death.In Syria, ISIL fighters crucified eight men in the northern Aleppo province, a monitoring group said. ISIL accused them of being "Sahwa" fighters, a term it uses for rival fighters it says are controlled by Western powers.The men were crucified in the town square of Deir Hafer in eastern Aleppo and would be left there for three days, the Britain-based Syrian Observatory for Human Rights said.[ID:nL6N0PA0H9]

IRAQ'S PARLIAMENT UNDER PRESSURE

Politicians are under pressure to speed up the normally sluggish process of selecting a new government to face the crisis. A parliament elected in April is due to assemble on Tuesday to begin the process.In a statement on Sunday, the United Nations mission in Iraq urged all representatives to attend the session on Tuesday and move forward with selecting a new government."Faced with a national crisis, the political leaders of Iraq should put the interests of the country and its people before everything else," Special Representative of the U.N. Secretary-General for Iraq Nickolay Mladenov said in the statement.But the 21-seat bloc of former prime minister Iyad Allawi, a secular Shi'ite, said it would skip the session, arguing more time was needed to avoid the previous government's mistakes.Politicians from the National Alliance, parliament's biggest bloc, said they would join the session and seek to follow the timetable for the formation, but were tight-lipped about who they would back for prime minister. A senior member of the Patriotic Union of Kurdistan, Adnan Mufti, said it would attend.(Reporting by Ahmed Rasheed, Ned Parker and Alexander Dziadosz in Baghdad, Isabel Coles in Arbil, Mehrdad Balali in Dubai and a reporter in Tikrit, Sylvia Westall in Beirut and; Writing by Alexander Dziadosz; editing by Philippa Fletcher)

Nigerian Islamists attack villages, churches near Chibok, dozens killed
By Lanre Ola -JUNE 29,14-YahooNews
MAIDUGURI Nigeria (Reuters) - Suspected Islamist militants killed dozens of people on Sunday in an attack on three Nigerian villages, including one targeting worshippers at a church, a few kilometres (three miles) from Chibok, the scene of an abduction of more than 200 school girls.Violence in Nigeria's northeast has been relentless in the past year and has gained in intensity since April, when more than 200 schoolgirls were snatched by Boko Haram rebels from Chibok. Efforts to free them, which have attracted Western support, have so far not succeeded.In a separate assault on Friday evening insurgents killed seven soldiers in the village of Goniri, in Yobe state, a security source and witnesses said.The attackers on Sunday made simultaneous strikes on three villages in the Chibok community, in Borno state.Boko Haram, which is fighting for an Islamic state in largely Muslim northern Nigeria, has killed thousands since launching an uprising on 2009, and many hundreds in the past three months.It is by far the biggest security threat to Africa's largest economy and top oil producer, and has overshadowed government efforts to project an image of Nigeria to foreign investors as a prospective economic giant.Samuel Chibok, a survivor of the attack on Kautikiri village, about five km from where the girls were snatched, said that around 20 men in a Toyota pick-up truck and motorcycles rolled into town. They sprayed it with bullets, focusing much of their fire power on panicked worshippers in a local church."Initially I thought they were military but when I came out, they were firing at people. I saw people fleeing and they burned our houses," he said, adding that some people had died in the attack, including two of his relatives."Smoke was billowing from our town as I left."A local pro-government vigilante, who declined to be named, said residents had now recovered 15 bodies from the village. He added that many of the deaths occurred when worshippers were locked in a church, which was then sprayed with bullets.

HEAVY DEATH TOLL

Boko Haram often attacks institutions it sees as against its strict version of Sunni Islam, including churches, bars and non-religious schools that teach Western ideas like science.Another attack on Kwada, eight km (five miles) from Chibok village, left dozens of people dead, a security source operating in the area said, although the precise toll was not yet clear.A senior advisor to Borno state governor Kassim Shettima, who declined to be named because he was not authorised to speak, said there had also been a third attack on Nguragida, his home village which he visited on Sunday. Nine bodies had been recovered from that attack, he said.An explosion on Friday night in a brothel in the northeastern Nigerian city of Bauchi killed 11 people and wounded 28, police said on Saturday. This attack was also believed to be the work of Boko Haram.A military operation in the northeast has so far failed to quell the rebellion and has triggered reprisal attacks that are increasingly targeting civilians, after they formed vigilante groups to try to help the government flush out the militants.But their tactics - often striking then fleeing over the border into Cameroon - have repeatedly proved devastating. They are well armed and funded by a lucrative kidnapping operation.In Friday night's attack on a military outpost, suspected Boko Haram fighters arrived in four armoured personel carriers and 11 Hilux trucks mounted with anti-aircraft guns, said a security source and a witness who gave his name only as Hamisu."They were all dressed in full military but they did not direct their onslaught on the civilian population," Hamisu said by telephone.The militants are extending their reach beyond their remote northeastern heartlands. A bomb in an upmarket shopping district of the capital Abuja killed 21 people on Wednesday, the third attack on the capital in three months.President Goodluck Jonathan said Nigeria had entered one of the darkest phases of its history during a visit to the scene of the Abuja blast on Friday.(Additional reporting by Joe Hemba in Damaturu; Writing by Tim Cocks; Editing by Ralph Boulton, Stephen Powell, Greg Mahlic)

Pakistan girl burned alive for rejecting marriage proposal
AFP-JUNE 29,14-YahooNews

A teenage girl died in Pakistan after being doused in petrol and set alight by a man who wanted to marry her but whose proposal had been rejected, police said Sunday.It was the second brutal killing in Pakistan's Punjab province within days, after a 17-year-old girl and her husband were murdered by a group of relatives for marrying against their wishes.The latest incident took place Saturday in a village which is part of Toba Tek Singh town.Sidra Shaukat, 18, was at home without her parents when 22-year-old Fayyaz Aslam entered her house, doused her with petrol and set her alight, Mohammad Akram, a police official told AFP."She was taken to a local hospital which referred her to the main hospital but she died before reaching there," Akram said.Aslam has been arrested and a case registered against him."The boy loved her and had also sent a proposal to marry her, but that was rejected by her family," Akram said.Sidra's father, Shaukat Ali, confirmed the killing and accused Aslam of harassing his daughter."He used to harass my daughter -- yesterday he came in the afternoon and threatened dire consequences after we asked him to avoid coming again," Ali told AFP.Another teenager, Maafia Bibi, 17, and her 31-year-old husband Muhammad Sajjad were murdered by Bibi's father, her two uncles, grandfather and mother on Thursday night for marrying against their wishes in Daska town.
Sunday, June 29, 2014
TORAH PORTION FROM JUNE 29-JULY 5,14
JEWISH KING JESUS IS COMING AT THE RAPTURE FOR US IN THE CLOUDS-DON'T MISS IT FOR THE WORLD.THE BIBLE TAKEN LITERALLY- WHEN THE PLAIN SENSE MAKES GOOD SENSE-SEEK NO OTHER SENSE-LEST YOU END UP IN NONSENSE.GET SAVED NOW- CALL ON JESUS TODAY.THE ONLY SAVIOR OF THE WHOLE EARTH - NO OTHER
TORAH PORTION FROM JUNE 29-JULY 5,14
http://israndjer.blogspot.ca/2011/07/parshah-balak-numbers-222-259.html
WORLD SODOMITE PARADE IN TORONTO AS IDIOTS (SODOMITES) DANCE LIKE MONKEYS AND ACT LIKE JACK ASSES LIKE USUAL
JEWISH KING JESUS IS COMING AT THE RAPTURE FOR US IN THE CLOUDS-DON'T MISS IT FOR THE WORLD.THE BIBLE TAKEN LITERALLY- WHEN THE PLAIN SENSE MAKES GOOD SENSE-SEEK NO OTHER SENSE-LEST YOU END UP IN NONSENSE.GET SAVED NOW- CALL ON JESUS TODAY.THE ONLY SAVIOR OF THE WHOLE EARTH - NO OTHER

HOMOSEXUALS.(SODOMITE RAINBOW GROUPERS)

LEVITICUS 20:13
13 If a man also lie with mankind,(ANOTHER MAN) as he lieth with a woman, both of them have committed an abomination: they shall surely be put to death; their blood shall be upon them.

LEVITICUS 18:22
22 Thou shalt not lie with mankind,(ANOTHER MAN) as with womankind: it is abomination.

2 TIMOTHY 3:3
3 Without natural affection,(HOMOSEXUALS) trucebreakers, false accusers, incontinent, fierce, despisers of those that are good,

1 CORINTHIANS 6:9,
9 Know ye not that the unrighteous shall not inherit the kingdom of God? Be not deceived: neither fornicators, nor idolaters, nor adulterers, nor effeminate,(HARDENED SODOMITE RAINBOW GROUPERRS) nor abusers of themselves with mankind,

PSALMS 14:1
1 To the chief Musician, A Psalm of David. The fool hath said in his heart, There is no God. They are corrupt, they have done abominable works, there is none that doeth good.

ROMANS 1:18-32
18 For the wrath of God is revealed from heaven against all ungodliness and unrighteousness of men, who hold the truth in unrighteousness;
19 Because that which may be known of God is manifest in them; for God hath shewed it unto them.
20 For the invisible things of him from the creation of the world are clearly seen, being understood by the things that are made, even his eternal power and Godhead; so that they are without excuse:
21 Because that, when they knew God, they glorified him not as God, neither were thankful; but became vain in their imaginations, and their foolish heart was darkened.
22 Professing themselves to be wise, they became fools,
23 And changed the glory of the uncorruptible God into an image made like to corruptible man, and to birds, and fourfooted beasts, and creeping things.
24 Wherefore God also gave them up to uncleanness through the lusts of their own hearts, to dishonour their own bodies between themselves:(HOMOSEXUALITY,AND ALL SEX SINS)
25 Who changed the truth of God into a lie, and worshipped and served the creature more than the Creator, who is blessed for ever. Amen.
26 For this cause God gave them up unto vile affections: for even their women did change the natural use into that which is against nature:(LESBIENS)
27 And likewise also the men, leaving the natural use of the woman, burned in their lust one toward another; men with men working that which is unseemly,(SODOMITES) and receiving in themselves that recompence of their error which was meet.(AIDS ETC)
28 And even as they did not like to retain God in their knowledge, God gave them over to a reprobate mind, to do those things which are not convenient;
29 Being filled with all unrighteousness, fornication, wickedness, covetousness, maliciousness; full of envy, murder, debate, deceit, malignity; whisperers,
30 Backbiters, haters of God, despiteful, proud, boasters, inventors of evil things, disobedient to parents,
31 Without understanding, covenantbreakers, without natural affection, implacable, unmerciful:
32 Who knowing the judgment of God, that they which commit such things are worthy of death, not only do the same, but have pleasure in them that do them.

12,000 ABOMINATION SODOMITES WILL BE IN TODAYS TORONTOS WORLD PRIDE PARADE.2 MILLION PEOPLE ARE EXPECTED TO WATCH THESE SODOMITES DANCE ON BARRELS LIKE A BUNCH OF PERVERTED MONKEYS.WITH NO MORALS AND ACTING ALSO LIKE A BUNCH OF DONKEY.HONKING OUT THEIR PERVERTED SODOMITE FILTH AGENDA OF HATE AGAINST GOD.ITS NO ACCIDENT THAT MANITOBA AND SASKATCHEWAN GOT FLOODED OUT YESTERDAY AND THE STORMS CONTINUE TODAY.AND OF COURSE WYNN OUR NEW PREMIER OF ONTARIO WAS TALKING YESTERDAY AT THIS ABOMINATION EVENT.SPEWING HER LOVEFEST GAY-QUEER AGENDA TO GET CANADIANS TO BELIEVE-THE RAINBOW GROUPERS SODOMITE AGENDA IS NORMAL-INSTEAD OF BEING A PERVERTED CHRISTAN HATE PHOBES AND DIRECTLY AGAINST GODS WORDS.THAT A MAN AND WOMEN ONLY IS A TRUE RELATIONSHIP.NOT MEN WITH MEN-WOMEN WITH WOMEN.ANIMAL WITH MAN OR WOMAN.I WONDER WILL PEOPLE BE ABLE TO MARRY TREES.THIS WILL BE GREAT FOR THE NEW AGE NUTCASE ENVIROMENTAL CASES THAT HUG AND CHAIN THEMSELVES TO TREES ANYWAY.OVER IN THE STATES-SODOMITES ARE CALLING FOR CHILDREN TO BE BORN AS ITS.SO THEY CAN CHOOS WHAT SEX THEY WANNA BE WHEN THEY GROW UP>MALE OR FEMALE.AND ANOTHER SODOMITE RAINBOW GROUPER IN AMERICA SAYS ANY TEACHER THATS A PEDOPHILE SHOULD BE ALLOWED TO TEACH IN ANY SCHOOLS THEY WANT.THIS SICK SODOMITE ANYTHING GOES SIN IS GETTING OUTTA HAND.ALL THE GAYS ON EARTH SHOULD BE SENT TO LIVE IN ALASKA.SO THEY CAN MARRY ICE IF THEY WANT.AND DO THEIR EVERY PERVERSION OF SIN GOING UNTILL GOD WOULD SEND A 12.0 QUAKE ON THEM OR A VOLCANO TO BURN THEM UP.GOD WILL NOT BE MOCKED BY THESE PERVERTED SODOMITES AND THEIR GODLESS AGENDA AGAINST HIM.I HOPE IT STORMS IN DOWNTOWN TORONTO WHILE THIS ABOMINATION IS GOING ON.

WorldPride parade underway in downtown Toronto
CBCCBC – JUNE 29,14-YahooNews

The wait is over and the WorldPride parade is underway in downtown Toronto.

The parade route begins at Church and Bloor streets, with participants heading over to Yonge Street and then turning south, winding up their journey at Dundas Street in Toronto's downtown core.More than 12,000 marchers are taking part in the parade itself. The downtown streets are packed with spectators.Many parade-watchers and participants are sporting rainbow flag-themed clothing and looks, including hats, swim trunks and hairstyles.There is even a character from Transformers, who has been spotted at the WorldPride parade, dipped in rainbow colours and renamed as Optimus Pride:The streets began filling up on Sunday morning, well ahead of the start of the parade.Kathy Czarnecki-Smith and Tina Czarnecki-Smith staked out their spot on the sidewalk at 9 a.m.The married couple from Erie, Pennsylvania, heard that the crowds would be huge, so they had their breakfast and began camping out on the parade route."To come from such a conservative city where we live in Erie, to here where it is such an amazing, amazing display of people and humanity," Kathy Czarnecki-Smith told CBC News."We love to see everything."The temperature was already in the mid-20s as of the start of the parade. With humidity, it feels even warmer. There is a chance of showers later this afternoon, as well as the risk of a thunderstorm.With weather like this, Pride Toronto was tweeting some valuable advice to the people lining the streets on Sunday afternoon:Toronto has had an annual Pride parade for more than three decades, but this year, it's an even bigger party than usual due to the fact that the city is hosting World Pride for the first time.
THE RAPTURE AND REBUILDING OF THE 3RD TEMPLE
JEWISH KING JESUS IS COMING AT THE RAPTURE FOR US IN THE CLOUDS-DON'T MISS IT FOR THE WORLD.THE BIBLE TAKEN LITERALLY- WHEN THE PLAIN SENSE MAKES GOOD SENSE-SEEK NO OTHER SENSE-LEST YOU END UP IN NONSENSE.GET SAVED NOW- CALL ON JESUS TODAY.THE ONLY SAVIOR OF THE WHOLE EARTH - NO OTHER

RAPTURE
http://www.youtube.com/watch?v=wOOSKyRRFxc&feature=player_embedded#
http://www.youtube.com/watch?v=7bvT2b3Iwzc&feature=related

2 TIMOTHY 4:2-4
1 I charge thee therefore before God, and the Lord Jesus Christ, who shall judge the quick and the dead at his appearing and his kingdom;
2 Preach the word; be instant in season, out of season; reprove, rebuke, exhort with all longsuffering and doctrine.
3 For the time will come when they will not endure sound doctrine; but after their own lusts shall they heap to themselves teachers, having itching ears;
4 And they shall turn away their ears from the truth, and shall be turned unto fables.

LUKE 21:28
28 And when these things begin to come to pass,(IN THERE INITIAL STAGES) then look up, and lift up your heads; for your redemption draweth nigh.

JOHN 5:27-29
27 And (FATHER GOD) hath given him (JESUS) authority to execute judgment also, because he is the Son of man.(JESUS)
28 Marvel not at this: for the hour is coming, in the which all that are in the graves shall hear his voice,(RATURE FOR CHRISTIANS-BEFORE THE 7 YR TRIBULATION PERIOD BEGINS)(LOST IN FRONT OF JESUS TO GET THROWN IN THE LAKE OF FIRE-AFTER JESUS RULES HIS EARTHLY KINGDOM FOR 1,000 YEARS)
29 And shall come forth;(RAPTURE) they that have done good, unto the resurrection of life;(AT THE RAPTURE) and they that have done evil, unto the resurrection of damnation.(LOST RESURRECTION-1,000 YRS FROM THE END OF THE 7 YR TRIBULATION PERIOD)

PROOF OF THE RAPTURE BEFORE 7 YR TRIBULATION.FOR SKEPTICS OF TRUTH.
ITS THE REVELATION OF JESUS TO EARTH,NOT REVELATIONS OF JESUS TO START WITH.
REVELATION CH 2+3 CHURCH AGE.
REVELATION CH 4 THE RAPTURE.
FOR SKEPTICS OF THE RAPTURE.WHY IS THE CHURCH NOT MENTIONED FROM REV CH 4 TILL CH 20 IS MY QUESTION.
REVELATION CH'S 6-19 (7 YR TRIBULATION).

RAPTURE SCRIPTURES

LUKE 21:28,36
28 And when these things begin to come to pass,(ALL THE SIGNS OF PROPHECY HAPPENING-BEGGINING TO ALL BE FULFILLED) then look up, and lift up your heads; for your redemption draweth nigh.(THE RAPTURE)
36 Watch ye therefore, and pray always, that ye may be accounted worthy to escape all these things that shall come to pass,(LITERALLY ON THE EARTH) and to stand before the Son of man.(RAPTURE-INVESTIGATION OF OUR CHRISTIAN LIVES AT THE RAPTURE-AND THE CROWNS GIVEN TO JESUS BY US FOR OUR CHRISTIAN WORKS HE DONE THROUGH US)

JOHN 14:2-3
2 In my Father's house are many mansions:(JESUS MADE MANSIONS FOR US CHRISTIANS TO LIVE IN WITH HIM FOREVER ON EARTH) if it were not so, I would have told you. I go to prepare a place for you.
3 And if I go and prepare a place for you, I will come again,(AT THE RAPTURE IN THE CLOUDS) and receive you unto myself;(CHRISTIANS) that where I am,(HEAVEN) there ye may be also.(HEAVEN,THEN AT THE END OF THE 7 YR TRIB.LITERALLY BACK TO EARTH WITH JESUS FOREVER)

1 THESSALONIANS 1:10
10 And to wait for his Son (KING JESUS) from heaven, whom he raised from the dead, even Jesus, which delivered us from the wrath to come.(WE DON'T GO THREW THE 7 YR TRIB-WE GET RAPTURED BEFORE IT OCCURRS).

2 THESSALONIANS 2:3-12
3 Let no man deceive you by any means: for that day shall not come, except there come a falling away first, and that man ( A LITERAL MAN,NOT JUST A SPIRITUALIZED SYSTEM OF ANTICHRIST) of sin be revealed, the son (A SON IS A MAN,NOT A SYSTEM) of perdition;(DUPLICATING JUDAS' ACTS)
4 Who opposeth and exalteth himself (A MAN PROMOTES HIMSELF NOT A SYSTEM) above all that is called God, or that is worshipped; so that he as God sitteth in the temple of God, shewing himself that he is God.
5 Remember ye not, that, when I was yet with you, I told you these things?
6 And now ye know what withholdeth (THE HOLY SPIRIT IN CHRISTIANS) that he might be revealed in his time.(AFTER THE RAPTURE)
7 For the mystery of iniquity doth already work: only he who now letteth will let, until he be taken out of the way.(CHRISTIANS AT THE RAPTURE)
8 And then (AFTER THE RAPTURE) shall that Wicked be revealed,(WORLD DICTATOR) whom the Lord shall consume with the spirit of his mouth, and shall destroy with the brightness of his coming:
9 Even him, whose coming is after the working of Satan with all power and signs and lying wonders,
10 And with all deceivableness of unrighteousness in them that perish; because they received not the love of the truth, that they might be saved.
11 And for this cause God shall send them strong delusion,(THE FALSE RESURRECTION OF THE WORLD DICTATOR) that they should believe a lie:(THAT HES GOD)
12 That they all might be damned who believed not the truth,(GODS WORD) but had pleasure in unrighteousness.(SINFUL LUSTS AND DESIRES)

REVELATION 3:10-11
10 Because thou hast kept the word of my patience, I also will keep thee from (NOT THROUGH THE TRIBULATION PERIOD AND 3 BILLION DEAD FROM WW3) the hour of temptation, which shall come upon all the world,(7 YR TRIBULATION) to try them that dwell upon the earth.
11 Behold, I come quickly: hold that fast which thou hast, that no man take thy crown.

ROMANS 8:22-23 For we know that the whole creation groaneth and travaileth in pain together until now.
23 And not only they, but ourselves also, which have the firstfruits of the Spirit, even we ourselves groan within ourselves, waiting for the adoption, to wit, the redemption of our body.(THR RAPTURE)

WE KNOW FOR SURE THE RAPTURE COMES BEFORE THE JUDGEMENTS BECAUSE WE MEET JESUS IN REV 4:1 AND THE JUDGEMENTS START IN REV 6:1.AND REV 3:10 JUST BEFORE 4:1 SAYS WE WILL NOT GO THROUGHT THE 7 YRS OF HELL ON THE WHOLE EARTH.HOW DO WE KNOW FOR SURE-LETS LOOK AT REV 11 AND SEE HOW THE 2 WITNESSES GET RAPTURED TO HEAVEN.AND THE PRECISE WORDING GOD USES.

REV 11:7-8,11-12
7 And when they(MOSES-ELIJAH) shall have finished their testimony,(AT THE 3 1/2 YR MARK OF THE TRIB) the beast(WORLD DICTATOR) that ascendeth out of the bottomless pit shall make war against them, and shall overcome them, and kill them.
8 And their dead bodies shall lie in the street of the great city, which spiritually is called Sodom and Egypt,(JERUSALEM) where also our Lord was crucified.
11 And after three days and an half the spirit of life from God entered into them, and they stood upon their feet; and great fear fell upon them which saw them.
12 And they(ELIJSH-MOSES) heard a great voice from heaven saying unto them, Come up hither.(REV 4:1 WE KNOW IS THE RAPTURE FOR SURE) And they ascended up to heaven in a cloud; and their enemies beheld them.(RAPTURED)

WHAT DOES GOD SAY TO ELIJAH AND MOSES(COME UP HITHER)AND REV 4:1 GOD SAYS TO THE CHRISTIANS(COME UP HITHER).NO DOUBT ABOUT IT.THE RAPTURE OCCURS(REV 4:1) BEFORE THE 21 JUDGEMENTS OF REVELATION CH 6-19

REVELATION 4:1-2
1 After this I looked, and, behold, a door was opened in heaven: and the first voice which I heard was as it were of a trumpet talking with me; which said, Come up hither, and I will shew thee things which must be hereafter.
2 And immediately I was in the spirit: and, behold, a throne was set in heaven, and one sat on the throne.

1 THESSALONIANS 4:13-18
13 But I would not have you to be ignorant, brethren, concerning them which are asleep, that ye sorrow not, even as others which have no hope.
14 For if we believe that Jesus died and rose again, even so them also which sleep in Jesus will God bring with him.
15 For this we say unto you by the word of the Lord, that we which are alive and remain unto the coming of the Lord shall not prevent them which are asleep.
16 For the Lord himself shall descend from heaven with a shout, with the voice of the archangel, and with the trump of God: and the dead in Christ shall rise first:
17 Then we which are alive and remain shall be caught up together with them in the clouds, to meet the Lord in the air: and so shall we ever be with the Lord.
18 Wherefore comfort one another with these words.(NOT SCARE PEOPLE WITH THESE WORDS,THE RAPTURE IS A COMFORT,WE WON'T GO THREW WW3 AND 3 BILLION DEAD)

JOHN 11:25-26
25 Jesus said unto her, I am the resurrection, and the life: he that believeth in me, though he were dead,(BODY IN THE GRAVE/SPIRIT/SOUL GO TO JESUS) yet shall he live:(BODY,SOUL,SPIRIT REUNITED AT THE RAPTURE)
26 And whosoever liveth and believeth in me shall never die.(THE CHRISTIANS ALIVE AT THE TIME OF THE RAPTURE NEVER DIE,OUR BODIES AUTOMATICALLY GET CHANGED TO NEVER DYING BODIES) Believest thou this?(THE CHRISTIANS ALIVE ON EARTH AT THE TIME OF THE RAPTURE NEVER HAVE A PHYSICAL DEATH LIKE THE VERSE SAYS)

1 CORINTHIANS 15:51-55
51 Behold, I shew you a mystery; We shall not all sleep, but we shall all be changed,
52 In a moment, in the twinkling of an eye, at the last trump: for the trumpet shall sound, and the dead shall be raised incorruptible, and we shall be changed.
53 For this corruptible must put on incorruption, and this mortal must put on immortality.
54 So when this corruptible shall have put on incorruption, and this mortal shall have put on immortality, then shall be brought to pass the saying that is written, Death is swallowed up in victory.
55 O death, where is thy sting? O grave, where is thy victory?

REBUILT 3RD TEMPLE (THE EU DICTATORS TEMPLE)

ISAIAH 30:10-15
10 Which say to the seers, See not; and to the prophets, Prophesy not unto us right things, speak unto us smooth things, prophesy deceits:
11 Get you out of the way, turn aside out of the path, cause the Holy One of Israel to cease from before us.
12 Wherefore thus saith the Holy One of Israel, Because ye despise this word, and trust in oppression and perverseness, and stay thereon:
13 Therefore this iniquity shall be to you as a breach ready to fall, swelling out in a high wall, whose breaking cometh suddenly at an instant.
14 And he shall break it as the breaking of the potters' vessel that is broken in pieces; he shall not spare: so that there shall not be found in the bursting of it a sherd to take fire from the hearth, or to take water withal out of the pit.
15 For thus saith the Lord GOD, the Holy One of Israel; In returning and rest shall ye be saved; in quietness and in confidence shall be your strength: and ye would not.
16 But ye said, No; for we will flee upon horses; therefore shall ye flee: and, We will ride upon the swift; therefore shall they that pursue you be swift.

REBUILT 3RD TEMPLE

REVELATION 11:1-2
1 And there was given me a(MEASURING) reed like unto a rod: and the angel stood, saying, Rise, and measure the temple of God, and the altar, and them that worship therein.
2 But the court which is without the temple leave out,(TO THE WORLD NATIONS) and measure it not; for it is given unto the Gentiles: and the holy city shall they tread under foot forty and two months.(JERUSALEM DIVIDED BUT THE 3RD TEMPLE ALLOWED TO BE REBUILT)

DANIEL 9:27
27 And he( THE ROMAN,EU PRESIDENT) shall confirm the covenant with many for one week:(1X7=7 YEARS) and in the midst of the week he shall cause the sacrifice and the oblation to cease,(3 1/2 yrs in TEMPLE SACRIFICES STOPPED) and for the overspreading of abominations he shall make it desolate, even until the consummation, and that determined shall be poured upon the desolate.

REBUILT 4TH TEMPLE (THE TRUE MESSIAHS TEMPLE)

ZECHARIAH 6:12-13
12 And speak unto him, saying, Thus speaketh the LORD of hosts, saying, Behold the man whose name is The BRANCH; and he shall grow up out of his place, and he shall build the temple of the LORD:
13 Even he shall build the temple of the LORD; and he shall bear the glory, and shall sit and rule upon his throne; and he shall be a priest upon his throne: and the counsel of peace shall be between them both.

ISAIAH 60:9-10
9 Surely the isles shall wait for me, and the ships of Tarshish first, to bring thy sons from far, their silver and their gold with them, unto the name of the LORD thy God, and to the Holy One of Israel, because he hath glorified thee.
10 And the sons of strangers shall build up thy walls, and their kings shall minister unto thee: for in my wrath I smote thee, but in my favour have I had mercy on thee.

ISAIAH 2:1-5
1 The word that Isaiah the son of Amoz saw concerning Judah and Jerusalem.
2 And it shall come to pass in the last days, that the mountain of the LORD's house shall be established in the top of the mountains, and shall be exalted above the hills; and all nations shall flow unto it.
3 And many people shall go and say, Come ye, and let us go up to the mountain of the LORD, to the house of the God of Jacob; and he will teach us of his ways, and we will walk in his paths: for out of Zion shall go forth the law, and the word of the LORD from Jerusalem.
4 And he shall judge among the nations, and shall rebuke many people: and they shall beat their swords into plowshares, and their spears into pruninghooks: nation shall not lift up sword against nation, neither shall they learn war any more.
5 O house of Jacob, come ye, and let us walk in the light of the LORD.

MARK 11:9-10,15-17
9 And they that went before, and they that followed, cried, saying, Hosanna; Blessed is he that cometh in the name of the Lord:
10 Blessed be the kingdom of our father David, that cometh in the name of the Lord: Hosanna in the highest.
15 And they come to Jerusalem: and Jesus went into the temple, and began to cast out them that sold and bought in the temple, and overthrew the tables of the moneychangers, and the seats of them that sold doves;
16 And would not suffer that any man should carry any vessel through the temple.
17 And he taught, saying unto them, Is it not written, My house shall be called of all nations the house of prayer? but ye have made it a den of thieves.

ISAIAH 51:3-4
3 For the LORD shall comfort Zion:(JERUSALEM) he will comfort all her waste places;(FROM NUCLEAR WAR) and he will make her wilderness like Eden,(I BELIEVE THE EZEKIEL 40-48,(4TH) TEMPLE WILL BE BUILT 25 MILES FROM THE CURRENT TEMPLE MOUNT AFTER JESUS RULE FOR THE 1,000 YRS FROM JERUSALEM) and her desert like the garden of the LORD; joy and gladness shall be found therein, thanksgiving, and the voice of melody.(PRAISE TO JESUS IN THE DESERT-COULD BE THE NEW JERUSALEM-4TH TEMPLE BUILT 25 MILES INTO THE DESERT FROM THE CURRENT TEMPLE MOUNT.SINCE EZEKIELS TEMPLE IS WAY TO BIG FOR THE CURRENT TEMPLE MOUNT)
4 Hearken unto me, my people;(ISRAEL) and give ear unto me, O my nation:(ISRAEL) for a law shall proceed from me,(JESUS IN JERUSALEM) and I will make my judgment to rest for a light of the people.(ISRAEL AND THE WORLD)