The worst blackout to hit
India
in more than a decade left 350 million people in seven northern states without power for more than eight hours on Monday.The capital, Delhi, as well as the states of Punjab, Haryana, Uttar Pradesh, Himachal Pradesh, Rajasthan and Jammu and Kashmir were all affected.Hundreds of overnight trains were stopped in their tracks after power to northern railway lines was cut, and Delhi's metro system was badly hit. Water supplies in the capital, always patchy, were worse than usual, as was road congestion after most traffic lights failed.Around 11am local time, India's minister for power and energy, Sushil Kumar Shinde, claimed 60% of power had been restored to the northern grid.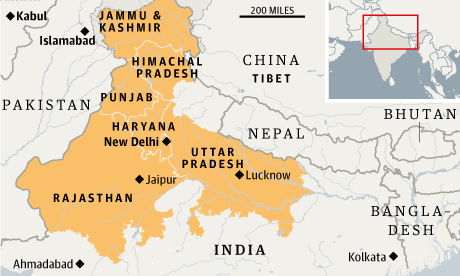 He then prompted widespread incredulity by claiming that India had one of the best power grids in the world and boasting that when the US faced a similar failure in 2008, it took power from India.This time, it was neighbouring Bhutan which came to India's rescue, as Delhi's metro drew on hydroelectric power from the country. Services on all six metro lines resumed by 8.45am after almost three hours of disruption.Shinde said the power cut was caused by some states taking more than their fair share of electricity. "The reason for the outage was due to some states taking more power than they ought to have, which causes the frequency rate of the grid to go up. The offending states will be severely penalised," he told a press conference in Delhi.
A three-member committee would be formed to investigate what had caused the entire northern grid to fail, he added.Amid the public anger there was humour, mocking a nation which sees itself as a future superpower but cannot even keep the lights on."Spiderman found drunk and unconscious on Delhi pavement. Why? With no power comes no responsibility," said
one tweet
.For India's middle classes, the first they knew of the power cut was when they awoke drenched in sweat as their air conditioning units failed. But for the hundreds of millions of Indians who live below the poverty line, regular electricity is a far-off dream.In 2011, 289 million people – 25% of India's population – had no access to electricity. In rural areas that figure rises to 33%,
according to a report from the Indian government in 2011
. Estimates from the International Energy Agency suggest that even in 2030, not all Indian homes will have electricity, according to AEA calculations.India is the world's fifth-largest electricity producer after the US, China, Japan and Russia, but its
per capita consumption
is among the world's lowest. In 2009, Indians used 571 kWh per capita, compared with the US, which consumed 12,914 kWh per head.Indian politicians are forever coming up with new electricity-saving wheezes. The state of Punjab has
just banned air conditioning units in all government offices
and from 1 August will cut office hours to 8am to 2pm with no lunch.There was outrage in June when the chief minister of Uttar Pradesh, India's most populous state, decreed that
all malls were to shut at 7pm
in a bid to save power.India's power supply is so insecure that even a stray pet can plunge millions into darkness. On Saturday, a cat leapt into a Delhi grid station and was electrocuted, causing a fire that left parts of east Delhi without power for 24 hours.
Euro-saving operations due within 'days,' says Juncker
BRUSSELS
- Eurogroup chief Jean-Claude Juncker has said there is "no time to lose," as the world talks about a eurozone breakup, with joint action by the European Central Bank and the eurozone bailout funds expected in the coming days."We have come to a crucial point. There is no more time to lose," Juncker said in an interview published both in Le Figaro and Sueddeutsche Zeitung on Monday (30 July).ECB chief Mario Draghi last week said the bank was ready to do "whatever it takes to preserve the euro" and hinted at more government bonds being bought up, a move which would help Italy and Spain bring down their record-high borrowing costs.Juncker said the eurozone bailout fund, the European Financial Stability Facility (EFSF) - which has roughly €200 billion left to spend - will also contribute to the rescue operation.Under current rules, the EFSF can buy bonds directly from the governments only for bailed out countries. It can buy bonds on the free market for other eurozone countries too, but they have to make a formal demand and sign a memorandum of understanding - also seen as a 'bailout lite'.
German subsidiary
Juncker also blamed Germany for treating the eurozone "as its subsidiary" and taking eurozone decisions according to internal political interests. "If all 17 governments would do this, what would be left of that was is common? Why is it like this?" he said.He criticised German politicians - including German economy minister Phillipp Roesler - who in recent weeks have said a Greek exit from the eurozone would be better than keeping the country in."Those who think a Greek exit would solve the problem are wrong. They do not understand a thing about the deep origins of the crisis. Greece needs to improve its record, certainly. But nobody can ignore the staggering cost of an exclusion for the others. Anything else is low politics," Juncker said.Meanwhile, over 71 percent of Germans want Greece to leave the euro if it did not live up to its austerity promises, a poll published Sunday by Bild newspaper shows.Over 50 percent of Germans also think their country would be better off outside the euro. Only 29 percent said the German economy would hurt if it was to leave the common currency.
UNDERSTANDING WORLD GOVERNMENT
http://www.womensgroup.org/
http://video.google.com/videoplay?docid=504526035342184251
BANK OF INTERNATIONAL SETTLEMENT PRESS
http://www.bis.org/events/agm2009/pcvideo.htm
BANK FOR INTERNATIONAL SETTLEMENTS PAPER 17 REGIONAL AREAS OF THE WORLD AND CURRENCIES
http://www.bis.org/publ/bppdf/bispap17.pdf
BANK FOR INTERNATIONAL SETTLEMENTS SITE
http://www.bis.org/
G-10 PRESS RELEASES FROM BANK FOR INTERNATIONAL SETTLEMENTS
http://www.bis.org/list/press_releases/said_12/index.htm
BIS ANNUAL REPORTS
http://www.bis.org/list/press_releases/said_10/index.htm
CENTRAL BANKERS SPEECHES
http://www.bis.org/list/cbspeeches/index.htm
BANK FOR INTERNATIONAL SETTLEMENTS-NEW WORLD ORDER-JULY 10,10 HOURS 1 & 2
http://www.olivetreeviews.org/radio/mp3/
THE BANK FOR INTERNATIONAL SETTLEMENTS IS THE CENTRAL BANK OF THE WORLD THAT LENDS ONLY TO CENTRAL BANKERS AROUND THE GLOBE.THE IMF LENDS TO THE COUNTRIES BANKS OF THE WORLD.BETWEEN THIS BANK AND THE IMF I BELIEVE WILL BE THE BANKS OF THE WORLD.THE IMF THE WORLD BANK AND THE POLICEMAN OF THE IMF THE BANK FOR INTERNATIONAL SETTLEMENTS WHERE WE PAY OUT CAP & TRADE,CLIMATE,ENERGY SCAM TAXES TOO TO PAY FOR THE WORLD GOVERNMENT.THE GLOBAL CURRENCY WILL BE THE SDRS OR SPECIAL DRAWING RIGHTS UNTILL THE EU INVENTS THE WORLD MICROCHIP IMPLANT SYSTEM THEN THE EU WILL MAKE ALL TAKE THE IMPLANT OR BE MURDERED.
The European Central Bank: a hamstrung firefighter
FRANKFURT
- It is called the 'Eurotower' - a 40-storey-high skyscraper in the financial district of Frankfurt - Germany's equivalent of the City of London.Yet it is not big enough to house the roughly 1,400 employees of the European Central Bank (ECB) preparing the decisions that will make or break the euro - ranging from interest-rate setting to buying bonds or issuing cheap loans to banks.Offices are being rented in three other buildings, while a new double-towered skyscraper - already delayed and running over the initial €500 million cost - is being built. Some 2,500 employees are then to be housed in the new building, due to be ready by 2014.The extra office space reflects the ECB's increasing task list - from monitoring bailed-out governments to eventually supervising the eurozone's banks.Trade unions have rebelled against the ballooning workload and demanded that salaries are linked to inflation. They did not succeed. Because it would have meant the bank acknowledging it is failing in its core task - stemming inflation.But in a press conference earlier this month in Frankfurt, ECB chief Mario Draghi promised to hire more staff. "I am especially impressed by the extraordinary commitment that our staff show every day in undertaking tasks that have become more and more numerous, difficult and psychologically demanding," he said."It is no surprise that they see themselves as overworked, and our assessment is exactly the same," he added. A "very modest" increase in the bank's resources is being considered to pay for extra staff.
Occupy Frankfurt
Meanwhile, the little park in front of the Eurotower is still home to a few dozen tents and protesters from the "Occupy" movement that drew tens of thousands onto the streets last year.The camp, which has accepted some 20 Roma settlers, along with occasional stop-overs from homeless people - is now facing eviction from city authorities on 31 July on grounds of public hygiene.Protests and hunger strikes may prolong the deadline, but the outcome is inevitable, as other Occupy camps in big cities have been closed down.The lounge bar just across the park, at the bottom of the Eurotower, is thriving, however. Young men in suits and their dates in high heels and miniskirts were flocking to the terrace on a weeknight earlier this month. The view over the tent village nearby and the anti-banker banners adorning the huge euro-sign in front of the tower went unnoticed.One Occupy member, Regina, told this website it was disheartening to see that everything is back to business as usual. This is despite some bankers having participated in the rallies."It's all about interest rates and profits on other people's misery, on debt, on food prices. People should go out in the streets and put pressure to change these things, but unfortunately it doesn't happen," she said.Among European policy makers, democratic scrutiny and accountability of the ECB is a marginal issue. In parliamentary hearings, few members raise the issue. And when they do, it usually those from small left-wing or Green parties.French Green MEP Philippe Lamberts earlier this month accused Draghi of wanting to concentrate more powers in "the most non-transparent European institution" and make governments even more dependent on the ECB's whim.Draghi and other ECB officials in recent weeks have spoken about the need for more democratic scrutiny of the ECB if it is to take up more supervisory powers. It's up to the European Parliament, they noted, how this is managed.
Can the euro be saved?
But the democracy gap is seen as a minor issue compared to the real elephant in the room - the question of what the ECB can do to prevent the breakup of the eurozone.To outsiders, the ECB should be able to act just like the Federal Reserve in the US or the Bank of England in Britain. It should go ahead and prop up governments directly by offering them loans and buying up their bonds - a way of lowering a country's borrowing costs. But this is a no-go, banned by the rules governing the ECB.What they have come up with instead are a series of "non-standard measures" which stretch the limits of what is legally possible.In normal times, the ECB, which can as any other central bank issue unlimited amounts of electronic money, decided every week how much they would lend to banks - normally between €50-€200 billion. The banks would place their offers and the money would be handed out starting with the best offers. Often not all banks would be served, but in pre-crisis times this was not an issue because banks would just borrow from each other.
All that changed after the collapse of Lehman Brothers investment bank in 2008. It marked the beginning of the financial crisis that later metastasised into the eurozone crisis. The ECB immediately scrapped the lending ceiling and started issuing loans for increasingly longer maturities. Rules were also loosened for the "collateral" - guarantees banks need to come up with when borrowing money.If a bank goes bust, as the US giant did, the ECB still keeps these assets which it can then sell to cover part of its losses. In Lehman's case, which had a German subsidiary that also went bust, the German central bank earlier this year sold some €2 billion worth of property loans which were on ECB's books as collateral.Since November last year, the ECB upped the ante with a staggering one-trillion-euro programme called "Long Term Refinancing Operations."
Eurozone banks could borrow from this war chest at an interest rate of one percent for three years. Italian and Spanish bonds worth hundreds of billions were also quietly purchased on the market, which helped buy some time for the third and fourth-largest economies in the eurozone as they struggle to get their economies back on track.But all these measures appear to be insufficient.Spain is back in the limelight with unsustainable borrowing costs, a bleeding banking sector, worsening recession and crippling unemployment rates.
Pressure is increasing on the ECB to step in again and issue more cheap loans, close its eyes to the quality of assets - including mortgages and private sector loans - that banks can give as collateral. And buy more Spanish bonds.So far, Mario Draghi has insisted the ECB alone cannot save the euro. The cheap-loans programme helped "buy governments time" he said, but it is up to them to reform their economies and convince markets.And what the ECB cannot solve is the core issue of having to steer one monetary policy for 17 different economies which are growing further apart."Some need cheap money, some need less. This is the fundamental problem, the euro did not succeed in bringing the economies closer together. Instead we see more divergence," says Janis Emmanouilidis from the Brussels-based European Policy Centre, a think tank."But the ECB alone cannot address that."And so it all comes back to the democracy issue. Is the euro worth giving up sovereignty, Germans paying for more bailouts, Spaniards and Greeks stomaching more austerity?"We have to come to this point where we address this question. Explain what it means if it all collapsed, the Deutsche Mark would explode and hurt exports, for instance," Emmanouilidis said.The German-Greek national is still hopeful that the "reflex" of struggling to make the European project and the common currency work will prevent countries from falling back in the trap of nationalism which caused two world wars in the last century."But the general feeling at the moment is that at the top level they are not 100 percent sure it will work and they are willing to go all the way. And everyone, including markets, see that. So it becomes a self-fulfilling prophecy," he said.
STORMS HURRICANES-TORNADOES
LUKE 21:25-26
25 And there shall be signs in the sun, and in the moon, and in the stars; and upon the earth distress of nations, with perplexity;(MASS CONFUSION) the sea and the waves roaring;(FIERCE WINDS)
26 Men's hearts failing them for fear, and for looking after those things which are coming on the earth: for the powers of heaven shall be shaken.
THE FIRST JUDGEMENT OF THE EARTH STARTED WITH WATER-IT ONLY MAKES SENSE THE LAST GENERATION WILL BE HAVING FLOODING
GENESIS 7:6-12
6 And Noah was six hundred years old when the flood of waters was upon the earth.
7 And Noah went in, and his sons, and his wife, and his sons' wives with him, into the ark, because of the waters of the flood.
8 Of clean beasts, and of beasts that are not clean, and of fowls, and of every thing that creepeth upon the earth,
9 There went in two and two unto Noah into the ark, the male and the female, as God had commanded Noah.
10 And it came to pass after seven days, that the waters of the flood were upon the earth.
11 In the six hundredth year of Noah's life, in the second month, the seventeenth day of the month, the same day were all the fountains of the great deep broken up, and the windows of heaven were opened.
12 And the rain was upon the earth forty days and forty nights.
GOD PROMISED BY A RAINBOW-THE EARTH WOULD NEVER BE DESTROYED TOTALLY WITH A FLOOD AGAIN.BUT FLOODIING IS A SIGN OF JUDGEMENT.
ANJU, North Korea (AP) — Heavy rain pounded North Korea for a second day Monday, submerging buildings, cutting off power, flooding rice paddies and forcing people and their livestock to reach safety on dry rooftops.The latest rain follows downpours earlier this month that killed nearly 90 people and left more than 60,000 homeless, officials said. The floods come on the heels of a severe drought, fueling renewed food worries about a country that already struggles to feed its people.Two-thirds of North Korea's 24 million people face chronic food shortages, a U.N. report said last month, while asking donors for $198 million in humanitarian aid for the country. South Korean analyst Kwon Tae-jin said the recent flooding, coming so soon after the dry spell, is expected to worsen the North's food problems.On Sunday and Monday, rain hit the capital Pyongyang and other regions, with western coastal areas reporting heavy damage.In Anju city in South Phyongan Province, officials reported 1,000 houses and buildings were destroyed and 2,300 hectares (5,680 acres) of farmland were completely covered.The Chongchon River in Anju city flooded on Monday, cutting communication lines and submerging rice paddies and other fields, said Kim Kwang Dok, vice chairman of the Anju City People's Committee, who told The Associated Press that the disaster is the worst in the city's history.Boats made their way through the muddy waters that covered the city's streets Monday. Many residents sat on their homes' roofs and walls, watching the rising water. A young man wearing only underwear stood on a building's roof with two pigs; four women sat on another rooftop with two dogs.
Helicopters flew to various areas to rescue flood victims, state media reported. Casualties from the latest rains were not immediately reported.If it rains again before the water drains, Kim said, the damage will be greater.Earlier this year, North Korea mobilized soldiers and workers to pour buckets of water on parched fields, irrigate farms and repair wells as what officials described as the worst dry spell in a century gripped parts of both North and South Korea.North Korea does not produce enough food to feed its people, and relies on limited purchases of food as well as outside donations to make up the shortfall. North Korea also suffered a famine in the mid- and late-1990s, the FAO and World Food Program said in a special report late last year.
PSALMS 83:3-7
3 They (ARABS,MUSLIMS) have taken crafty counsel against thy people,(ISRAEL) and consulted against thy hidden ones.
4 They have said, Come, and let us cut them off from being a nation; that the name of Israel may be no more in remembrance.
5 For they (MUSLIMS) have consulted together with one consent: they are confederate against thee:(TREATIES)
6 The tabernacles of Edom,(JORDAN) and the Ishmaelites;(ARABS) of Moab, PALESTINIANS,JORDAN) and the Hagarenes;(EGYPT)
7 Gebal,(HEZZBALLOH,LEBANON) and Ammon,(JORDAN) and Amalek;(SYRIA,ARABS,SINAI) the Philistines (PALESTINIANS) with the inhabitants of Tyre;(LEBANON)
JEREMIAH 47:1-7
1 The word of the LORD that came to Jeremiah the prophet against the Philistines,(PALESTINIAN/ARABS) before that Pharaoh smote Gaza.
2 Thus saith the LORD; Behold, waters rise up out of the north,(NORTHERN TSUNAMI POSSIBLY) and shall be an overflowing flood, and shall overflow the land, and all that is therein; the city, and them that dwell therein: then the men shall cry, and all the inhabitants of the land shall howl.
3 At the noise of the stamping of the hoofs of his strong horses,(ISRAELS ARMY) at the rushing of his chariots, and at the rumbling of his wheels, the fathers shall not look back to their children for feebleness of hands;(ISRAEL POSSIBLY NUKES GAZA)
4 Because of the day that cometh to spoil all the Philistines,(PALESTINIAN FAKE ARABS) and to cut off from Tyrus and Zidon every helper that remaineth: for the LORD will spoil the Philistines, the remnant of the country of Caphtor.
5 Baldness is come upon Gaza;(NUKED POSSIBLY) Ashkelon is cut off with the remnant of their valley: how long wilt thou cut thyself?
6 O thou sword of the LORD, how long will it be ere thou be quiet? put up thyself into thy scabbard, rest, and be still.
7 How can it be quiet, seeing the LORD hath given it a charge against Ashkelon, and against the sea shore? (MEDITTERANEAN SEA) there hath he appointed it.
DANIEL 11:40-43
40 And at the time of the end shall the king of the south ( EGYPT) push at him:(EU DICTATOR IN ISRAEL) and the king of the north (RUSSIA AND MUSLIM HORDES OF EZEK 38+39) shall come against him like a whirlwind, with chariots, and with horsemen, and with many ships; and he shall enter into the countries, and shall overflow and pass over.
41 He shall enter also into the glorious land, and many countries shall be overthrown: but these shall escape out of his hand, even Edom, and Moab, and the chief of the children of Ammon.(JORDAN)
42 He shall stretch forth his hand also upon the countries: and the land of Egypt shall not escape.
43 But he shall have power over the treasures of gold and of silver, and over all the precious things of Egypt: and the Libyans and the Ethiopians shall be at his steps.
EZEKIEL 39:1-8
1 Therefore, thou son of man, prophesy against Gog,(LEADER OF RUSSIA) and say, Thus saith the Lord GOD; Behold, I am against thee, O Gog, the chief prince of Meshech (MOSCOW) and Tubal: (TUBOLSK)
2 And I will turn thee back, and leave but the sixth part of thee,(5/6TH OR 750 MILLION DEAD I BELIEVE) and will cause thee to come up from the north parts,(RUSSIA) and will bring thee upon the mountains of Israel:
3 And I will smite thy bow out of thy left hand, and will cause thine arrows to fall out of thy right hand.
4 Thou shalt fall upon the mountains of Israel, thou, and all thy bands,( ARABS) and the people that is with thee: I will give thee unto the ravenous birds of every sort, and to the beasts of the field to be devoured.
5 Thou shalt fall upon the open field: for I have spoken it, saith the Lord GOD.
6 And I will send a fire on Magog,(NUCLEAR BOMB) and among them that dwell carelessly in the isles: and they shall know that I am the LORD.
7 So will I make my holy name known in the midst of my people Israel; and I will not let them pollute my holy name any more: and the heathen shall know that I am the LORD, the Holy One in Israel.
8 Behold, it is come, and it is done, saith the Lord GOD; this is the day whereof I have spoken.
JOEL 2:3,20,30-31
3 A fire(NUCLEAR BOMB) devoureth before them;(RUSSIA-ARABS-MUSLIMS) and behind them a flame burneth: the land is as the garden of Eden before them, and behind them a desolate wilderness; yea, and nothing shall escape them.
20 But I will remove far off from you the northern army,(RUSSIA,ARAB,MUSLIMS) and will drive him into a land barren and desolate, with his face toward the east sea, and his hinder part toward the utmost sea, and his stink shall come up, and his ill savour shall come up, because he hath done great things.(SIBERIAN DESERT)
30 And I will shew wonders in the heavens and in the earth, blood, and fire, and pillars of smoke.(NUCLEAR BOMB)
31 The sun shall be turned into darkness, and the moon into blood, before the great and the terrible day of the LORD come.
RAMALLAH, West Bank (Reuters) -
Palestinians
accused U.S.
Republican presidential candidate Mitt Romney
on Monday of undermining peace prospects by calling
Jerusalem
"the capital of Israel", ignoring their own claims to the city and most world opinion.Romney used the term on Sunday to sustained applause from his Israeli audience in the Holy City, during a trip to present himself as
Israel
's closest ally ahead of the November 6 election contest with
President Barack Obama
."We condemn his statements. Those who speak about the two-state solution should know that there can be no Palestinian state without East
Jerusalem
," chief Palestinian negotiator Saeb Erekat told Reuters on Monday."What this man is doing here is just promoting extremism, violence and hatred, and this is absolutely unacceptable," he said. "His statements are just rewarding the occupation and aggression."Israel seized eastern Jerusalem during a 1967 war. A U.N Security Council resolution condemns a 1980 Israeli law that declared Jerusalem the "complete and undivided" capital of the country as a violation of international law.Most countries, including the United States, have not recognized Israel's declaration and have kept their embassies in the coastal city of Tel Aviv.
Previous U.S. presidential candidates, including Senator Obama in June 2008, have referred to Jerusalem as Israel's capital ahead of elections, only to row back when taking power and suggest the issue should be resolved by negotiations.A senior aide to Palestinian President Mahmoud Abbas, Nabil Abu Rdeineh, said Romney's statements were unhelpful, stood in the way of a peace settlement and "contradict the previous positions held by the American administration".Palestine Liberation Organization (PLO) secretary-general Yasser Abed Rabbo said: "American policy makers must abandon hypocrisy and stop attempting to gain votes at the expense of the Palestinian people's rights."
HEDGING BETS
He added: "Mr Romney must understand that such an era has ended and Arab nations who are rebelling for the sake of freedom and dignity will not allow him to mess with their fates in order to win some votes."
Romney met
Palestinian Prime Minister Salam Fayyad
briefly in Jerusalem on Sunday, but did not travel to the nearby occupied West Bank, focusing primarily on Israeli leaders.In an interview with CNN, Romney refused to be pinned down on whether he would recognize Jerusalem as Israel's capital if he beats Obama and wins the White House."A nation has the capacity to choose its own capital city, and Jerusalem is Israel's capital," he said."I think it's long been the policy of our country to ultimately have our embassy in the nation's capital, Jerusalem. The decision to actually make the move is one, if I were president, I would want to take in consultation with the leadership of the (Israeli) government which exists at that time. So I would follow the same policy we have in the past."Pressed on whether he would make the move on becoming president, Romney said: "I'm not going to make foreign policy for my nation, particularly while I'm on foreign soil. My understanding is the policy of our nation has been a desire to move our embassy ultimately to the capital."
Seeking American Jewish and fundamentalist Christian votes, Romney has criticized Obama on Israel, alleging last year that the president had "thrown Israel under a bus" in pushing hard for a two-state solution between Israel and the Palestinians.Direct peace talks brokered by Washington ground to a halt in 2010 and attempts to get the two sides back to the negotiating table have since failed.Romney did not criticize Obama by name during his two-day stay but made some pointed criticisms of his policies.
Israeli Defense Minister Ehud Barak
made clear on Monday he was happy with the support received from the U.S. president.
"This American administration of Obama has been giving unprecedented backing to Israel's security ... This administration has done a lot to maintain Israel's qualitative advantage," he told Israel Radio.(Additional reporting by Ali Sawafta and Maayan Lubell in Jerusalem; Writing by Douglas Hamilton; editing by Crispian Balmer and Pravin Char)
EZEKIEL 38:1-12
1 And the word of the LORD came unto me, saying,
2 Son of man, set thy face against Gog,(RULER) the land of Magog,(RUSSIA) the chief prince of Meshech(MOSCOW)and Tubal,(TOBOLSK) and prophesy against him,
3 And say, Thus saith the Lord GOD; Behold, I am against thee, O Gog,(LEADER OF RUSSIA) the chief prince of Meshech(MOSCOW) and Tubal:TOBOLSK)
4 And I will turn thee back, and put hooks into thy jaws,(GOD FORCES THE RUSSIA-MUSLIMS TO MARCH) and I will bring thee forth, and all thine army, horses and horsemen, all of them clothed with all sorts of armour, even a great company with bucklers and shields, all of them handling swords:
5 Persia,(IRAN,IRAQ) Ethiopia, and Libya with them; all of them with shield and helmet:
6 Gomer,(GERMANY) and all his bands; the house of Togarmah (TURKEY)of the north quarters, and all his bands:(SUDAN,AFRICA) and many people with thee.
7 Be thou prepared, and prepare for thyself, thou, and all thy company that are assembled unto thee, and be thou a guard unto them.
8 After many days thou shalt be visited: in the latter years thou shalt come into the land that is brought back from the sword, and is gathered out of many people, against the mountains of Israel, which have been always waste: but it is brought forth out of the nations, and they shall dwell safely all of them.
9 Thou shalt ascend and come like a storm, thou shalt be like a cloud to cover the land, thou, and all thy bands, and many people with thee.(RUSSIA-EGYPT AND MUSLIMS)
10 Thus saith the Lord GOD; It shall also come to pass, that at the same time shall things come into thy mind, and thou shalt think an evil thought:
11 And thou shalt say, I will go up to the land of unwalled villages; I will go to them that are at rest, that dwell safely, all of them dwelling without walls, and having neither bars nor gates,
12 To take a spoil, and to take a prey; to turn thine hand upon the desolate places that are now inhabited, and upon the people that are gathered out of the nations, which have gotten cattle and goods, that dwell in the midst of the land.
JEREMEIAH 49:35-37 (IN IRAN AT THE BUSHEHR NUKE SITE SOME BELIEVE)
35 Thus saith the LORD of hosts; Behold, I will break the bow of Elam,(IRAN/BUSHEHR NUCLEAR SITE) the chief of their might.(MOST DANGEROUS NUKE SITE IN IRAN)
36 And upon Elam will I bring the four winds from the four quarters of heaven,(IRANIANS SCATTERED OR MASS IMIGARATION) and will scatter them toward all those winds; and there shall be no nation whither the outcasts of Elam shall not come.(WORLD IMMIGRATION)
37 For I will cause Elam (IRAN-BUSHEHR NUKE SITE) to be dismayed before their enemies, and before them that seek their life: and I will bring evil upon them, even my fierce anger,(ISRAELS NUKES POSSIBLY) saith the LORD; and I will send the sword after them, till I have consumed them:(IRAN AND ITS NUKE SITES DESTROYED)
DUBAI (Reuters) -
Iran
will keep the vital
Strait of Hormuz
shipping lane open as long as the waterway served its interests, a
military commander
was on Monday quoted as saying.Iranian politicians and officials have often said that Iran could block the strait - the neck of the Gulf through which 40 percent of the world's seaborne oil exports passes - in response to sanctions or military action.Such a move would risk a military response from the United States and
Foreign Minister Ali Akbar Salehi
told Reuters in July that Iran was unlikely to follow through on the threat unless its own vessels were denied use of the strait."Iran's goal is for everyone in the world to use the Strait of Hormuz but as long as it does not harm Iran's interests and in that case our reaction would definitely be different," IRNA news agency quoted senior
Revolutionary Guards commander Masoud Jazayeri
as telling Iran's Arabic-language Al Alam television."Most military experts know that if Iran decides to close the Strait of Hormuz, no country or countries would be able to confront this move," he added, according to IRNA.Experts say that a heavy Western naval presence in the Gulf and surrounding area is a big impediment to any attempt to block the waterway.Israel and the United States have threatened military action against Iran unless it abandons nuclear activities which the West suspects are intended to develop nuclear weapons.Tehran says its nuclear program is for peaceful purposes.(Writing by Zahra Hosseinian, editing by Diana Abdallah)
Israeli Prime Minister Benjamin Netanyahu
said on Sunday that
international sanctions
have so far made no impact on
Iran
's nuclear programme and that a "strong and credible"
military threat
was needed.
"We have to be honest and say that all the sanctions and diplomacy so far have not set back the Iranian programme by one iota," he said on meeting
White House hopeful Mitt Romney
."I believe that we need a strong and credible military threat, coupled with the sanctions, to have a chance to change that situation."
His remarks came as the Haaretz newspaper ran a story saying that
US National Security Adviser Tom Donilon
had recently briefed Netanyahu on Washington's contingency plans for a pre-emptive strike on Iran's nuclear facilities.Citing a "senior American official," Haaretz said Donilon had held a three-hour dinner meeting with the Israeli premier a fortnight ago, during which he had shared details about US military capabilities for attacking underground Iranian bunkers.It said Donilon's Israeli counterpart,
Yaakov Amidror
, was present "for part of the time."But an Israeli official, speaking on condition of anonymity, denied the report."We don't comment on what is discussed in closed diplomatic meetings," the official told AFP. "But the story is full of factual errors."Nothing in the article is correct."Donilon did not meet the prime minister for dinner, he did not meet him one-on-one, nor did Donilon present operational plans to attack Iran."Haaretz wrote: "Donilon sought to make clear that the United States is seriously preparing for the possibility that negotiations will reach a dead end and military action will become necessary."In recent weeks, several senior US officials have held talks in Jerusalem, among them US Secretary of State Hillary Clinton, Obama's top counter-terrorism adviser John Brennan and Clinton's deputy William Burns.And US defence chief Leon Panetta is due in Israel next week for top-level talks, with Iran likely to play a central role in his discussions.
Netanyahu told Romney he shared the Republican challenger's position that a nuclear Iran was "the greatest danger facing the world."
ISAIAH 17:1
1 The burden of Damascus. Behold, Damascus is taken away from being a city, and it shall be a ruinous heap.
JEREMEIAH 49:23-27
23 Concerning Damascus.(SYRIA) Hamath is confounded, and Arpad: for they have heard evil tidings: they are fainthearted; there is sorrow on the sea;(WAR SHIPS WITH NUKES COMING ON SYRIA) it cannot be quiet.
24 Damascus is waxed feeble, and turneth herself to flee, and fear hath seized on her: anguish and sorrows have taken her, as a woman in travail.
25 How is the city of praise not left, the city of my joy!
26 Therefore her young men shall fall in her streets, and all the men of war shall be cut off in that day, saith the LORD of hosts.
27 And I will kindle a fire (NUKES OR BOMBS) in the wall of Damascus, and it shall consume the palaces of Benhadad.(ASSADS PALACES POSSIBLY IN DAMASCUS)
ALEPPO,
Syria
(Reuters) - The
Syrian military
stepped up its campaign to drive
rebel fighters
out of
Aleppo
on Monday, firing artillery and mortars while a fighter jet flew over a district the army said it had retaken the day before.However, opposition activists denied
government forces
had entered the Salaheddine district, which lies in the southwest of the country's biggest city and straddles the most obvious route for Syrian troop reinforcements coming from the south.Hospitals and makeshift clinics in rebel-held eastern neighborhoods were filling up with casualties from a week of fighting in Aleppo, a commercial hub that had previously stayed out of a 16-month-old revolt against President Bashar al-Assad."Some days we get around 30, 40 people, not including the bodies," said a young medic in one clinic. "A few days ago we got 30 injured and maybe 20 corpses, but half of those bodies were ripped to pieces. We can't figure out who they are."The opposition Syrian Observatory for Human Rights said 40 people, including 30 civilians, were killed in Syria on Monday. Two rebel fighters died in Salaheddine.Outgunned rebel fighters, patrolling in flat-bed trucks flying green-white-and-black "independence" flags, said they were holding out in Salaheddine despite a battering by the army's heavy weapons and helicopter gunships.
"MERCENARY GUNMEN"
"We always knew the regime's grave would be Aleppo," said Mohammed, a young fighter, fingering the bullets in his tattered brown ammunition vest. "Damascus is the capital, but here we have a fourth of the country's population and the entire force of its economy. Bashar's forces will be buried here."An unidentified Syrian army officer said on state television late on Sunday that troops had pushed "those mercenary gunmen" completely out of Salaheddine, adding: "In a few days safety and security will return to the city of Aleppo."
The army's assault on Salaheddine echoed its tactics in Damascus earlier this month when it used its overwhelming firepower to mop up rebel fighters district by district.Assad's forces are determined not to let go of Aleppo, where defeat would be a serious strategic and psychological blow.Military experts believe the rebels are too lightly armed and poorly commanded to overcome the army, whose artillery pounds the city at will and whose gunships control the skies.Reuters journalists in Aleppo have been unable to approach Salaheddine to verify who controls it."Yesterday they were shelling the area at a rate of two shells a minute. We couldn't move at all," said a man calling himself a spokesman for the "Aleppo Revolution" group. "It's not true at all that the regime's forces are in Salaheddine."Warfare has stilled the usual commercial bustle in this city of 2.5 million. Vegetable markets are open but few people are buying. Instead, crowds of sweating men and women wait nearly three hours to buy limited amounts of heavily subsidized bread.In a city where loyalties have been divided, with sections of the population in favor of the Assad government, some seemed wary of speaking out in the presence of the fighters, many of whom have been drafted in from surrounding areas.Asked about his allegiances, one man waiting at a police station that had been badly damaged by shellfire said: "We are not with anyone. We are on the side of truth."Asked whose side that was, he replied: "Only God."Others stopped members of the Free Syrian Army (FSA) and asked them to do something about the supply of bread and petrol.Rebel fighters remain in control of swathes of the city, moving around those areas armed with assault rifles and dressed in items of camouflage clothing in an edgy show of confidence.They were emboldened to strike at Aleppo and Damascus after a July 18 explosion that killed four of Assad's top security officials in a damaging blow at the president's inner circle.The army has regained its grip on the capital and is now intent on denying Aleppo to FSA rebels, some of whose roadblocks fly the black and white banners of Islamist militants.
BIG POWERS DIVIDED
With big powers divided, the outside world has been unable to restrain Syria's slide into civil war.France said it would ask for an urgent meeting of the U.N. Security Council to try and break the diplomatic deadlock on Syria, but gave no indication that Russia and China would end their longstanding policy of blocking measures against Assad.In London, Syria's most senior diplomat resigned because he could no longer represent a government that committed such "violent and oppressive acts" against its own people, the Foreign Office said. Charge d'affaires Khaled al-Ayoubi joins a growing number of senior Syrian officials who have defected.The deputy police chief of Syria's western Latakia city also defected and fled to Turkey overnight with 11 other Syrian officers, a Turkish official said. Another 600 Syrians had arrived in the last 24 hours, bringing the total number of Syrian refugees in Turkey to around 43,500, he added.Amid growing concern about security on its southern frontier, Turkey sent a convoy of troops, missile batteries and armored vehicles to the border with Syria on Monday.There has however been no indication that Turkish forces will cross the border, and the troop movements may just be precautionary in the face of spiraling violence in Syria.
The United Nations humanitarian chief said 200,000 people had fled Aleppo, only 50 km (30 miles) from the Turkish border, in two days. It was not clear how this estimate had been reached given the difficulties of assessing relief needs in war zones.Assad's ruling system is dominated by his minority Alawite sect, an offshoot of Shi'ite Islam, while his opponents are mostly from Syria's Sunni Muslim majority.The sectarian element in the conflict has raised fears that it could inflame Sunni-Shi'ite tensions elsewhere, particularly in Iraq, Lebanon, Bahrain and Saudi Arabia.(Additional reporting by Yara Bayoumy and Dominic Evans in Beirut; Writing by Giles Elgood; Editing by Alistair Lyon)